Contact Supplier
Contact Supplier
To get in touch with Brinter Ltd., simply fill out the form below.
Brinter Ltd.
Finnish-based Brinter® is a pioneer in the development and manufacturing of advanced modular 3D bioprinting technology to enable innovative solutions for the medical, pharmaceutical, and life science industries.
Brinter is a leader in the development of a high velocity, modular (allowing an unlimited amount of bioinks), scalable 3D bioprinter with applications in oncology, cancer cell invasion assays, creation of cartilage microtissue, and drug development. It has also developed a range of Bioprinting Modules that are capable of printing up to twelve different hydrogel bioinks in an automated fashion during a single print job.
Vision and Mission
Brinter was founded from a 'Printing Life – one layer at a time' vision of using advanced bioprinting technologies to improve worldwide health and save lives, and increasing its applicable uses across life sciences.
The company's mission is to put bioprinting within reach of every pharmaceutical company, hospital, university, and research center.
Products & Services
Brinter provides a comprehensive range of 3D Bioprinting and Biomaterial/multimaterial 3D printing solutions.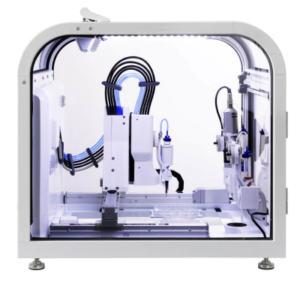 Apart from its bioprinters that provide variable printing modalities within a single printing platform, it also offers a wide range of modular add-on tools for specific applications, along with compatible hydrogel bioinks for different use cases. By combining various dispensing heads, for example, printing cells together with bioinks of varying viscosity allow the creation of a wide range of stable structures, including nanocellulose, Collagen type I, Gelatin, Fibrinogen, Alginate, Hyaluronic acid (HA), Pluronic® F127, and Polyethylene glycol (PEG) for 3D cell culture, cartilage replacement and other applications.
Brinter has developed its 3D bioprinter/multimaterial printer, materials, and protocols in close cooperation with customers to solve existing challenges of bioprinting and prove one tool capable of scaling from affordable R&D use to multi-device production lines.
Brinter's offerings include the sale or lease of Brinter 3D bioprinters, materials, protocols, as well as contract bioprinting services.
The Brinter® Bioprinter platform can currently be used in a variety of applications, such as a versatile tool for basic research in tissue engineering and regenerative medicine. 3D bioprinting solutions also offer a cost-effective approach to shorten and enhance the productivity of the drug discovery process. Bioprinted tissue models (e.g., liver) with multiple cell types and complex, native-like physiological environments will eliminate the need for in vivo models during the drug discovery process. In addition, bioprinted liver models can also be used to assess hepatotoxicity and carcinogenicity of compounds, such as crop protection chemicals. Bioprinting can also be used to recapitulate the cancer microenvironment by precisely locating tumor cells and microcapillaries in a tumor tissue model to study cancer pathogenesis, growth, and metastasis. The company is currently researching new areas of interest based on R&D results, focusing on areas such as personalized medicine, bioimplants, organs, nutrition, etc.
It envisions 3D bioprinting as a core element of the next wave of personalized medicines, helping to tailor the geometry of drug tablets to customize drug loading, release rate, and taste to individual patient needs.
In the longer run, bioprinting technology has the potential to inspire solutions to address the shortage of organs for transplantation, with the capability to print fully functional tissues and organs, powered by advancements in biomaterials, bioprinting techniques and cell technology.
Company History and Structure
Turku-based Brinter traces its roots back to 1999 when founder Tomi Kalpio (CEO) had his first contact with the then-revolutionary technology of 3D printing. In particular, he was quick to appreciate the possibilities of rapid prototyping via Fused Deposition Modelling (FDM) that could build something around a hole layer by layer. By 2006, he started using 3D printing at an industrial scale to produce final parts for production test equipment.
In 2013 Tomi, with other founders, formed the precursor company 3DTech Oy, which in 2015 produced its first modular DLP-based 3D printer prototype. In the following year, it participated in a "brain printing" project that deepened its links with the life science community. This paved the way for the 2018 founding of Brinter as a business unit, with a name fusing ''Bio' and 'Printer' and reflecting the new focus on life sciences and medical applications.
The first commercial Brinter bioprinter was delivered in 2019, and in the following year, Brinter's involvement in a particularly challenging project compelled the company to make a major investment in R&D. The resulting advances made a case for Brinter to spin off as a company in its own right, rapidly attracting seed capital of €1.2M.
Brinter's core leadership team also includes Sales & Marketing Director Pasi Kaskinen as Commercial Lead for EMEA and APAC, along with Sanna Turunen (Product Manager), Antti Arjonen (Head of Applications), and Tomi Mikkonen as Head of Engineering.
Quality, Regulatory and Standards
Brinter technology is currently used in R&D that does not require any special standards. However, it does rigorously meet all relevant CE safety requirements. Brinter is developing applications together with the partners for GMP and clinical environments.
It also observes a fully documented production process to ensure end-to-end quality, along with regular product development meetings, comprehensive device testing prior to delivery and full response to customer feedback.
Brinter Ltd.
Contact Information
---
Address:
Itäinen Pitkäkatu 4 C, 20520 Turku, Finland
Telephone No:
+358 50 575 7577