Contact Supplier
Contact Supplier
To get in touch with Ritter Medical GmbH, simply fill out the form below.
Ritter extends range of languages for product information
Schwabmünchen, Germany: – Ritter, the German-based manufacturer of plastic disposables for medical and research use, has now made product information on its famous Liquid Handling range available in six languages, with the addition of a new Spanish/Portuguese version.
This latest Ritter Liquid Handling brochure expands German/English and French/Italian versions.
Liquid Handling
The Liquid Handling brochure has also been redesigned to provide a clearer overview of the manual dispensers Ripette® and Ripette®pro as well as the corresponding Ritips® and Ritips®Professional dispenser tips.
Robotic consumables
"We are now moving on to offer similarly translated versions of our important Robotic Consumables catalog, which we hope to present at our appearance at the Expoquimia show in Barcelona in the autumn," said Andreas Rauch, Ritter's Key Account Manager for the Iberian market.
The 18th Expoquimia, Fira de Barcelona's International Chemistry Show, which includes the 10th World Congress of Chemical Engineering, is a five day event opening October 2 at the Gran Via Convention Center, where Ritter will exhibit at booth A228, in Pavilion 2.
"Adding Spanish and Portuguese product information is not just important for our sales across Europe but also meets the needs of our many customers across Latin America," Mr. Rauch pointed out.
About Ritter
Ritter, founded in Bavaria in 1965 is an independent family-owned company that has become a world-class manufacturer of high quality plastics and "made in Germany" sterile and non-sterile laboratory equipment, high precision dispensers, tips and plates.
In more than 50 countries, millions of Ritter medical products are used in clinical and biotechnological applications every day.
Over 25,500 m2 of ultra-modern facilities at Schwabmünchen near Munich, Ritter's more than 300-strong workforce develops and produces high-quality plastic products for the global market, certified to the current DIN EN ISO 9001 and 13485 standards.
Ritter's comprehensive ranges of sterile assay and sample handling containers, robotic tips and other specialized equipment make its brand highly respected in research and biotech laboratories.
Resources
Click on Ritter Liquid Handling DE-EN brochure to download.
Click on Ritter Liquid Handling FR-IT brochure to download.
Click on Ritter Liquid Handling ES-PT brochure to download.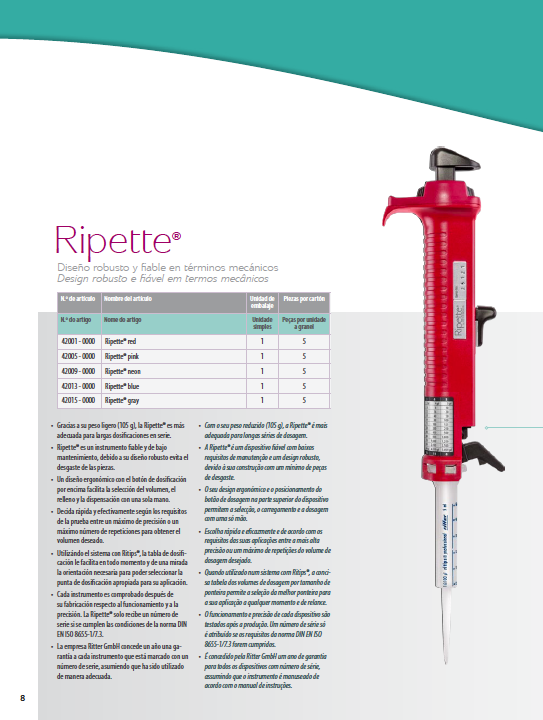 The Ripette stepped precision dispenser is a centerpiece of the Ritter Liquid Handling range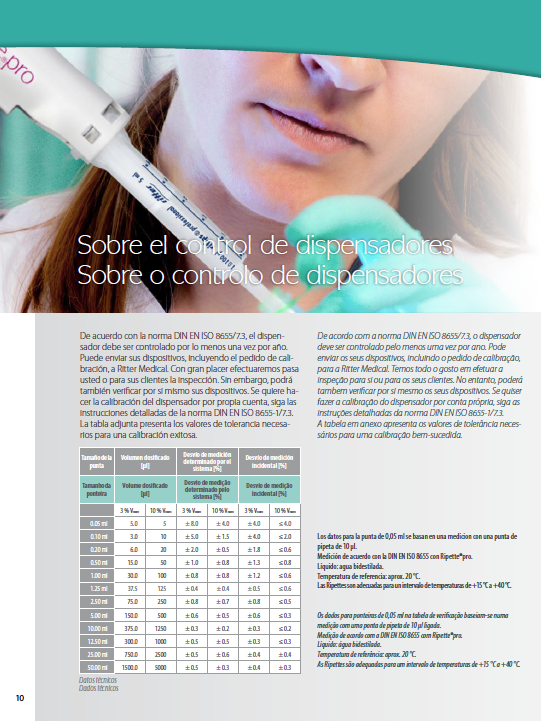 All Liquid Handling brochures feature full catalog information