Contact Supplier
Contact Supplier
To get in touch with Molnár-Institute for applied chromatography, simply fill out the form below.
Molnár-Institute to present advanced HPLC insights at EAS 2019
Berlin: – A team of scientists from Molnár-Institute for Applied Chromatography is returning to the annual Eastern Analytical Symposium (EAS) near Princeton, New Jersey, to present newest research on ultra-high-performance liquid chromatography (UHPLC).Their oral presentations will cover a range of relevant topics including Green Analytical Chemistry (GAC), analysis of cannabinoids, robustness modeling and forced degradation studies of drug substances.
Forced Degradation Studies
Gyan Sagar and Arnold Zöldhegyi are the authors of a paper on the Automated Development of Stability-indicating Methods for Forced Degradation Studies that will conclude Tuesday Morning's (Day Two) session on «Method Development and Data Evaluation in Pharmaceutical Analysis».
Gyan Sagar will present how a combination of merging two new technologies for instrumentation and optimized workflow can provide faster determination of chemical properties, degradation pathways and degradation products of pharmaceuticals. Samples are analyzed in special compartments offering in-vial-heating and -stirring with an ideal setpoint for a UHPLC analysis that was determined by a focused design of experiments (DoE) to find optimum method conditions. Automated batch creation, execution and subsequent data acquisition eliminates possible occurrences of human error while reducing analysis time and increasing cost and resource efficiency.
Green Analytical Chemistry (GAC)
During the afternoon of Day Two, during the session on «Chromatographic Method and Optimization for Risk Assessment», Molnár-Institute for Applied Chromatography will contribute two further presentations.
First, Arnold Zöldhegyi will present on the potential for Green Analytical Chemistry by Modeling UHPLC, showing how scientific retention modeling contributes significantly to reducing the environmental footprint of analytical chemistry. He will present results of a case study based on the theory of mechanisms of retention on non-polar stationary phases and gradient retention behavior of eluent mixtures, demonstrating how the in-silico rejuvenation of older pharmacopeial methods vastly reduces analysis time, organic and non-biodegradable eluent consumption while significantly saving on solvent and labor costs in the lab.
Automated UHPLC Cannabinoid Analysis
Later in the same session, fellow Molnar senior scientist Halina Katsialevich will report on the potential for Cannabinoid Analysis using Automated UHPLC Modeling, against a background of recently discovered therapeutic effects of cannabinoids and legal/societal changes that have opened a vast new field for research and development of new drug products.
Dr. Katsialevich will how an Analytical Quality by Design (AQbD) approach can be applied to develop an automated UHPLC method for the separation and quantitation of cannabinoids. The case study covers method goal definition, set up of a DoE, peak tracking evaluation and assessment of risk and implementation of a control strategy. Study strategy focused on the development of a robust method with short analysis time aimed at separating the four cannabinoid peaks of interest (CBDA, CBD, THCA, THC) and ten further compounds, A new software module, automating the connection of a UHPLC modeling tool and the Waters Empower CDS, was used to automate batch creation, model verification and the confirmation of selected robustness points.
UHPLC Robustness Modeling
On the final day of the conference, Wednesday November 20, Dr. Katsialevich will return, during the morning session on 'Application of Chromatography in Environmental And Pharmaceutical Science' with a presentation on Robustness Modeling in UHPLC, based on analysis of a Cannabis sativa sample. She will demonstrate robustness modeling as a stage immediately following method development and performed based in a design space modeled in-silico, using the DryLab®4 chromatographic software package.
By varying instrument tolerance limits and relevant method parameters, several hundred chromatograms are computed in-silico for all possible combination of errors, assessing the results that can be expected during routine application. At the same time, the most influential parameters are determined and taken into account with regard to necessary set point alteration. with subsequent in-vitro confirmation points introduced to substantiate robustness assessment and verification in regulatory filing.
High quality HPLC
Molnár-Institute will be an exhibitor at the event, with a stand at Booth WF1-8 showcasing its leading-edge DryLab®4 separation modelling software for liquid chromatographic separation as well as the range of training courses that focus on new strategies for improving the efficiency and success of modern high-performance liquid chromatography (HPLC).
EAS participants will be able to meet Molnar-Institute's scientist and technical experts in person and see live demonstrations of some of DryLab's powerful features, such as it unique visual software for modeling robust and high-quality HPLC methods.
About Molnar-Institute
Molnár-Institute for applied chromatography focuses on new strategies for improving the efficiency and success of modern high-performance liquid chromatography (HPLC) through its method development software DryLab®4, HPLC software training courses and consulting. Since its foundation in 1981, by Dr. Imre Molnár in Berlin, Molnár-Institute is following a consistent mission to form a center of excellence to save, reduce and optimize method development and run time in HPLC.
The institute supports ongoing research and development at universities and corporations worldwide with a team of By applying its proprietary method development software DryLab®4 in conjunction with rigorous methodologies, the institute is able to optimize method development and reduce method run time in HPLC and UHPLC. Using real data from a small number of experimental runs, DryLab®4 builds multi-dimensional selectivity maps depicting the interaction of the most important parameters influencing an HPLC separation. This systematic, guided method development process can halve development time, help users optimize parameters based on their specific method goals, and enable easier compliance with regulatory standards (QbD).
Dr. Imre Molnár remains president of the Molnar-Institute, which is a privately-owned organisation, headquartered in central Berlin.
About EAS 2019
The Eastern Analytical Symposium (EAS) is held each year to provide professional scientists and students with continuing education in the analytical and allied sciences through the presentation of symposia of papers, workshops, and short courses.
The symposium features a co-located exposition that exhibits related solutions, apparatus and supplies.
EAS 2018 is a three-day event opening November 18, once again at the Crowne Plaza Princeton-Conference Center, at Plainsboro, New Jersey.
The event is organized by Eastern Analytical Symposium and Exposition, Inc. with more information at: http://easinc.org/wordpress/index.php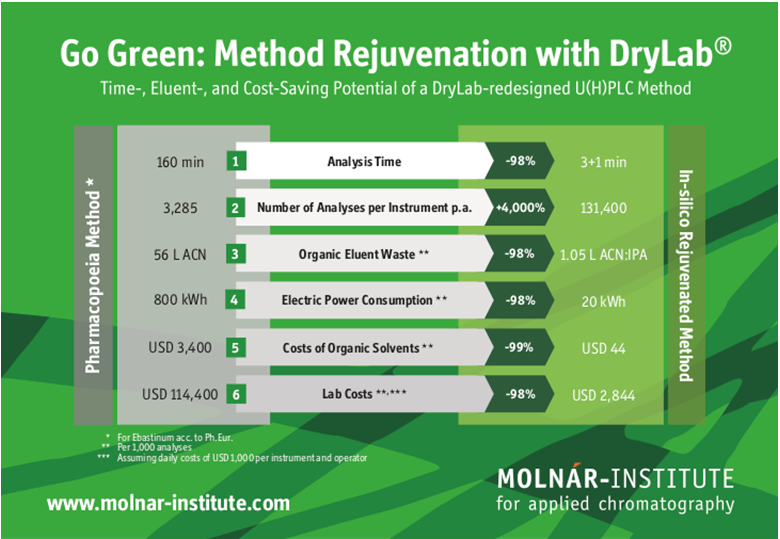 DryLab® method rejuvenation has major potential to reduce environmental impacts of analytical chemistry
View Articles by Molnár-Institute for applied chromatography