---
Molnár-Institute for Applied Chromatography enters strategic cooperation with Pannonia University, Veszprém
---

Press Release | Molnár-Institute for applied chromatography
MAY 23, 2019
Berlin: – The Molnár-Institute for Applied Chromatography has announced a strategic co-operation program with the Pannonia University of Veszprém in Hungary.
The program will grant the university privileged access to Molnár's proprietary DryLab® software it develops in return for research insights and further development work in capillary electrophoresis.
The handover of the software license will take place at noon on April 17, 2019, in the Second Floor Conference Center of Building B of the University, during the University's 'Technical Chemical Days'. Media representative will also be invited to the event, to be followed by a news conference.
DryLab®4 advantages
Molnár-Institute's DryLab® software is a unique system that provides invaluable support for the development, optimization and robustness testing of liquid chromatographic separation methods and for troubleshooting method development.
A recent study (Kochling et al., 2016) found that using DryLab® they achieved up to 12-fold reductions in the time required to develop HPLC methods, ensuring that the optimized separations have the best possible work points, while meeting the requirements of specific regulatory frameworks.
Advanced liquid chromatography
Since its foundation in 1981, Molnár-Institute for Applied Chromatography has become a world-renowned authority on the development of advanced liquid chromatography separation processes.
The institute is headed by Dr. Imre Molnár, who is dedicated to the development of safe and effective products in big pharma and in many other areas of life science and the food industry.
About Molnar-Institute
Molnár-Institute for applied chromatography focuses on new strategies for improving the efficiency and success of modern high-performance liquid chromatography (HPLC) through its method development software DryLab®4, software training courses, and HPLC consulting.
Since its foundation in 1981, by Dr. Imre Molnár in Berlin, Molnár-Institute has followed a consistent mission, to form a center of excellence to save, reduce and optimize method development and reduce run time in HPLC.
The institute supports ongoing research and development at universities and corporations worldwide with a team of chromatography specialists devoted to improving global health care and to ensuring the development of safe and effective products in the pharmaceutical, life-science, chemical and food industries.
By applying its proprietary method development software DryLab®4 in conjunction with rigorous methodologies, the institute is able to optimize method development and reduce method run time in HPLC and UHPLC. Using real data from a small number of experimental runs, DryLab® builds multi-dimensional selectivity maps depicting the interaction of the most important parameters influencing an HPLC separation. This systematic, guided method development process can halve development time, help users optimize parameters based on their specific method goals, and enable easier compliance with regulatory standards (QbD).
Dr. Imre Molnár remains president of the Molnar-Institute, which is a privately-owned organisation, headquartered in central Berlin, Germany.
About University of Pannonia
The University of Pannonia (formerly University of Veszprém) is located north of Lake Balaton in North Western Hungary.
Founded in 1949, the University has five faculties: Arts and Humanities, Engineering, Agriculture, Economics and Information Technology. It became University of Pannonia in 2006.
The university is particularly known for its research activities in Organic and Inorganic Chemicals, for the Electrochemical Industry, Silicate Chemistry, Nuclear Chemistry and Technology, Process Control and Systems Engineering.
Recently introduced courses include Agrochemistry, Chemical Engineering Management and Instrumentation and Measurement Techniques and Automation.
Further information at: https://eng.uni-pannon.hu
Media Contact
Magdalena Marinski, Marketing and Account Manager, Molnár-Institute for applied chromatography
Tel: +49 30 421 5590
Email: magdalena.marinski@molnar-institute.com
Resources
Click on Molnár-Institute links with Pannonia University for other information.
Click on Molnár-Institute to contact the company directly.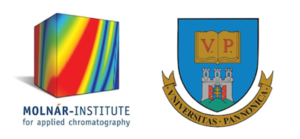 ---
Supplier Information
Supplier: Molnár-Institute for applied chromatography
Address: Schneegloeckchenstrasse 47, 10407 Berlin, Germany
Tel: +49 30 421 559-0
Fax: +49 30 421 559-99
Website: http://molnar-institute.com/
---