Contact Supplier
Contact Supplier
To get in touch with Molnár-Institute for applied chromatography, simply fill out the form below.
Molnár-Institute bringing advanced GAC green chemistry insights to Pittcon 2020
Berlin: – A scientific team from the Molnár-Institute for Applied Chromatography will attend the annual Pittcon laboratory summit with detailed insights on Green Analytical Chemistry (GAC) using closely modeled ultra-high performance liquid chromatography (UHPLC).
Molnár-Institute will also present the latest applications of the DryLab®4 software in modelling liquid chromatographic separations at booth 3814 at McCormick Place, Chicago.
Green Analytical Chemistry (GAC)
During the afternoon of Day One, as part of the Liquid Chromatography strand (Room W177 Sessions 5-7, Sunday, March 01, 1545-1605 hrs.), Molnár-Institute's Mr. Arnold Zöldhegyi and Dr. Hans-Juergen Rieger will jointly deliver an oral presentation on 'Green Analytical Chemistry by Modeling UHPLC'. This will demonstrate how the recent increase in concern about harmful impacts of laboratory chemicals on the environment, as well as resource saving, have focused attention on the potential of analytical method development applications of scientific retention modeling as an essential contribution to GAC.
The authors will show that advance knowledge of mechanisms of retention on non-polar stationary phases and gradient retention behaviors of eluent mixtures means that in-silico method modelling requires only a minimum number of input experiments to identify those set points that will yield highest possible precision and in-routine robustness.
They will present a case study demonstrating how the in-silico rejuvenation of older pharmacopeial methods can drastically reduce analysis time, organic and non-biodegradable eluent consumption while significantly saving on solvent and labor costs in the lab. The inherent flexibility of digital modeling also allows for easier design and redesign of analytical methods, supporting ecological and economic advantages while meeting regulatory requirements and industrial method performance expectations.
DryLab® enhancements
Molnár-Institute's leading-edge DryLab®4 separation modelling software for liquid chromatographic separation has also benefited from a series of recent enhancement to its method development capabilities.
These have included integrating Empower CDS software to includes 3-level automated steps in an automated quality by design (AQbD) workflow by creating, performing and retrieving input runs, model-verification and robustness verification experiments. Generated method sets are being performed in most economic and ecologic order, also taking into account subsequent equilibration steps. This provides an easy modeling platform for making science-based flexible method development choices, mitigate risk, improve analytical throughput and ultimately deliver method development success.
Visitors to the Molnar-Institute stand will be able to see on-screen demonstrations of some of DryLab®4's powerful features, such as it unique modeling visualizations, as well as discussing innovative strategies for using the platform to improve efficiency and success of cutting-edge HPLC.
About Molnar-Institute
Founded in 1981, Molnár-Institute develops DryLab®, a software for (U)HPLC modeling for a world-wide market. Its powerful modules allow for the most sophisticated method development as required across pharma industries. Analytical scientists use DryLab to understand chromatographic interactions, reduce runtimes, increase robustness, and conform to Analytical Quality by Design (AQbD) standards.
Molnár-Institute is registered vendor to the US FDA, CDC and many other regulatory bodies. DryLab has pioneered AQbD long before regulatory agencies across the world encouraged such submissions. Widely implemented by thought leaders, the software contributes substantially to the paradigm shift towards a science- and risk driven perspective on HPLC Quality Control and -Assurance.
DryLab. Right First Time. Every Time.
About Pittcon 2020
Pittcon has become one of North America's largest annual conferences and expositions on laboratory science. Since its origins as The Pittsburgh Conference on Analytical Chemistry and Applied Spectroscopy, Pittcon has evolved into an event that now encompasses life sciences, pharmaceutical discovery and QA, food safety, environmental, bioterrorism and other emerging markets.
Pittcon 2020 is a five-day event staged opening March 1 at the McCormick Place conference center in Chicago. It is expected to attract more than 16,000 attendees from industry, academia and government from over 90 countries worldwide.
More information at: http://pittcon.org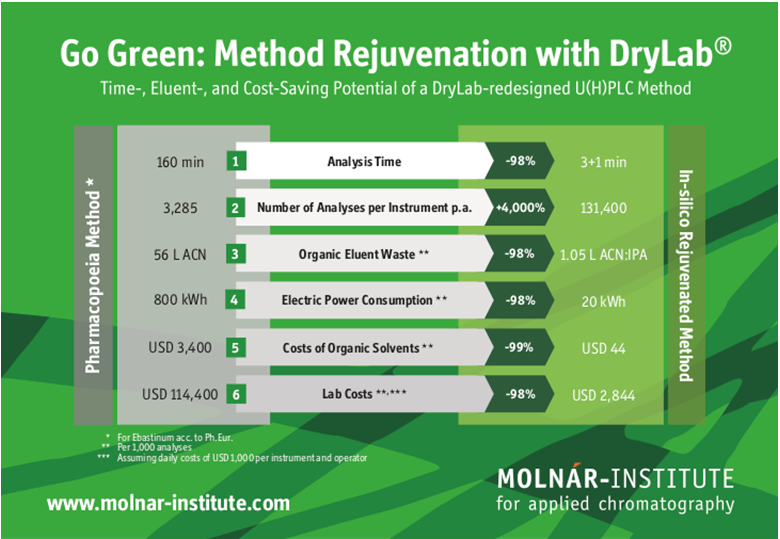 DryLab® method rejuvenation has major potential to reduce environmental impacts of analytical chemistry
View Articles by Molnár-Institute for applied chromatography