Contact Supplier
Contact Supplier
To get in touch with Bernhardt rolls out new website with e-commerce, simply fill out the form below.
Bernhardt rolls out new website with e-commerce
Wimille, France: – World-leading pouch manufacturer and sealing specialist, Bernhardt, has rolled out its new and re-engineered website with new emphasis on e-commerce.
The new interactive capabilities at www.bernhardt.fr include a new 'Add to My Project' function that allows products from the wide range of pouches and sachets to be directly purchased online.
Enhanced functionality
The new English/French language site features a clean contemporary design with extensive use of Flash and Javascript animation and functionality to provide instant rollover and expansion to provide quicker and more direct access to Bernhardt's huge range of packaging products and machines.
Apart from product information and technical details, the site also features extensive sections on company background, news and specific applications on agri-foods, pharmaceuticals and fine chemicals. The contact section now offers a direct messaging facility.
Packaging and equipment information
"Our goal was to provide the customer with more help and information about our packaging and equipment offers, and in this I think we have been successful," commented Bernhardt Executive Director in charge of Business Development, Pierre Emmanuel GRANDJEAN.
"The previous website was designed more than seven years ago, so it was certainly time for a change," Pierre added.
About Bernhardt
Bernhardt Packaging & Process (Bernhardt) is a French-based specialist manufacturer of high-barrier film pouches and bags, as well as industrial packaging machinery.
Joseph Bernhardt founded the company in 1956 in Boulogne-Sur-Mer to design and manufacture tailor-made machines including sealing technology. In the early 1970s, it extended its activities to the production of high barrier bags, tailor-made for the packing of sensitive products and perishable products.
The company is now a world-class specialist in pharma industry solutions for the packing of sensitive powders, granules, paste or liquid products in pouch sizes ranging from 50cl to 2000 liters. These are formed of high barrier foils for ultra-sensitive products as well as laminated or co-extruded medium protection films for mainstream applications.
BERNHARDT offers a very wide range of open mouth packs and re-closable pouches with high barrier properties to protect products from moisture, oxidation, light, and contamination. These include pouches for solids, liquids and pastes and large capacity high barrier bags for solids: It also manufactures a wide range of specialized machinery to meet specific packaging needs such as sealing, powder filling, vacuum or gas flushing and packing.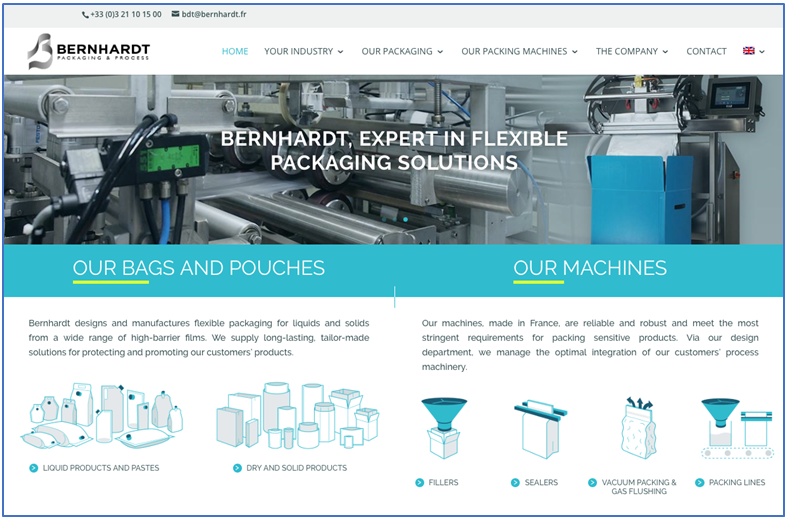 New Bernhardt website features uncluttered contemporary design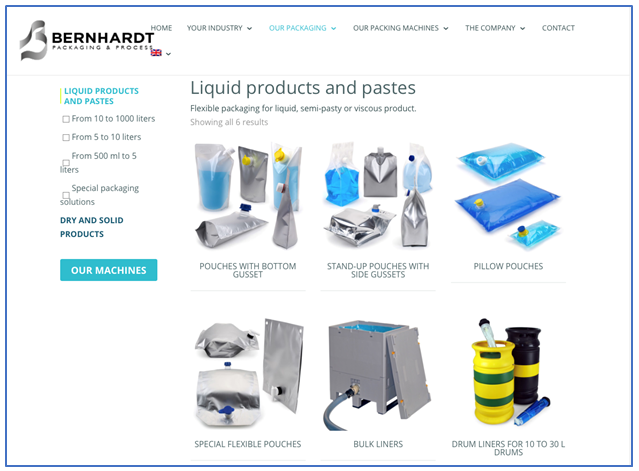 Website allows direct access to Bernhardt's wide range of packaging solutions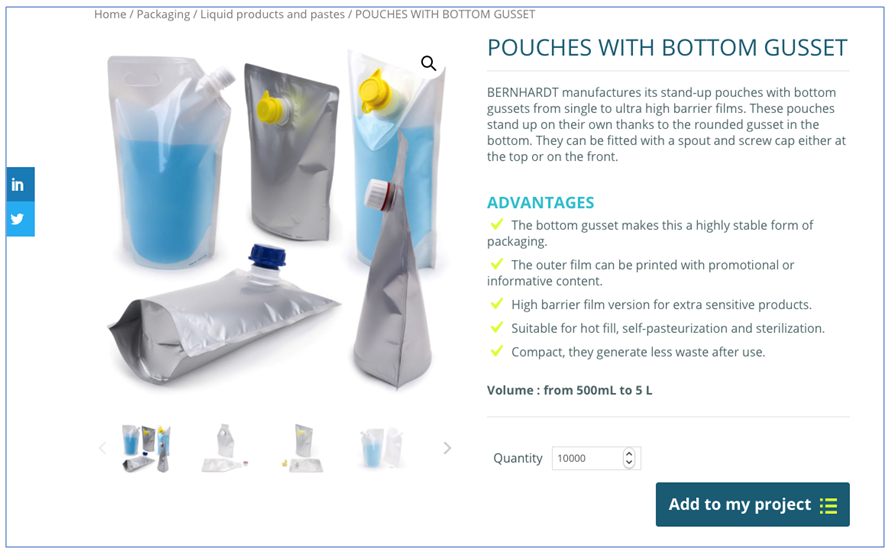 New 'Add to my project' button allows Bernhardt products to be purchased online