Contact Supplier
Contact Supplier
To get in touch with BERNHARDT, simply fill out the form below.
BERNHARDT makes debut at FachPack Nuremberg 2019
Wimille, France: – World-leading pouch manufacturer and sealing specialist, Bernhardt, will make its debut appearance at the FachPack packaging industry fair in Nuremberg later this month.
BERNHARDT will be an exhibitor at the event, with a stand at Booth 632 in Hall 9 at Messe Nürnberg displaying its extensive portfolio of high barrier packaging solutions, including its ranges of versatile stand up pouches for solid and liquid products and open-mouth bags.
BERNHARDT will also exhibit its range of packaging and sealing machines.
High barrier protection
BERNHARDT provides a wide range of pouches and bags for liquids and solids, ranging in size from 0.5 liters to 2000 liters that are used across a very wide range of pharmaceutical and other industrial applications.
The new BERNHARDT freestanding pouch ranges feature sealing shapes and strong foils that provide high barrier protection and impact resistance, as well as enhanced side gusset design for greater convenience.
Expanded manufacturing capacity at the Wimille facility near Boulogne has allowed BERNHARDT to keep pace with rising demand for its freestanding liquid pouches, which can also be used in aseptic filling applications.
Decisive advantages
The BERNHARDT team in Nuremberg will be led by Executive Director in charge of Business Development, Pierre Emmanuel GRANDJEAN. "We are looking forward to our first appearance at FachPack, where we will be able to show one of the industry's most extensive and impressive range of film and foil based packaging machinery and packing solutions," said Pierre.
"We'll be happy to welcome visitors and show them how our packaging and equipment solutions offer decisive advantages such as greater space efficiency, easier handling, less wastage, and continuous sealing," Pierre added.
About BERNHARDT
Bernhardt Packaging & Process (Bernhardt) is a French-based specialist manufacturer of high-barrier film pouches and bags, as well as industrial packaging machinery.
Joseph Bernhardt founded the company in 1956 in Boulogne-Sur-Mer to design and manufacture tailor-made machines including sealing technology. In the early 1970s, it extended its activities to the production of high barrier bags, tailor-made for the packing of sensitive products and perishable products.
The company is now a world-class specialist in pharma industry solutions for the packing of sensitive powders, granules, paste or liquid products in pouch sizes ranging from 50cl to 2000 liters. These are formed of high barrier foils for ultra-sensitive products as well as laminated or co-extruded medium protection films for mainstream applications.
BERNHARDT offers a very wide range of open mouth packs and re-closable pouches with high barrier properties to protect products from moisture, oxidation, light, and contamination. These include pouches for solids, liquids and pastes and large capacity high barrier bags for solids: It also manufactures a wide range of specialized machinery to meet specific packaging needs such as sealing, powder filling, vacuum or gas flushing and packing.
About FachPack 2019
The annual FachPack trade fair is one of Europe's leading Trade Shows for Packaging, Technology, Processing and Logistics, covering every aspect of packaging for industry and consumer goods.
FachPack 2019 is a three-day event opening September 24 , once again at the Nuremberg Messe Exhibition Center.
The previous FachPack in 2018 attracted some 1,600 exhibitors and more than 35,000 visitors, representing every sector of the industry including packaging materials, machinery, printing, print pack and processing, logistics systems and services.
The key theme for the 2019 show will be 'Environmentally friendly packaging,' with emphasis on use of recycled and recyclable materials, resource conservation, reusable packaging and systems and environmentally friendly processes.
The event is organized by Nurnberg Messe. More information at: https://www.fachpack.de/en
Resources
Click on BERNHARDT FachPack invitation to see LinkedIn video.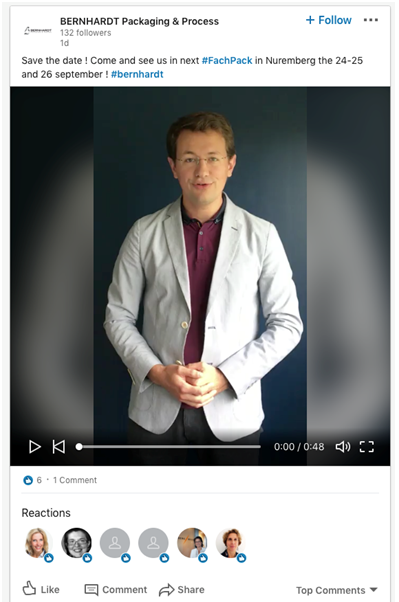 BERNHARDT welcomes FachPack visitors on LinkedIn