Contact Supplier
Contact Supplier
To get in touch with BERNHARDT, simply fill out the form below.
BERNHARDT bringing expanded pouch range to Interpack 2017
Wimille, France: – BERNHARDT, the French-based world leader in high barrier film and foil bags is travelling to the big interpack 2017 expo in Dusseldorf to show an expanded range of pouches for liquid products and open-mouth bags.Once again, BERNHARDT will be a leading presence within the French Pavilion at the show, housed in Hall 9 of the Messe Dusseldorf Exhibition Center, supported by networking campaigns via France's GEPPIA pharma manufacturing alliance and Business France.
Liquid pouch demand
The company recently announced that it had expanded manufacturing capacity at its Wimille facility near Boulogne, adding two new production lines to meet rising remand for its freestanding liquid pouches. These will feature prominently in its display, which will also showcase its various box, sachet and high capacity bags, as well as liquid bags designed for animal health applications.
The BERNHARDT stand at Booth F22-23 will also stage live demonstrations of its renowned vacuum sealing and gas flushing machines.
Representative opportunities
"The Interpack show provides us with a great platform to reach out to pharmaceutical companies looking for high quality and cost effective solutions for storage and delivery that provide high protection for sensitive products, including excipients and APIs," said BERNHARDT Sales Director, Jeremie Dalle.
"We will also be using the event to further raise out profile within the pharmaceutical and life sciences industries and also to recruit further gents and representatives for our products," Mr. Dalle added.
About BERNHARDT
BERNHARDT Packaging & Process (BERNHARDT) is a French-based specialist manufacturer of high-barrier foil packaging and industrial packaging machinery.
Joseph Bernhardt founded the company in 1956 in Boulogne-sur-Mer to design and manufacture machines for the packing of fish and seafood. In the early 1970s, it extended its activities to the production of high barrier bags, tailor-made for the packing of sensitive products and perishable products.
The company is a now a world-class specialist in pharma industry solutions for the packing of sensitive powders, granules, paste or liquid products in pouch sizes ranging from 30cl to 2000 liters. These are formed of high barrier foils for ultra-sensitive products as well as laminated or co-extruded medium protection films for mainstream applications.
BERNHARDT offers a very wide range of open mouth packs and reclosable pouches with high barrier properties to protect products from moisture, oxidation, light, and contamination. These include pouches for solids, liquids and pastes and large capacity high barrier bags for solids: It also manufactures a wide range of specialized machinery to meet specific packaging needs such as sealing, powder filling, vacuum or gas flushing and packing.
The company is a member of the GMP BOX alliance of five family-owned companies based in Northern France with shared mission to bring strong expertise in various complementary packaging domains to pharma and biotech market. Other members are Baron Group, specializing in advance production technologies; SERAIL, a world leader freeze drying technology; EREA, specialized in containment solutions and ultra clean air protection; and powder mechanical processing specialist Forplex.
About Interpack 2017
First staged in 1962, the Interpack Trade Fair, held every three years in Düsseldorf, Germany, is one of the world's leading events for the packaging industry and related process technologies.
This year's Fair will be a seven-day event opening May 4 at the Düsseldorf Exhibition Center Organizers Messe Düsseldorf say interpack 2017 is set to exceed the success of the sold out Interpack 2014, with record demand among exhibitors. Some 2,700 companies from more than 60 countries are expected to fill the 19 halls. The co-located Components Fair is also fully booked. Altogether, some 165,000 people are expected to visit the event, representing pharmaceutical, cosmetics and other industries ranging from food and beverages to industrial goods and related services.
Messe Dusseldorf organizes the event with more information at: http://www.interpack.com.
Resources
Click on BERNHARDT range to get more information about the BERNHARDT product range.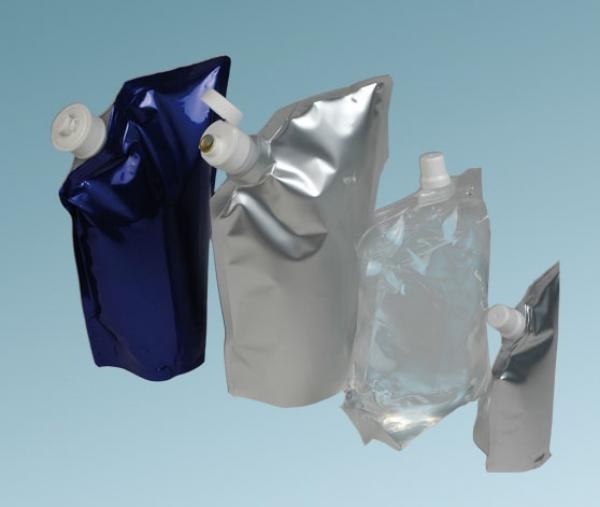 BERNHARDT will show a wide range of freestanding pouches for liquids in a variety of film and foil materials at interpack 2017