VALIDOGEN presenting UNLOCK PICHIA insights at PepTalk 2020
Raaba-Grambach, Austria: Protein expression specialist VALIDOGEN will send two of its leading scientists to San Diego, California, to present insights of its advanced UNLOCK PICHIA protein production toolbox at PepTalk 2020.
Iskandar Dib, VALIDOGEN's Head of Analytics & DSP and Roland Weis, VALIDOGEN's Head of Operations, will represent the company at the conference.
Iskandar will deliver a presentation on 'Boosting VHH Expression Using UNLOCK PICHIA' on the morning of Day Three of the conference (Wednesday, 22 January, 9.20 am – 9.50 am) as part of the "Effective Expression and Production of Recombinant Proteins" stream.
VHH expression
He will explain how production strains and processes for the manufacture of single-domain antibodies, also known as VHHs, are currently developed at VALIDOGEN´s labs for an increasing number of different applications. Efficient production of VHHs is enabled by VALIDOGEN's yield-enhancing UNLOCK PICHIA protein production toolbox, comprising a broad diversity of molecular tools and expression strategies.
"We are able to demonstrate significant enhancement of VHH expression applying our technology platform, for example a set of helper factors acting along the way from transcription to secretion," said Roland Weis.
Productivity through diversity
VALIDOGEN´s UNLOCK PICHIA protein production toolbox including the company´s library of PAOX1 promoter variants provides several advantages. Very high titers along with timely adjusted expression of helper proteins (some available exclusively through VALIDOGEN) as well as lower consumption or complete absence of methanol are features which can significantly contribute to enhanced productivity and product quality and hence substantial reduction in cost of goods for protein manufacturing.
VALIDOGEN´s labs apply their UNLOCK PICHIA tools in a very effective combinatorial fashion simultaneously in pools of expression constructs comprising the gene of interest and potentially also genes encoding for different auxiliary (helper) proteins, thereby generating a broad diversity of genomic arrangements in the host cells resulting in diverse expression profiles and significantly boosted protein production.
In an experimental case study, a set of helper factors acting either in the cytosol or the ER or facilitating translocation of nascent proteins into the ER were co-expressed in order to investigate a potential enhancement of VHH-dimer expression. Results from microscale as well as bioreactor scale showed a 2.0 – 2.7-fold improvement of product yield. Combining all three helper factors in one expression construct led to a 3.5-fold enhancement of product yield as depicted in the graph below.
About VALIDOGEN GmbH
VALIDOGEN GmbH (formerly VTU Technology), a leading contract research and development company, offers the broadest toolbox and most versatile technology platform available for Pichia pastoris recombinant protein expression and production.
VALIDOGEN develops high performance expression strains and economically viable protein production processes for the manufacture of biopharmaceuticals, enzymes and various other recombinant proteins and provides tailor-made solutions for customers from different industry sectors – such as pharma, diagnostics, food & feed, chemical, agro and other industries.
Headquartered in Raaba-Grambach, near Graz, Austria, VALIDOGEN is a private company and independent subsidiary of the KonValue Holding GmbH.
www.validogen.com and www.unlockpichia.com.
About PepTalk 2020
The Protein Science Week known as PepTalk is one of the largest annual gatherings of protein science researchers in the world. PepTalk features renowned speakers from academia, biotech and pharma who bring global expertise and perspective to the forefront.
The event is organized by CHI – Cambridge HealthTech Institute, with further information at: https://www.chi-peptalk.com.
Resources
Click on UNLOCK PICHIA for further information on Pichia pastoris production toolbox.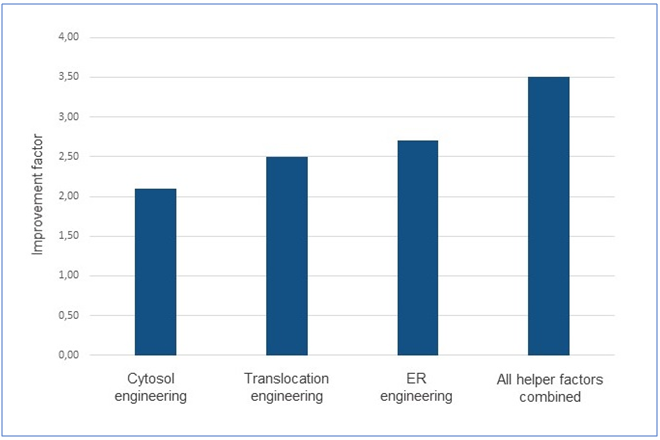 Pichia pastoris protein production toolbox
UNLOCK PICHIA allows protein production to profit (among other tools) from an extended portfolio of helper factors acting at multiple sites within the production host. Combining all three helper factors in one expression construct led to a 3.5-fold enhancement of product yield