---
VALIDOGEN presenting new responses to Pichia production challenges at PepTalk 2019
---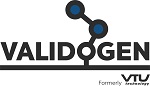 PRESS RELEASE | VALIDOGEN GmbH
DECEMBER 18, 2018
Grambach, Austria: – Protein expression specialist VALIDOGEN (formerly VTU Technology) will be a leading contributor to January's Protein Science Week (PepTalk 2019) event in San Diego, California.
VALIDOGEN will be represented by Iskandar Dib, Head of Analytics and DSP and Roland Weis, its Head of Operations.
Dr. Dib will deliver a presentation on "Productivity through Diversity – a Protein Production Toolbox to UNLOCK PICHIA".
This will be part of the PepTalk "Engineering Genes, Vectors, Constructs, and Clones" stream, taking place on Monday, 14 January, between 5.30pm and 6.00pm
Meeting current biopharma production challenges
The presentation will note that novel protein classes and current trends in biopharma production require more versatile and yet robust expression systems. VALIDOGEN's answer is a yield-enhancing protein production toolbox known as UNLOCK PICHIA enabling fine-tuning of protein expression by its diversity of molecular tools and expression strategies for Pichia.
Dr. Dib will show how UNLOCK PICHIA can facilitate the targeted debottlenecking of protein expression all the way from transcription and translation to translocation, protein folding and secretion.
About VALIDOGEN GmbH
VALIDOGEN GmbH, a leading Austrian contract research and development company, offers the broadest toolbox and most versatile technology platform available for Pichia pastoris recombinant protein expression and production.
VALIDOGEN´s yield-enhancing UNLOCK PICHIA expression platform is based on its proprietary AOX1 promoter libraries and set of expression enhancing helper factors, several platform strains with different genetic backgrounds, elaborated cloning and transformation protocols, a high-throughput screening and cultivation regime combined with excellent know-how in fermentation and downstream process development for maximization of product yield and overall process performance. The platform enables highest productivities delivering up to 25 g/L of secreted protein (record productivities of 35 g/L) within a few weeks development time.
More Information: www.validogen.com and www.unlockpichia.com.
About PepTalk 2019
The Protein Science Week known as PepTalk is one of the largest annual gatherings of protein science researchers in the world. Now, in its 18th year, PepTalk features renowned speakers from academia, biotech and pharma who bring global expertise and perspective to the forefront.
An international audience of more than 1,300 participants convene for intensive learning and networking to discover new opportunities, apply alternative solutions, and develop promising partnerships.
PepTalk 2019 is a five-day event opening January 14, 2019 at the Hilton San Diego Bayfront hotel.
The event is organized by the CHI Division of Cambridge HealthTech Institute, with further information at: https://www.chi-peptalk.com.
Media Contacts
Dr. Thomas Purkarthofer, Head of Business Development, VALIDOGEN GmbH
Email: thomas.purkarthofer@validogen.com
Tel.: +43 316 4009 4017
Resources
Click on VALIDOGEN at PepTalk 2019 for other information.
Click on VALIDOGEN GmbH to contact the company directly.
---
Supplier Information
Supplier: VALIDOGEN GmbH
Address: A-8074 Grambach, Parkring 18, Austria
Tel: +43 (316) 4009 4000
Fax: +43 (316) 4009 4010
Website: www.validogen.com
---