---
SEPAREX brings SFC polyethylene recycling solutions to Petcore Brussels
---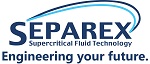 Press Release | SEPAREX S.A.S
NOVEMBER 19, 2015
Champigneulles, France: – Specialist contract development and manufacturing organization (CDMO) SEPAREX will be bringing news of its leading edge supercritical fluid (SFC) technologies to the PET industry event, Petcore Europe.
Managing Director, Dr. Audrey Ngomsik-Fanselow and R&D Coordinator, Dr. Audrey Common, will represent SEPAREX at the one-day conference in Brussels on November the 24th.
SFC decolorization
SEPAREX has become a leading player in the recycling and processing of Polyethylene Terephthalate (PET) and polyethylene-based textiles, thanks to its master of innovative SFC-based technologies, including SFC encapsulation and extraction, SFC fractionation and micronization, SFC purification and sterilization, all of which can be carried out without using water.
"We will be able to show anyone interested in PET recycling how SEPAREX is able to decolorize waste polyester textile without impeding the quality of the fibers," said Dr. Audrey Common.
"The decolorized fibers are then available for use in plasturgy or as packaging material," added Dr. Common.
Breakthrough process
SEPAREX has won the best innovation award in the category sustainable process for its breakthrough DeDye process, which uses SFC technology to achieve waterless de-dyeing and recycling of polyester-based textiles.
The process achieves efficiency improvements in recycling polyester waste, allowing material to be recycled more profitably, and SEPAREX is now planning looking to implement the new technology at pre-industrial scale.
SFC recycling
Dr. Ngomsik-Fanselow added: "Waterless undyeing, with its huge environmental advantages, is just one of the applications for our supercritical fluid innovations across the textiles industry for fibers and fabric producers and in manufacturing of manmade and functional fibers. Others include SFC dyeing, SFC recycling, SFC impregnation, SFC cleaning and dry cleaning."
The technology is featured in a video recently posted by the parent FeyeCon Group at:

About SEPAREX
SEPAREX is a contract development and manufacturing organization (CDMO) that specializes in leading edge applications based on advanced research and development (R&D) into supercritical fluid (SFC) and high-pressure technology systems.
SEPAREX is a member of the Netherlands-based FeyeCon Group, which specializes in waste treatment & valorization. The company's R&D, process development and equipment manufacturing expertise allows clients to build cleaner and greener products that do not rely on fluorinated, chlorinated or liquid organic solvents.
SFC extraction, fractionation, micronization, purification, sterilization, encapsulation and other technologies based on high pressure applications of supercritical CO2 provide non-polluting "tunable" solvents with intermediate properties between liquid and gas that make them highly efficient as reaction media.
SEPAREX also builds and installs production equipment for many different application fields in the pharma, bioscience and fine chemicals industries, including SFC reaction, solid batch extraction and liquid fractionation plants, Aerogel production machinery, and supercritical water oxidization reactors.
This French-based company is thus able to apply a distinctive Supercritical Fluid Engineering approach in working with clients through every stage of process from original concept through product and process development to construction of industrial scale equipment
About Petcore Europe 2015
The Petcore Europe annual conference is a leading knowledge sharing and networking event for the industry concerned with manufacture, application and processing of Polyethylene Terephthalate (PET).
The event is organized by the industry association Petcore Europe, which focuses on the positioning of PET as a sustainable packaging material by ensuring the development of post-consumer PET collection and recycling.
PET is a strong but lightweight form of clear polyester used to make containers for soft drinks, juices, alcoholic drinks, water, edible oils, household cleaners and other food and non-food applications.
The annual conference attracts representative from every stage of the PET value chain, as well as relevant EU institutions.
Petcore Europe 2015 is a one-day event, held on November 24 at the Vleva Conference Center, Brussels.
Further information at: http://www.petcore.org/petcore-europe-conference-2015-all-about-pet
Media Contact
David Boissy, Assistant Marketing & Communication, SEPAREX S.A.S.
Tel: +33 3 83 31 24 24
Email: dboissy@separex.fr
Resources
Click on SEPAREX brings SFC polyethylene recycling solutions to Petcore Brussels for more information.
Click on SEPAREX to contact the company directly.
---
Supplier Information
Supplier: SEPAREX S.A.S
Address: 5 rue Jacques Monod, BP 9, 54250 Champigneulles, France
Tel: + 33 38 331 2424
Fax: + 33 38 331 2483
Website: www.separex.fr
---