---
Separex presenting SCF application to biomass waste treatment at EMSF 2016
---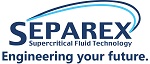 Press Release | SEPAREX S.A.S
MAY 09, 2016
Champigneulles, France: – Separex, the French-based supercritical fluid chromatography (SCF) specialist CDMO, will be returning to the European Meeting on Supercritical Fluids, (EMSF) when it reconvenes in Essen later this month.
Separex will contribute the scientific conference program, with a poster on "Use of sub and supercritical water to transform biomass waste into valuable products".
It will also be an exhibitor at EMSF 2016, with its own booth displaying a range of its key technologies including different supercritical fluid units, suitable for several industries such as textiles, cosmetics, high tech materials, food & beverage, and waste treatment and valorization.
Leading SCF force
Separex will be represented by her Business engineer, Mrs Séverine Griselain and Sales representative, Mr David Boissy.
"The EMSF meeting is a must-attend event for any company active in the supercritical fluids sector," commented David Boissy.
"All leading supercritical fluids actors will be in Essen to showcase their progress. As a SCF specialized company for more than 30 years, it's important for Separex to be an exhibitor at EMSF, which provides the ideal platform to improve visibility and contacts in the field of SCF," he added.
SCF water valorization
"Our main theme at EMSF 2016 will be use of SCF to transform biomass into valuable products," said Séverine Griselain.
"We have important points to make about the versatility of SCF-based applications, the power of innovation we can bring to bear with new applications available for waste treatment and waste valorization," said Séverine.
Separex is supporting its appearance at EMSF with networking campaigns conducted via newsletter, Twitter and LinkedIn.
About SEPAREX
SEPAREX is a contract development and manufacturing organization (CDMO) that specializes in leading edge applications based on advanced research and development (R&D) into supercritical fluid (SCF) and high-pressure technology systems.
SEPAREX is a member of the Netherlands-based FeyeCon Group, which specializes in waste treatment & valorization. The company's R&D, process development and equipment manufacturing expertise allows clients to build cleaner and greener products that do not rely on fluorinated, chlorinated or liquid organic solvents.
SCF extraction, fractionation, micronization, purification, sterilization, encapsulation and other technologies based on high pressure applications of supercritical CO2 provide non-polluting "tunable" solvents with intermediate properties between liquid and gas that make them highly efficient as reaction media.
SEPAREX also builds and installs production equipment for many different application fields in the pharma, bioscience and fine chemicals industries, including SCF reaction, solid batch extraction and liquid fractionation plants, Aerogel production machinery, and supercritical water oxidization reactors.
This French-based company is thus able to apply a distinctive Supercritical Fluid Engineering approach in working with clients through every stage of process from original concept through product and process development to construction of industrial scale equipment.
About EMSF 2016
The 15th European Meeting on Supercritical Fluids (EMSF 2016) is sponsored by the International Society for Advancement of Supercritical Fluids (ISASF). The meeting is held every two years at different locations to provide a forum for scientists, academic and industrial researchers and business partners to explore latest developments and applications of supercritical fluids.
EMSF 2016 is a four-day event held at the Sanaa Building on the UNESCO World Heritage Site at Zollverein, in Essen, Germany. The event will combine a scientific conference with a trade fair exhibition.
The EMSF Meeting is supported by ProcessNet, with more information available at: http://emsf2016.com
Media Contact
David Boissy, Assistant Marketing & Communication, SEPAREX S.A.S.
Tel: +33 3 83 31 24 24
Email: dboissy@separex.fr
Resources
Click on Separex presenting SCF application to biomass waste treatment at EMSF 2016 for more information.
Click on SEPAREX to contact the company directly.
---
Supplier Information
Supplier: SEPAREX S.A.S
Address: 5 rue Jacques Monod, BP 9, 54250 Champigneulles, France
Tel: + 33 38 331 2424
Fax: + 33 38 331 2483
Website: www.separex.fr
---