---
SEPAREX to share breakthrough SCF recycling technologies at WASTE meeting Lyons
---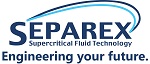 Press Release | SEPAREX S.A.S
DECEMBER 02, 2015
Champigneulles, France: – Specialist contract development and manufacturing organization (CDMO) SEPAREX will be bringing insights on recycling applications of leading edge supercritical fluid technologies (SCF) at a new waste industry event in Lyons, France.
Managing Director, Dr. Audrey Ngomsik-Fanselow and R&D Coordinator, Dr. Audrey Common, will represent SEPAREX at the second WASTE Meetings event in early December.
SEPAREX will attend both as an exhibitor, with a stand at the Espace Tête d'Orcenter and also as a technology provider, bringing valuable insights to B2B meetings on the use of supercritical CO2 and supercritical water in the recovery of metals, paper, lignin, wood, fibers and other material from synthetic wastes.
Adding value to waste recycling
SEPAREX has become a leading player in the recycling and processing of paper, biomass, metals and synthetic textiles.Thanks to its mastery of innovative SCF-based technologies, including SCF extraction, SCF fractionation, SCF purification and SCF sterilization, all of these SC-CO2 can be carried out without using water. SEPAREX provides another SCF technology based on SC-H2O, especially used in metals recycling process.
"We are able to apply a distinctive supercritical fluid engineering approach in working with clients through every stage of process from original concept through product and process development to building of industrial scale production," said Dr. Ngomsik-Fanselow
"We will be able to show the WASTE Meetings in Lyon how our SCF technology can add value across a range of processes and at different stages of process," she said.
SCF de-dyeing
"For example, we can use SCF de-dying process to treat polyester waste into WHITE FIBERS, ready for re-use," she said, It is that technology that has just gained us an international textiles materials award," added Dr.Ngomsik-Fanselow.
SEPAREX has been shortlisted for a leading textile sustainability industry award for its breakthrough DeDye process, which uses SCF technology to achieve waterless de-dyeing and recycling of synthetic and polyester-based textiles.
The process achieves efficiency improvements in recycling polyester waste, allowing material to be recycled more profitably, and SEPAREX is now looking to scale up the new technology, which is featured in a video recently posted by the parent FeyeCon Group at:
https://www.youtube.com/watch?v=wDZqQ78JM8E
About SEPAREX
SEPAREX is a contract development and manufacturing organization (CDMO) that specializes in supercritical fluid (SCF) applications and high-pressure technology systems.
A member of the Netherlands-based FeyeCon Group, SEPAREX R&D, process development and equipment manufacturing expertise allows clients to build cleaner and greener products that do not rely on fluorinated, chlorinated or liquid organic solvents.
SCF extraction, fractionation, micronization, purification, sterilization, encapsulation and other technologies based on high pressure applications of supercritical CO2 provide non-polluting "tunable" solvents with intermediate properties between liquid and gas that make them highly efficient as reaction media.
SEPAREX also builds and installs production equipment for many different application fields in the pharma, bioscience and fine chemicals industries, including SCF reaction, solid batch extraction and liquid fractionation plants, Aerogel production machinery, and oxidization reactors.
This French-based company is thus able to apply a distinctive Supercritical Fluid Engineering approach in working with clients through every stage of process from original concept through product and process development to construction of industrial scale production.
About WASTE Meeting 2015
WASTE Meetings is an interlinked series of conferences focused on the three main levels of waste management: recycling of materials, reuse of organic bio matter and recovery of energy.
The event was founded last year and is being run for the second time in 2015, again in Lyon. WASTE Meetings 2015 is a two-day meetings opening December 2 at Lyon's Espace Tête d'Or conference center.
The 2015 meetings will have a more international outlook, featuring new partnerships with foreign research clusters, broadening intercommunication between research clusters such as AXELERA, TRIMATEX and TEAM.
A conference program on waste recovery will complement the WASTE Meetings.
Day Two of the event will see a new "European Economic Circle, featuring several conferences for European industrial companies to share their experiences in the field and new pragmatic approaches to recycling.
The event is organized by ABE with further information at: http://www.wastemeetings.com/index.php/en/
Media Contact
David Boissy, Assistant Marketing & Communication, SEPAREX S.A.S.
Tel: +33 3 83 31 24 24
Email: dboissy@separex.fr
Resources
Click on SEPAREX to share breakthrough SCF recycling technologies at WASTE meeting Lyons for more information.
Click on SEPAREX to contact the company directly.
---
Supplier Information
Supplier: SEPAREX S.A.S
Address: 5 rue Jacques Monod, BP 9, 54250 Champigneulles, France
Tel: + 33 38 331 2424
Fax: + 33 38 331 2483
Website: www.separex.fr
---