---
SEPAREX bringing Supercritical Fluids innovations to Seoul Symposium
---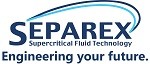 Press Release | SEPAREX S.A.S
OCTOBER 07, 2015
Champigneulles, France: – Specialist contract development and manufacturing organization (CDMO) SEPAREX will be an exhibitor at one of the leading Asian events for its core expertise areas process development, engineering and equipment manufacturing on supercritical fluid (SFC) technologies.
A strong SEPAREX team will travel to the South Korean capital, Seoul, for the October 11 opening of the three day International Symposium on Supercritical Fluids (ISSF).
SEPAREX is also a prime sponsor of the event, which relies on international support to allow it to be held every third year.
Keynote speakers
The company, which offers a range of services based on supercritical fluids (CO2, H2O mainly) and high-pressure technologies, will offer scientific papers at two poster sessions, along with two keynote speakers, drawing from its research and development expertise.
Geert Woerlee, CEO and founder of FeyeCon Group, mother company of Separex will deliver a keynote lecture on Large-scale development of SFC fractionation of polyunsaturated fatty acid esters, opening the Separation Processes session during the afternoon of Day One.
The same day, SEPAREX founder, Michel Perrut, will talk to the symposium on 'SFC extraction at very high pressure: Why, When and How?'
SFC technologies
Dr. Woerlee and Dr. Perrut will also chair separates sessions at the symposium.
SEPAREX scientists will also offer insights on 'Production of Cyclic Carbonates from CO2 using Renewable Feedstocks' and 'An original way of recycling textile using supercritical CO2' as part of the Novel Processes poster session.
"We are proud to be sponsors of this symposium, which is so important for our young industry," said SEPAREX managing director, Dr. Audrey Ngomsik-Fanselow.. Other members of the Separex team will include Project Leader and Technical Sales Manager, Thibault Barrat, and Customer Relationship Manager, Sophie Goes.
"Our presence and contributiuoins at this event will underline our role a complete service provider in SFC technologies, helping our clients every step of the way from initial design to implementing full scale production," added Dr. Ngomsik-Fanselow.
The SEAPAREX exhibition stand (booth number 4) will also be showing a video demonstration of the company's latest technological innovation, allowing quick closure of processes.
About SEPAREX
SEPAREX is a contract development and manufacturing organization (CDMO) that specializes in supercritical fluid (SFC) applications and high-pressure technology systems.
A member of the Netherlands-based FeyeCon Group, SEPAREX R&D, process development and equipment manufacturing expertise allows clients to build cleaner and greener products that do not rely on fluorinated, chlorinated or liquid organic solvents.
SFC extraction, fractionation, micronization, purification, sterilization, encapsulation and other technologies based on high pressure applications of supercritical CO2 provide non-polluting "tunable" solvents with intermediate properties between liquid and gas that make them highly efficient as reaction media.
SEPAREX also builds and installs production equipment for many different application fields in the pharma, bioscience and fine chemicals industries, including SFC reaction, solid batch extraction and liquid fractionation plants, Aerogel production machinery, and oxidization reactors.
This French-based company is thus able to apply a distinctive Supercritical Fluid Engineering approach in working with clients through every stage of process from original concept through product and process development to construction of industrial scale production.
About ISSF 2015
The 11th International Symposium on Supercritical Fluids (ISSF 2015) is a three-day event opening October 11, 2015.
The event, which incorporates the Supergreen 2015 conference, will be held at the Global Education Center for Engineers (GECE) wing of the Seoul National University in Gwanak-Gu, Republic of Korea.
The three-day symposium consists of plenary, keynotes, oral presentations and poster sessions. The program will focus on the recent technological developments and trends in the field of supercritical fluids.
More information at: http://www.issf2015.com/
Media Contact
David Boissy, Assistant Marketing & Communication, SEPAREX S.A.S.
Tel: +33 3 83 31 24 24
Email: dboissy@separex.fr
Resources
Click on SEPAREX bringing Supercritical Fluids innovations to Seoul Symposium for more information.
Click on SEPAREX to contact the company directly.
---
Supplier Information
Supplier: SEPAREX S.A.S
Address: 5 rue Jacques Monod, BP 9, 54250 Champigneulles, France
Tel: + 33 38 331 2424
Fax: + 33 38 331 2483
Website: www.separex.fr
---