---
SEPAREX bringing SCF solutions to Textile Sustainability arena
---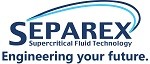 Press Release | SEPAREX S.A.S
OCTOBER 27, 2015
Champigneulles, France: – Specialist contract development and manufacturing organization (CDMO) SEPAREX will use a landmark Brussels conference to share knowledge of the major contribution supercritical fluids (SCF) technology can make to textile processes.
SEPAREX, which is an expert in application of supercritical carbon dioxide (CO2), will be among the 150 attendees at the Textile Sustainability Platform Conference, opening on October 28 at the HUSA President Park Hotel in Brussels.
Sustainable Processes
SEPAREX will show how its core expertise areas (process development, engineering and equipment manufacturing) on supercritical fluid (SCF) technologies have multiple applications in creating more sustainable textiles manufacturing processes, particularly in reducing use of solvents and water.
The SEPAREX team at the Textile Sustainability 2015 event will be led by its Managing Director, Dr. Audrey Ngomsik-Fanselow and R&D Engineer, Jorge Berriatua.
SFC textiles applications
"The Textiles ETP event provides us with a great opportunity to reach out to an influential audience of potential investors and decision makers, branded manufacturers and end users to show them how we can help them implement SCF-based technologies all the way through their processes, from lab research to full-scale industrial production," said Dr. Ngomsik-Fanselow.
Mr. Berriatua added: "Supercritical fluid-based technologies have applications all the way across the textiles industry, for fibers and fabric producers and in manufacturing of manmade and functional fibers. These include SCF recycling, SCF impregnation, SCF dyeing and undyeing, along with dry cleaning."
About SEPAREX
SEPAREX is a contract development and manufacturing organization (CDMO) that specializes in supercritical fluid (SCF) applications and high-pressure technology systems.
A member of the Netherlands-based FeyeCon Group, SEPAREX R&D, process development and equipment manufacturing expertise allows clients to build cleaner and greener products that do not rely on fluorinated, chlorinated or liquid organic solvents.
Supercritical CO2 is a non-polluting "tunable" solvents with intermediate properties between liquid and gas that make them highly efficient in a lot of processes such as SCF extraction, fractionation, micronization, purification, sterilization, encapsulation and other technologies based on high pressure applications.
SEPAREX also builds and installs production equipment for many different application fields in the pharma, bioscience and fine chemicals industries, including SFC reaction, solid batch extraction and liquid fractionation plants, aerogel production machinery, and oxidization reactors.
This French-based company is thus able to apply a distinctive Supercritical Fluid Engineering approach in working with clients through every stage of process from original concept through product and process development to construction of industrial scale production.
About Textiles Sustainability Platform 2015
The Innovating For Textile Sustainability Conference and co-hosted HORIZON 2020 Brokerage seminar will be a two-day event opening October 28 at the HUSA President Park Hotel in Brussels.
The conference will involve more than 150 participants drawn from all sectors of the textiles and related process industries.
The conference will explore how new developments in materials, production processes and supply chain management can further optimize the sustainability performance of the European textile and clothing industry.
This includes the potential of material circularity, resource-efficient manufacturing and smart on-demand business operations, radically new concepts, technologies and business models to achieve step-changes in reducing environment impact and resource efficiency.
The conference will be followed by the HORIZON 2000 EU research and innovation funding seminar and project brokerage event on October 29.
The events are organized by the European Technology Platform for the Future of Textiles and Clothing (Textiles ETP). More information at: http://www.textile-platform.eu/
Media Contact
David Boissy, Assistant Marketing & Communication, SEPAREX S.A.S.
Tel: +33 3 83 31 24 24
Email: dboissy@separex.fr
Resources
Click on SEPAREX bringing SCF solutions to Textile Sustainability arena for more information.
Click on SEPAREX to contact the company directly.
---
Supplier Information
Supplier: SEPAREX S.A.S
Address: 5 rue Jacques Monod, BP 9, 54250 Champigneulles, France
Tel: + 33 38 331 2424
Fax: + 33 38 331 2483
Website: www.separex.fr
---