Contact Supplier
Contact Supplier
To get in touch with PHC Europe BV, simply fill out the form below.
PHCbi MIR Cooled Incubators for Precise Laboratory Culturing
PHCbi's MIR range of Cooled Incubators series combine advanced technology, unique design features and high-quality engineering to deliver the precision, control and reliability required by laboratories to simulate in vivo growth conditions.
The MIR series includes three programmable cooled incubator models with capacities ranging from 123 litres to more than 400 litres. All three incorporate the programmable light and heat settings that are essential to simulate a full range of culturing and study conditions.
Meeting advanced protocols
Many test and experimentation protocols require wide-ranging, high-precision, automatic temperature and lighting control, for example, in analysing the performance of a sample over a range of environmental conditions. In others, distinct and precise temperature and lighting protocols are critical at specific times, as in the culture of biological samples or in plant germination. Precision, repeatability and reliability in laboratory testing are essential to avoid jeopardising samples, results, or entire research projects.
Laboratories around the world and from a diverse range of industries are benefiting from the outstanding programmable performance of PHBbi MIR Cooled Incubators that offer exceptional accuracy, reliability and flexibility, as well as value for money and enhanced efficiency.
Precise performance
The MIR series provide exceptional versatility, with extensive programmable temperature ranges that allow each MIR incubator system to be set to any temperature between -10ºC and +60ºC. The microprocessor-controlled PID heater enables highly precise temperature control with minimal fluctuation of just +0.2ºC, using heater control only, and +1.5ºC in combination with compressor control. This level of accuracy is essential for the success of many environmental tests, experiments with microorganisms and plant germination in particular, also assisted by the MIR series' door windows and fluorescent lighting that enable clear observation of samples and minimize need for door openings.
Additonally, fan circulation optimizes temperature uniformity within the incubator cabinet. The door switch automatically turns the circulation fan off with door opening to minimize air loss and reduce temperature recovery times, a fey feature for dynamic environments, such as busy microbiological testing laboratories.
MIR Cooled incubator Range
The MIR series includes three programmable cooled incubator models that provide a range of capacities but which all provide outstanding performance and flexibility, enabling users to replicate in-vivo conditions very closely for optimal results and reproducibility.
MIR-154-PE: The most compact machine in the range offer 123 liters of storage capacity and is suitable for a wide range of applications requiring -10ºC to +60ºC environments with simulation of a wide variety of temperatures and lighting patterns. It features programmable operation with microprocessor control over temperature, lighting and time cycles, allowing up to 12-step repeating operations. Up to 10 programs can be stored for frequently run experiments. This model is also available in MIR-L15-PE variant that operates between +2˚C and +50˚C.
MIR-254-PE: This mid-sized system provides 238 liters of working space. Offering the same wide temperature range from -10ºC to +60ºC with excellent uniformity and precise control, along with energy-saving and secure, comprehensive alarm system, the MIR-254-PE is additionally equipped with a DC fan that can be directed obliquely upward within the cabinet to prevent direct air flow contacting samples to reduce desiccation and drying of media.
MIR-554-PE: The top of the range cooled incubator offer 406 liters of working capacity with the temperature, lighting and timing versatility characteristic of the MIR range. It additionally offers advanced features, such as Automatic Setting Temperature Alarm, Independent Over-temperature Protection Device, Programmed Memory Back-up Mechanism, Automatic Return Buzzer Switch, Key Locking, Self-diagnostic Trouble Monitor, and Automatic Return Buzzer Switch.
Expansion options
A host of accessory options are also available for the MIR series that extend flexibility of the system further. These include stacking kits, door padlock brackets, additional illumination, and door window blanking plates (supplied as standard on MIR-554-PE).
Technical specifications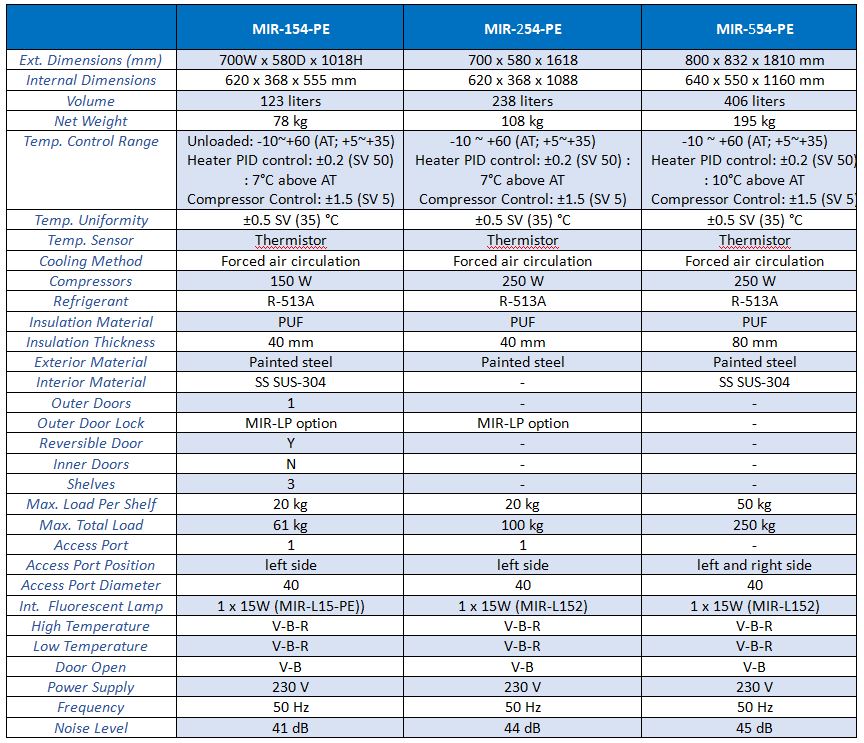 Resources
Click on PHCbi Incubator Technology to learn more.
Click on PHCbi MIR-154-PE for product details and resources.
Click on PHCbi MIR-254-PE for product details and resources.
Click on PHCbi MIR-554-PE for product details and resources.