Contact Supplier
Contact Supplier
To get in touch with PHC Europe BV, simply fill out the form below.
PHCbi MCO Series IncuSafe Multigas Incubators
PHCbi's range of MCO-50M and MCO-170M Multi-Gas Incubators offer ultra-precise regulation of oxygen and a range of other gases, while maintaining superior temperature uniformity, contamination control, and usability. This makes them ideal for replicating virtual in vivo conditions for optimal cell culturing.
Based on years of PHCbi research, development and testing, the state-of-the-art MCO Multigas Incubators are designed to provide holistic solutions to cell culture protocols across  a broad range of applications in the biomedical, pharmaceutical, medical, and clinical research.
MCO Features
The MCO Series incubators incorporate a built-in air jacket to control the carbon dioxoide and oxygen levels more precisely and promote a more stable cell culture environment.
They also feature the patented PHCbi Direct Heat System to manage cabinet temperature, backed up by microporcessor control and multiple warming points.
Other features include DUAL IR Sensor for highly accurate CO2 averages that are not affected by humidity, along with a humidity control bar to eliminate condensation, and with hydrogen peroxide (H2O2) system for thorough and rapid decontamination without any need to remove inner parts.
MCO Multigas Incubator Range
The four systems that comprise the MCO Multigas Incubator span a wide range of specific needs and circumstances. They are:
MCO-50M: With a unique, solid-state zirconia sensor for precise oxygen control (1-18%; 22- 80%), the compact and stackable MCO-50M Multigas Incubator offers 50 liters of internal capacity and is able to reproduce low oxygen concentrations found in many tissues and organs. Its high-speed decontamination system uses a combination of UV light and optional vaporise (H2O2) to clean the internal chamber in under three hours, achieving a minimal 6 log reduction of major contaminants. Other features include a unique solid Zirconia oxygen sensor, USB port for data connectivity, optional password protected electric door lock,  OLED touchpad, and  PHCbi's exclusive InCu SaFe copper-enriched stainless steel interior construction.
IncSafe MCO-170M-PE IncuSafe Multigas Incubator: Offering 161 liters of capacity, the MCO-170M PE offers ultra-precise regulation of oxygen and other gases, while maintaining superior temperature uniformity, contamination control, and usability. Its Dual Infra Red sensor achieves ultra-fast CO2 recovery without overshoot, even following multiple door openings whilst the unique solid Zirconia O2 sensor delivers precise control of physiological oxygen levels to simulate in vivo These features make the MCO-170M-PE highly suitable for sensitive culturing at physiological oxygen levels that allows cells to grow faster, live longer, making it highly applicable to mammalian tissue research applications, cellular therapy, stem cell research, pathophysiological studies and pharmaceutical production processes.
IncuSafe MCO-170MUV-PE Multigas Incubator:offers the same capacity and precision gas regulation, ultra-fast recovery and contamination resistant IncuSafe copper-eniriched stainless steel interior as the standard model but with the added benefit of isolated, SafeCell UV lamp to decontaminate circulating air and water in the humidifying pan, without harming cultured cells.
IncuSafe MCO-170MUVH-PE Multigas Incubator: the top of the range solution provides all the features of the MCO-170MUV and adds hydrogen peroxide H2O2 vapor flooding for total rapid decontamination between cultured batches.
MCO Multigas Incubator specifications
Full technical specifications for the MCO Multigas Incubator series are tabulated below: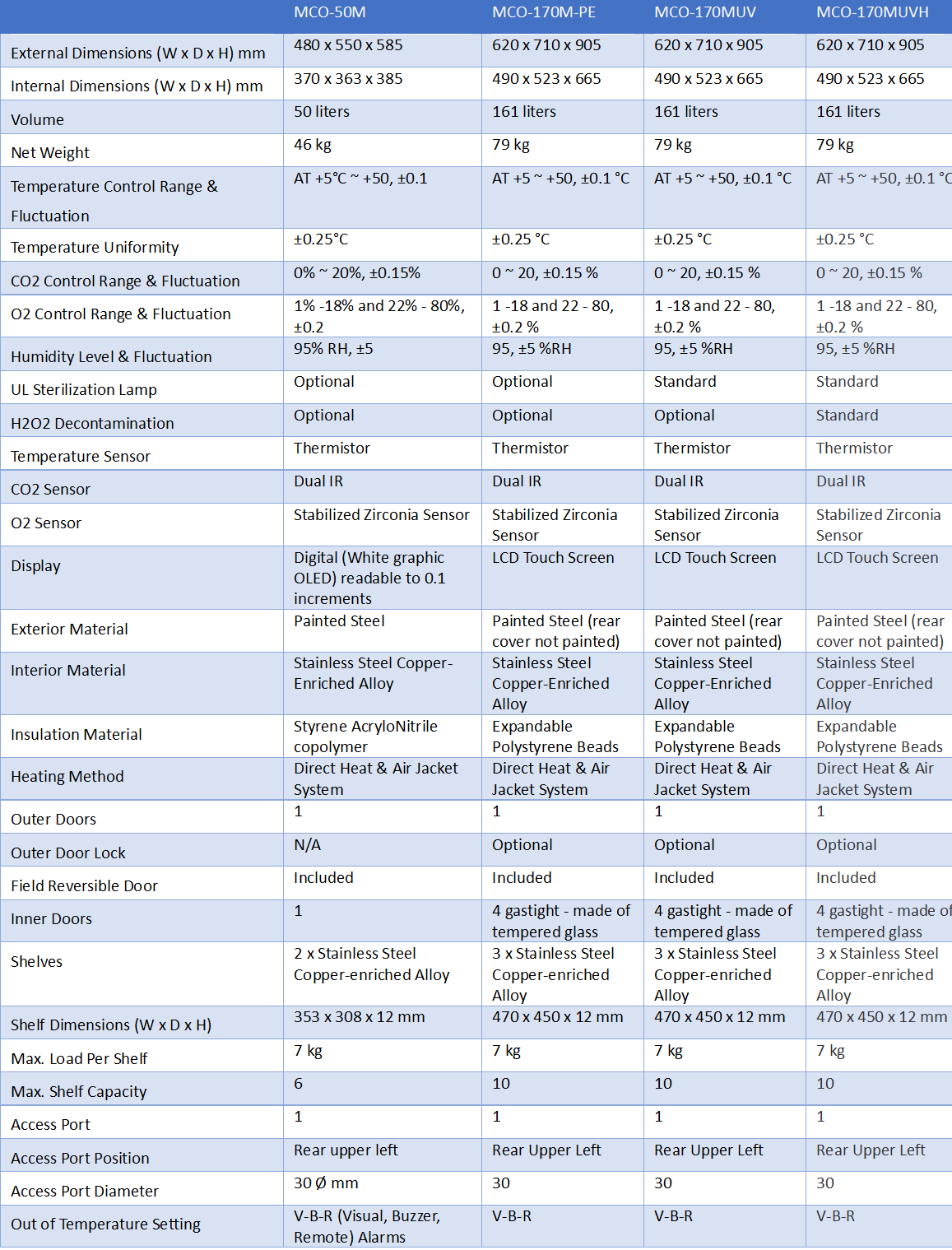 Options & Accessories
The functionality of the MCO Series Multigas Incubator can be expanded with a wide range of options and accessories: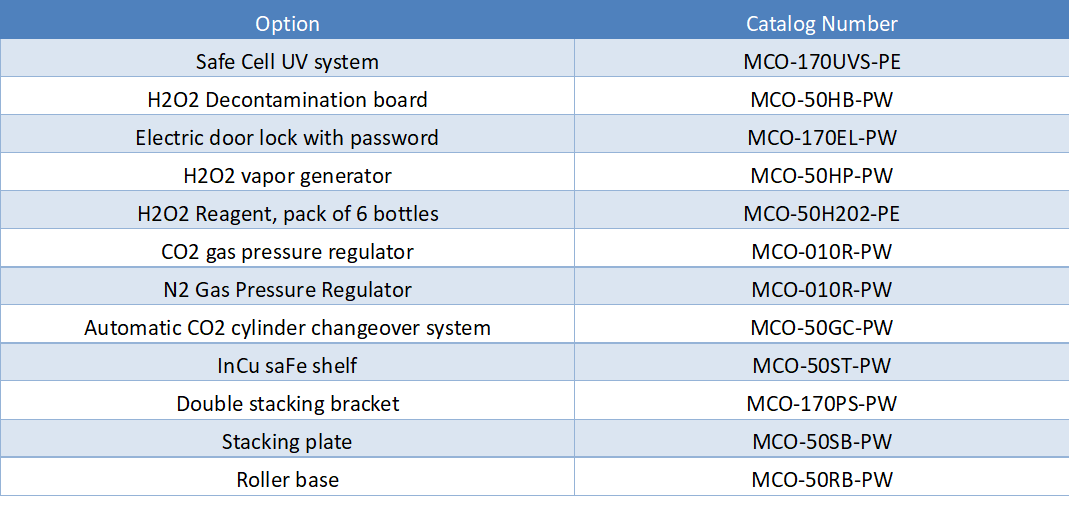 Resources
Click on MCO Series Multi-Gas Incubators for further information.
Click on PHCbi IncuSafe CO2 & Multigas Incubator Series to download full range brochure.