Contact Supplier
Contact Supplier
To get in touch with L.B. Bohle, simply fill out the form below.
L.B. Bohle BFS Fluid Bed Systems for complete granulation, coating and drying
L.B. Bohle offers a distinctively integrated solution to the need for fluid bed systems, which have been used in the pharmaceutical industry for many decades for agglomeration of granules as that involves spraying aqueous or alcoholic granulation medium onto powder particles.
L.B. Bohle BFS Fluid Bed Systems have played a leading part in helping the pharma industry transition away from the previously dominant top spray systems to the more efficient tangential spray system.
Bohle Uni Cone® for perfect fluid bed processes
Crucially, BFS can be used to carry out fluidize bed granulation, coating and drying as an end-to-end integrated process with no need for interim reconfigurations.
This is largely thanks to the use of the patented Bohle Uni Cone BUC® process that uses a specially slotted air distributor plate in combination with a single displacement cone to achieve complete fluidization of the particles by setting up a tangential particle motion that leaves a uniform film, e.g. on pellets, without any particle twins.
Bohle Uni Cone delivers other benefits besides. Since the fluidized particles or granules move tangentially at relatively low fluidization height, they do not require a high-volume expansion. This reduces the required installation height, saving costs and production floor space.
At least six filter elements of the BFS can be cleaned separately to ensure air flow though the product bed remains uninterrupted.
Other Uni Cone BUC® benefits include:
Narrower particle size distribution (PSD) and formation of spherical granules
Frameless product bottom plate design for easier and faster cleaning
Inspection of air plenum through the back pipe
Avoidance of cross contamination in the bowl inlet
Safer operator location and de-installation using in-wall built lifting column
BFS range and benefits
L.B. Bohle offers its BFS fluid bed systems in a range of different sizes and technical designs (see table below for main features and variations). Across the range, these BFS systems offer precise and convenient PLC controlled touch panel operation.
For the drying process, the BFS fluid bed system can be equipped with an online moisture measurement system using NIR technology (similar to infra-red analysis). This innovation makes it possible to identify the current moisture level, precisely and reproducibly, during the granulation and drying process.
All BFS series machines offer a series of other tangible granulation user benefits that include:
Complete fluidization of particles
Even film coating, no twin formation
Integration of PAT, NIR and WIP
Patented filter cleaning – patented diffuser
Lowering of filters via electric drive
Easy-to-remove distributor plate
Low installation height, efficient space utilization
Pressure surge resistance up to 12 bar- optimum conditions for high containment applications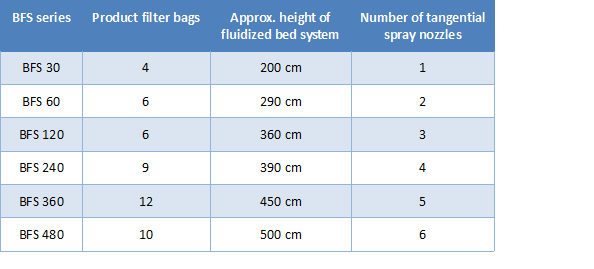 Resources
Click on Fluidized Bed Granulator & Fluidized Bed Dryer BFS   for further information.
Click on Bohle Fluid Bed System – Multipurpose Equipment for Drying,
Granulation and Coating  to access product brochure download.
Click on Whitepaper on  Fluid Bed Granulation  and Drying to access download (login required).
Click on Granulation with the Bohle Fluid Bed Granulator to watch YouTube-Video.
Visit our Technology Center and Service Center virtually in a 360° tour.