Contact Supplier
Contact Supplier
To get in touch with L.B. Bohle, simply fill out the form below.
L.B. Bohle BFC Film Coaters for advanced tablet coating
L.B. Bohle has been a technological leader in development and production of film coating systems for the pharmaceutical industry. The Bohle series of BFC Film Coaters are offered as the high-end versions of its Tablet Coaters, delivering ultra-high efficiency, optimized output, and lowest suspension losses.
Pharmaceutical film coating, i.e. coating of particles, is a crucial process in pharmaceutical production. Tablets are mainly coated to achieve a modification of substance release, protect the substance against light and moisture or to cover the bitter flavor of the tablet formula, making coated tablets are more consumer-friendly. Compatibility of the dosage form is relevant as well, with processing active ingredients in tablet coating becoming increasingly relevant.
Meeting film coating challenges
All tablet coating processes are based on three core steps: spraying, blending, and drying. The L.B. Bohle Film Coaters address all three of these fundamentals with advanced technology:
Mixing: One essential but basic operation in coating is tablet bed mixing. Each tablet moves uniformly under the spray. This movement, however, must be done carefully and with minimal mechanical stress to avoid damaging delicate tablets. L.B. Bohle BFC Film Coaters provide the perfect technical solution with long drum geometry combined with elongated flat tablet bed, patented twin spiral helical baffles and continuous adjustment of the inclination angle to ensure optimal movement of the cores. The combination of pan geometry with blending and conveyor elements ensure more homogenous mixing and gentler tablet handling for minimal wastage.
Spraying: Apart from the coating liquid, two other aspects must be taken into account. First, the spraying equipment: nozzle type, number of nozzles and nozzle-to-nozzle distance. Second, the process parameters: nozzle-to-bed distance, angle spray rate, atomizing and pattern air pressure. L.B. Bohle's state-of-the-art coating nozzles are key to efficient coating, with adjustable oval spray pattern and "anti-bearding caps". The design also allows very precise control over nozzle-to-nozzle distance, which is a further key factor for perfect spraying.
Drying: The Bohle coaters offer the best energy transfer and mass transfer (evaporation) analog to a packed-bed reactor. Once the coating liquid has reached the tablet, the coating should dry quickly and evenly. To ensure rapid drying, supply air is directed through pan perforations onto the tablet bed. Significant parameters include supply air volume, temperature, and humidity, along with pattern of pan perforations. Excessive moisture or spray drying can be prevented with the appropriate settings. Spray drying, in particular, frequently accompanies coating. The drying performance can be influenced and optimized through the type of air flow in the coater. Directing supply air and exhaust air through the tablet bed reduces turbulence and creates a cold environment in the spraying area that prevents premature drying at the suspension stage.
BFC Film Coater range
The Bohle Film Coater BFC range encompasses laboratory and production scale machines.
Laboratory and pilot scale machines include:
BFC 5: A stand-alone unit incorporating entire air handling, electrical and control systems to handle two to 13 litre batch sizes. BFC 5 can be operated with two different manually swappable pan sizes, with working area further reducible, using a divider plate. The unit also incorporates the Win CC visualization touch panel with extensive process control tools.
BFC TriPan 50: a very flexible coating unit that can be operated with three pans, which can be quickly re changed using a lifting device, to handle batch sizes from seven to 75 liters. Process control is via computerized InTouch visualization incorporating a broad range of batch management and recipe preparation tools. Suspension supply uses a single pump head with cleaning facilitated by high-pressure system inside the pan.
There are four BFC production scale machines that use increasing numbers of nozzles fed by single peristaltic pump head in the suspension unit. The production range comprises: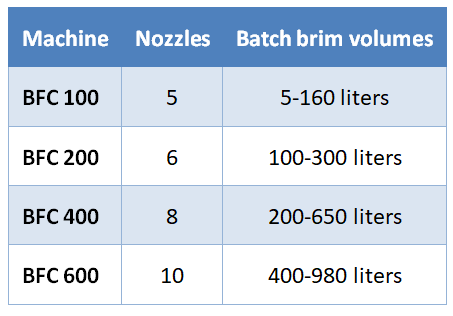 BFC Film Coater benefits
The high-end Bohle Film Coater series are designed specifically for high speed, problem-free coating, providing unparalleled tablet uniformity and efficiencies, under high containment where necessary. They deliver significant process-related advantages, eliminating risk of spray-drying at the suspension, reducing spray losses to under 5% and improving coating structure. Other specific benefits include:
Continuous product movement to eliminate tablet twinning and minimize solid and paint losses
Counter rotation twin level mixing and complete discharge of tablets at end of process.
Large spray surface, length: Diameter >1
Prevention of spray-drying, heating only in tablet bed
Unique clean in place (CIP) abilities with integrated high-pressure washing-system
Geometrical similarities across series to ease scale-up
Process performance improved by up to 40% over basic tablet coaters
High uniformity (RSD < 2%)
AB-capped nozzles for extended service cycles
Resources
Click on L.B. Bohle BFC Film Coaters for further details.
Click on Coating with the L.B. Bohle Film Coater to watch video.
Click on BFC Film Coater Brochure to access download.
Visit our Technology Center and Service Center virtually in a 360° tour.