Contact Supplier
Contact Supplier
To get in touch with Charles Ischi AG, simply fill out the form below.
Charles Ischi presents the Universal Tablet Testing System
Charles Ischi presents the advanced Kraemer UTS4.1 Tablet Testing System for assessing and quantifying the physical properties of tablets, including hardness/breaking force, weight and thickness, length, width for precise dimensions.
It offers efficient and reliable tablet testing, due to its 'smart' orientation and positioning of tablets during testing, with sophisticated connectivity offering data networking capabilities.
Kraemer UTS4.1 Features
The Kraemer UTS4.1 is a universal and fully automatic tablet testing system developed and designed in close cooperation with the pharmaceutical industry and major tablet press manufacturers. UTS4.1 is the latest in a series of Kraemer tablet testing systems proven in service over many years.
Its features include:
Three-stage dedusting: In the patented feeder chute that separates the tablets, tablets are dedusted before testing. Following separation, tablets are fed singly on a slide into the starwheel (star-shaped transfer element), with each tablet detected by a dust-insensitive sensor. Two additional tablet dedusting sections after separation ensure tablet testing stations are kept clean providing reliable test results.
Self-cleaning feature: To keep the tablet track through the testing stations clean, the starwheel incorporates 24 scrapers that shuffle dust and tablet debris into the waste bin.
Positioning: The smart design of the transport starwheel aligns, centers and transports the tablets through the different measuring stations: weight, thickness, diameter and hardness.
Oblong Centering Device (OZB): Available as an optional module for fitment to all v 4.0 and later UTS testing systems, the OZB centering unit is installed above the hardness measuring station to ensure elongated products, such as oblong tablets, are precisely positioned and guided without contact during the hardness test. This is particularly important in complying with latest United States Pharmacopoeia tablet breaking force testing guidelines.
Handling of unusual tablet shapes: The transportation starwheel is available in many different versions, with custom-made starwheels also available. Customized OZB centering jaws can be provided for unusual shaped tablets.
The sophisticated design of the Kraemer UTS4.1 ensures fast and reliable tablet testing, both as a tandem stand-alone solution or working in-line with tablet presses. It can support varying degrees of automation with connectivity to all makes and models of tablet presses. Integration can deliver time- and cost-savings due to automation, with a reduction in batch record documentation.
Kraemer UTS4.1 with Ph21 Software
Kraemer UTS4.1 operating software is based on the industry standard Ph21 platform to allow interconnection between tablet tester and tablet press hardware and PC-based control for advanced integration and automation. The software offers additional features:
FDA 21 CFR part 11 compliant
USP compliant
Electronic batch records
Violation alarms & actions
Kraemer UTS4.1 Special Versions
The Kraemer UTS4.1 Tablet Testing System is available in a wide variety of versions to support particular applications. These include:
12F/Sr: With 12-Station feeder and/or collector
S7: With special feeder for tablets up to Ø 25 mm
S8: For tablets up to Ø 50 mm
S9: For mini-tablets
S15: With single tablet feeder
S16: With conveyor belt feeder and five-way sorting diverter
S17: With two-way sorting diverter
S20: Dust-proof version, up to OEB Level 3
IP65i: Offering full containment to OEB Level 5 (Occupational Exposure Band)
Resources
Click on UTS4.1 – Universal Tablet Testing System for detailed information.
Click on IPC Line for more on Charles Ischi tablet testing solutions.
Click on Automatic Tablet Testing to view video.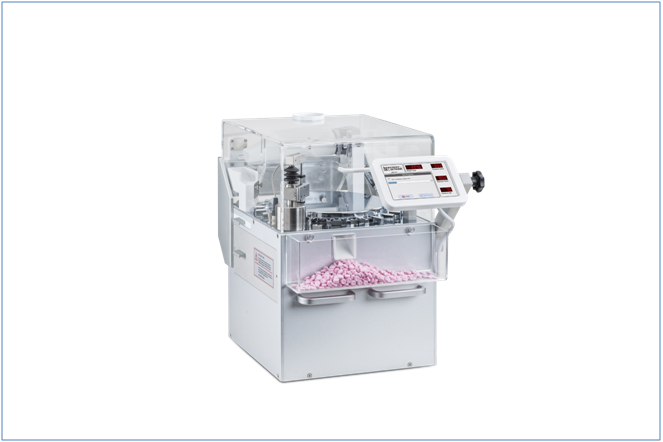 Kraemer UTS4.1 Tablet Testing System