Charles Ischi AG – OSD Counting and Filling Machine
Charles Ischi – OSD Testing Technology offers the CI-AG Counting and Filling Machine as a professional GMP-compliant filling solution for solid dosage forms in the IP65 protection class, capable of processing almost 60,000 tablets, capsules, dragees, etc., per hour.
Designed to meet the needs of QC and R&D labs in pharma and nutraceuticals and oral solid dosage (OSD) manufacturers, this tablet counting machine is remarkable for its compact form, accuracy, and manufacturing quality.
Features & Functions
The CI-AG Counting & filling Machine is designed as a benchtop solution for daily use in the pharmaceutical industry, pharmacy and small batch contract manufacturing.
Since filling and dosing by weight alone is too imprecise to achieve consistent and optimal results, this unit incorporates a fully metered counting system that reaches almost 100% filling accuracy to reduce losses in the production process. An integrated inventory function allows total check of incoming goods.
At the heart of the machine is a metered counting unit with a fully automatic filling system offered as an additional module. Depending on bottle or container size, up to 32 containers can be filled in one operation via the filling module. The system needs simply to be connected to the input-output (I/O) port of the machine to be instantly ready to use.
Operation is user friendly via an IP54 compliant Siemens S7 touchscreen offering menu-driven navigation.
The filling module can be adjusted to different container heights via the height-adjustable machine feet.
Further options include a counter disc for capsules, a foot switch for hands-free operation, adjustable compact lift for precise container positioning, a selection of ejection and discharge funnels and a storage tank cover.
User Benefits
The CI-AG Counting and Filling Machine offers a series of clear user benefits:
Flexibility – works with tablets, hard or soft gelatin capsules, oblong tablets, coated tablets or other dosage forms
Exact fillings with 99.9% accuracy
Meets requirements for IP65 Protection class
Optional filling module
Easy and intuitive operation
Specifications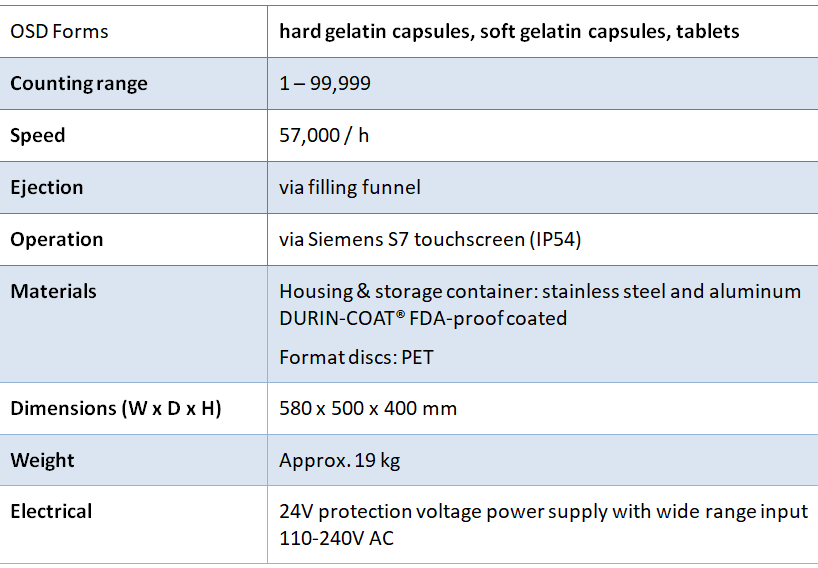 Resources
Click on Counting and Filling Machines  to see full details