Charles Ischi AE-1/AE-2 Friability & Abrasion Testers
US and European Pharmacopeias define tests for the friability (ease of crumbling) and abrasion resistance of uncoated tablets that are important components of overall product quality and stability. These tests involve tumbling them in drums for defined durations and at specified speeds and number of revolutions (typically 100).
The friability test does also help to reveal potential capping, chipping and delamination issues(!) It is a very important observation required of the technician.
Charles Ischi Testing Technology offers the Lab.line AE-X series of Friability & Abrasion Testers that allow these tests to be carried out easily and precisely.
The testers allow tablets to be tested by tumbling, either in interchangeable friability and abrasion drums (AE-1) or with twin drum drives mounted on the same tester and operated independently (AE-2). Data is recorded on the printout or generated by the tablet friability tester in case of interconnection with weighing balance to allow automatic weight loss calculation and documentation.
AE-X Series Design and Features
The Swiss-made AE-1 and AE-2 share a design focused on maintenance-free longevity and ease of use, featuring compact footprint, cGLP/GMP stainless steel housing and format, convenient operation and data integration.
They include easy Balance & Printer connections with automatic weight loss calculation.
The microprocessor-controlled abrasion and friability tester is equipped with either one or two test stations. Alternative test drums can be mounted for executing roll and fall friability tests or for abrasion tests on tablets, coated tablets, granules, etc.
A quick release mechanism allows test samples to be loaded and emptied easily by the quick-release mechanism. Test time, rotational speed and number of revolutions can be set easily and quickly through the foil keypad.
A specifically tailored version is available for testing fertilizer granules to IFDC S-116 standards.
Operating AE-X testers
The AE-1 and AE-2 abrasion resistance and friability testers offer a choice of operating modes that can be used singly or in combination.
Preset time: A pre-selected test duration can be specified from 1 minute to 23 hours and 59 minutes, entered via keypad and remain visible on the LC-display, together with test time remaining. The unit stops automatically when the test period has elapsed.
Preset number of revolutions: The keypad can also be used to enter a specified total number of revolutions (up to 999'999) with original and remaining revolutions displayed. Again, unit stops automatically when the specified number of revolutions has been executed.
Rotational speed: The speed of rotation is set via the keypad to be between 10 and 99 rpm.
With the AE-2, these settings can be applied independently to either drive, allowing the unit to run two different tests simultaneously
Test Angle: A 10° angle test function can be performed
Protected settings: Pre-selected settings can be passcode protected against unauthorized or accidental changes.
Specifications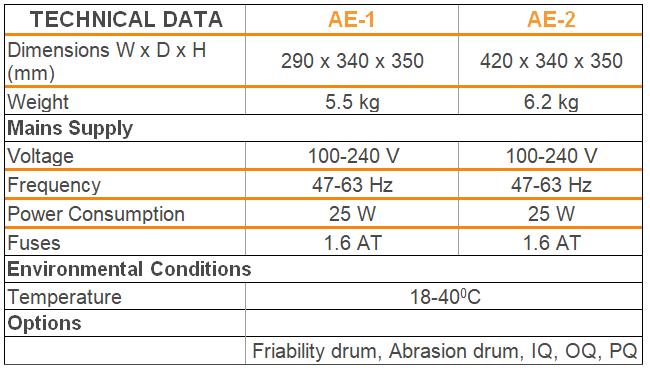 Resources
Click on European Pharmacopoeia 10.0: Friability Of Uncoated Tablets to download detailed friability testing guidelines.
Click on LabLine AE-X Series to download brochure.
Click on Charles Ischi for further information.