Contact Supplier
Contact Supplier
To get in touch with BERNHARDT, simply fill out the form below.
Bernhardt bringing advanced pouch products to All4Pack 2018
Wimille, France: – Bernhardt, the world-leading pouch manufacturer will show its latest high barrier film and foil pouches, bags and other products when it attends November's huge All4Pack Packing and Logistics trade show in Paris.
Once again, Bernhardt will be a leading presence, exhibiting from Booth 7D190, where it will display a wide range of packaging solutions, including its ranges of versatile stand up pouches for liquid products and open-mouth bags, which are becoming increasingly popular within the pharma industry.
High barrier protection
Bernhardt provides a wide range of pouches and bags for liquids and solids, ranging in size from 0.5 liters to 2000 liters that are used across a very wide range of pharmaceutical and other industrial applications.
The new Bernhardt freestanding pouch ranges feature sealing shapes and strong foils that provide high barrier protection and impact resistance, as well as enhanced side gusset design for greater convenience.
Aseptic fill applications
Expanded manufacturing capacity at Bernhardt's Wimille facility near Boulogne has added new production lines to meet the rising demand for its freestanding liquid pouches, which can also be used in aseptic filling applications.
"At ALL4Pack, we will be able to show visitors how these pouches offer decisive advantages for purchasing, production and packaging decision makers, including greater space efficiency, easier handling, and less wastage" commented Bernhardt Sales Director, Jeremie Dalle.
"Alongside that, we can show one of the industry's most extensive and impressive range of film and foil based packaging machinery and packing solutions," Mr. Dalle added.
About Bernhardt
Bernhardt Packaging & Process (Bernhardt) is a French-based specialist manufacturer of high-barrier film pouches and bags, as well as industrial packaging machinery.
Joseph Bernhardt founded the company in 1956 in Boulogne-Sur-Mer to design and manufacture tailor-made machines including sealing technology. In the early 1970s, it extended its activities to the production of high barrier bags, tailor-made for the packing of sensitive products and perishable products.
The company is now a world-class specialist in pharma industry solutions for the packing of sensitive powders, granules, paste or liquid products in pouch sizes ranging from 50cl to 2000 liters. These are formed of high barrier foils for ultra-sensitive products as well as laminated or co-extruded medium protection films for mainstream applications.
BERNHARDT offers a very wide range of open mouth packs and re-closable pouches with high barrier properties to protect products from moisture, oxidation, light, and contamination. These include pouches for solids, liquids and pastes and large capacity high barrier bags for solids: It also manufactures a wide range of specialized machinery to meet specific packaging needs such as sealing, powder filling, vacuum or gas flushing and packing.
About All4Pack 2018
France's All4Pack trade show is one of the biggest packing and logistics events in Europe, addressing food & beverages, industrial, consumer, pharmaceutical and cosmetics markets.
The combined Packing and Logistics (previously Handling) exhibitions together form one of the world's largest process and packaging events, attracting some 80,000 visitors, around a third of them from outside France.
The 2018 show is a four-day event opening November 26 at the Paris Nord Villepinte exhibition center. It features new branding and refreshed visual identity, with greater focus on the Logistics sector.
More information at: http://www.all4pack.com
Resources
Click on BERNHARDT range to get more information about the BERNHARDT product range.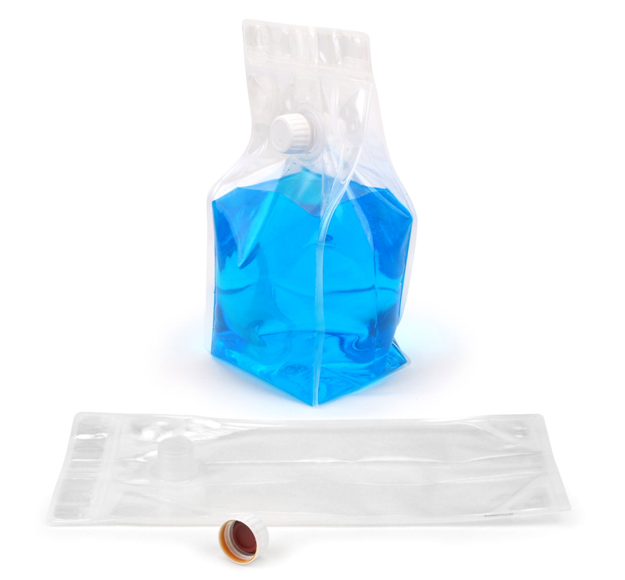 Bernhardt's freestanding film and foil pouches for liquids are also suitable for autoclave applications