Contact Supplier
Contact Supplier
To get in touch with Bachem AG, simply fill out the form below.
Bachem enters exclusive licensing agreement with Jitsubo for Molecular Hiving™ technology
Bubendorf, Switzerland: –Peptide technology specialist Bachem AG has signed an exclusive Licensing Agreement with Japan's Jitsubo Co. Ltd for its Molecular Hiving™ technology for tag-assisted liquid-phase peptide synthesis technology.
Under the License Agreement, Jitsubo will develop selected manufacturing processes using Molecular Hiving™ that it will transfer to Bachem for further optimization, scale up and production for commercial applications, in return for development fees and royalties.
Molecular Hiving™ advantages
Molecular Hiving™, developed by Professor Kazuhiro Chiba at Tokyo University of Technology and Agriculture, uses a hydrophobic tag, a simple chemical structure but having variable function by introducing variable function groups into an aromatic ring (see Image). Tags can be removed by global deprotection condition after elongation is complete.
Tagging acts in an equivalent way to the resin in solid-phase peptide synthesis but with added advantages that the intermediates can be solved and the reaction mixture is homogeneous. The technology supports immediate scaling up and the one-pot procedure needs only one reactor for the elongation process.
Bachem expects to use the Molecular Hiving™ technology to reduce manufacturing costs, improve sustainability with greener chemistry, achieve more efficient scale up, and enhance in-process controls.
Collaborative relationship
The two companies had already established a close collaboration, with several joint projects for active pharmaceutical ingredients (APIs) as well as cosmetic peptides, have already been initiated and successfully realized using Jitsubo's technology at Bachem.
Dr. Günther Loidl, Chief Technology Officer of Bachem Holding AG, said: "We are convinced that Jitsubo's Molecular Hiving™ technology offers substantial advantages regarding efficiency, and towards greener manufacturing. It complements Bachem's current extensive technology base and is a great fit for us because Bachem is already offering unique capabilities in the area of solid phase, hybrid, and solution phase peptide chemistry. We are excited to be the only contract manufacturing organization to offer this innovative technology to our customers."
Jitsubo CEO Dr. Kazuaki Kanai commented: "It is a great pleasure for us having collaborated with the industry leader, Bachem, in exploring applications of our unique technology, Molecular Hiving™, and now having reached an exclusive License Agreement, which will provide opportunities to deliver products to customers much faster and at greater scale. We will continue our development efforts broadening the technology base to meet various requirements from the society and hope to deliver meaningful products to customers through this collaboration and more importantly, to the world's patients, realizing our vision to "Enrich the world with smiles".
About Bachem
The Swiss based Bachem Group is a public, innovation-driven company specializing in the development and manufacturing of pepTides, oligonucleoTides and complex organic molecules as active pharmaceutical ingredients (APIs). A comprehensive catalog of innovative biochemicals for research and exclusive custom syntheses for research labs complete its service portfolio.
With 50 years of experience, headquartered in Switzerland with subsidiaries in Europe, the US and Asia, the group has a global reach and shows total commitment to quality, innovation and partnership to its customers worldwide.
Under its banner Leading Partner in Tides, Bachem prioritizes continuous investment in R&D on chemistries and technologies as crucial for future success. Its ever-increasing knowledge of complex proteins and peptides derives from ongoing research in proteomics, as well as progress in mass spectrometry, synthesis and ligation technologies, complemented by collaboration with external research institutions.
Bachem has five production sites in the US, UK and Switzerland along with research level production and full cGMP manufacturing facilities on both continents. These provide capacity to produce APIs, key intermediates, small molecule generics, and new chemical entities (NCEs) at preclinical, clinical and production scales.
Further information at: www.bachem.com
About Jitsubo
Jitsubo is a pharmaceutical venture established in 2005 that has developed unique liquid phase peptide manufacturing technology, Molecular Hiving™, which provides low cost, high quality, environment friendly and ease of scale-up for the manufacturing of various peptides.
As a research and manufacturing company, Jitsubo has been offering Molecular Hiving™ to global pharmaceutical companies as a contract manufacturer and/or working with CMO.
The Jitsubo vision to 'Enrich the world with smiles' describes a mission to make everlasting contributions to human health worldwide and a creative contribution to society through invention and innovation.
Further information at: www.jitsubo.com
Resources
Click on Bachems News to see latest News & Events.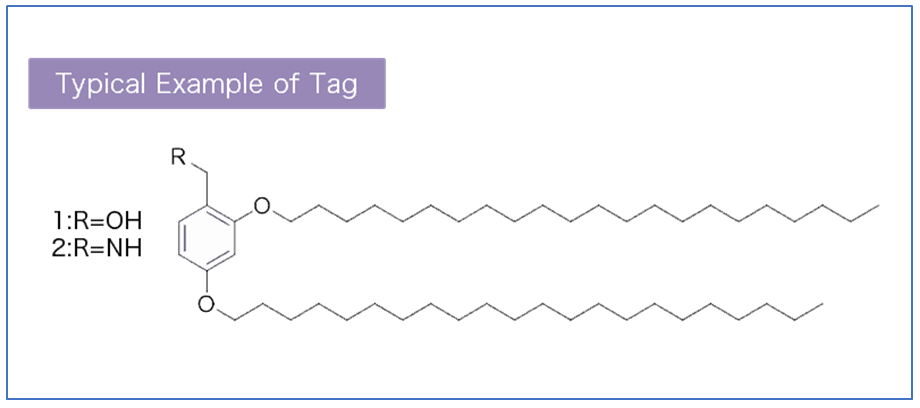 Molecular Hiving™ technology uses a hydrophobic tag to introduce variable function groups into an aromatic ring, such as hydrophobic benzyl alcohol and amine as illustrated here. When target peptide has carboxylate at C-terminus, the tag is 1, and amide, the tag is 2. Both tags can be removed by global deprotection after the completion of elongation