ZELLX® trans-Zeatin
ZELLX® has become a leading supplier to the fast-growing market for the naturally occurring cytokinin (CK) Zeatin.
A recent report from ResearchCMFE indicates that the global Zeatin market has recovered from the COVID-19 downturn and is now experiencing current annual growth rate (CAGR) of around 5.5%, increasing total market from $210.2 million in 2019 to a projected $274.3m by 2024.
Growth is being driven by increasing demand for anti-ageing products in the cosmetics industry and growing usage of Zeatin in agriculture and horticulture  for micropropagation and tissue culture.
Zeatin and cytokinins
The active ingredient of coconut milk, Zeatin is from the family of plant hormones cytokinins (CKs) that comprise a class of growth regulators involved in the stress response, senescence, photosynthesis, nutrient assimilation and mobilization, as well as modulation of a plant tissue's ability to act as a sink or source of metabolites.
CKs are recognized by a subset of sensor histidine kinases (HKs) and the signal is transmitted to the nucleus via a multistep phosphorelay (MSP), thus activating the expression of target genes.
Concentrations of cytokinin used for horticulture vary between 0.1 to 10 mg/L.
Cytokinins are also indicated as having significant anti-oxidant properties that combat wrinkles, dryness and other signs of skin ageing.
ZELLX®  trans-Zeatin
ZellBio is a leading supplier to the market with ZELLX® -branded Trans-Zeatin, as an endogenous cytokinin and plant growth regulator that induces plant cell division and stimulates shoot formation. It is routinely used in plant tissue culture. As a cytokinin, it helps plants to better tolerate environmental stresses.
ZELLX®  also offer trans-Zeatin Riboside as the most active and ubiquitous form of the cytokinin, used to promote cell division, stimulate shoot proliferation, inhibit root formation, slow the aging process, and activate gene expression and metabolic activity in general. Zeatin riboside is also established to have an immunomodulatory effect by agonizing the mammalian adenosine A2A receptor. (Lappas, 2015)
ZELLX® Zeatin and trans-Zeatin Riboside products are distinguished by their very high HPLC measured purity (≥98%) and ultra-competitive pricing.
They are supplied in 50 mg, 100 mg, 500 mg, and 1 g quantities.
Product Specifications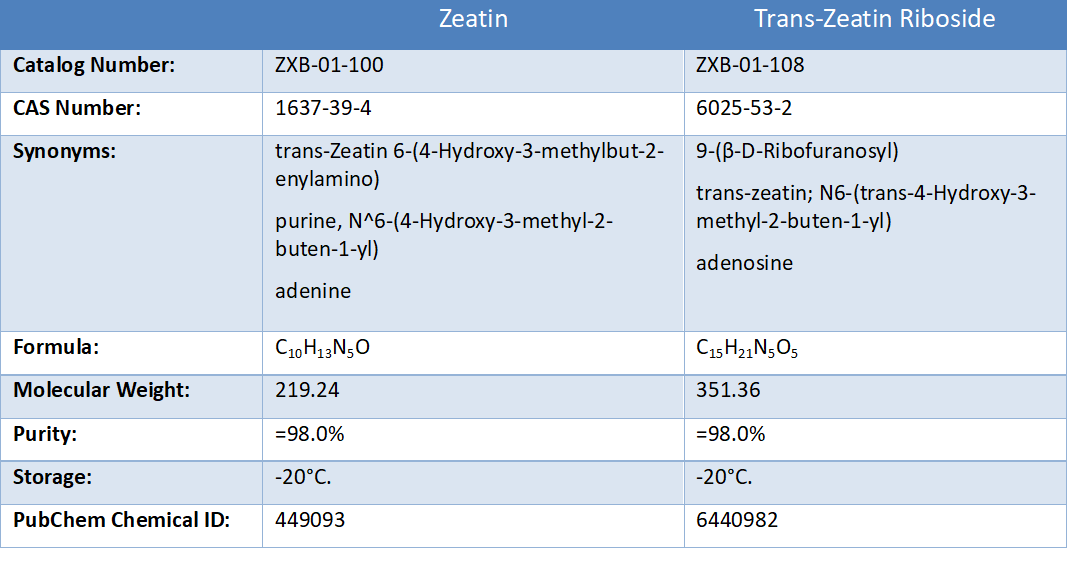 Resources
Click on ZELLX Zeatin for product information.
Click on ZELLX trans Zeatin Riboside for product information.
Click on Zeatin Market Report to access ResearchCMFE report.