Contact Supplier
Contact Supplier
To get in touch with Wet Granulation – MEGGLE Excipients & Technology, simply fill out the form below.
Wet Granulation – MEGGLE Excipients & Technology
Overview
Wet granulation is a subset of the overall granulation process of size enlargement by combining mixtures of fine powders into larger agglomerates or granules. The wet granulation process adds a liquid solvent and a binder material to an agitated powder bed to form granules.
While Direct Compression (DC) is the usual method of tablet manufacture, it may not be appropriate for some active substances, leaving wet granulation as the preferred alternative.
MEGGLE offers excipients that can optimize wet granulation and also provide direct compression alternatives.
Wet granulation basics
In the traditional wet granulation method, a moistened mass is sieved to produce wet granules that are subsequently dried, with a subsequent screening stage to eliminate agglomerates.
Wet granulation using organic solvents is preferred for water-sensitive drugs, as an alternative to dry granulation, or when rapid drying is required.
The pharmaceutical industry depends on several types of wet granulation equipment , principally fluid bed granulators where air is blown upwards through the powder to agitate and fluidize the particles or mixer granulators that agitate the powder using a large impeller in mixer bowl.
As with dry granulation and DC, wet granulation requires manufacturers to blend APIs with appropriate excipients.
Lactose in wet granulation
Lactose is among the most frequently used excipients for granulation in pharma applications, offering good compression and blending properties. However, like many other excipients, unmodified lactose may not be suitable for direct compression due to insufficient flowability and compactability. As Figure 1 illustrates, lactose-based excipients meet the needs of wet granulation where compressibility is low but where powder flows are highly variable.
MEGGLE milled alpha-lactose monohydrate grade lactose for wet granulation: GranuLac® and SorboLac®
Numerous global and regional pharmaceutical manufacturers have historically relied on MEGGLE milled alpha-lactose monohydrate grades as diluents in dry and wet granulation processes, due to their chemical and physical stability, in oral, parenteral and inhalative pharmaceutical applications, versatile binder-filler properties, and global availability.
Milled GranuLac® and SorboLac® have a small particle size and support a wide range of applications including, wet granulation, dry compression, premixes, triturations, fermentation and flavor off-set. The range includes GranuLac® 70, GranuLac® 140, GranuLac® 200, GranuLac® 230 and SorboLac® 400.
During the milling process, finer, sharper-edged particles are formed, having cohesive powder properties that can be beneficial during granulation processes. Clean unlubricated surfaces created during the compaction process as a result of brittle fracture lead to improved compactability.
In summary, MEGGE's milled alpha-lactose monohydrate grade lactose grades offer a clear set of benefits that include:
Good compactability
Narrow particle size distribution
Good blending properties
High storage stability
High batch-to-batch consistency
MEGGLE co-processed lactose grades for wet granulation : StarLac®
Alpha-lactose monohydrate and maize starch (corn starch) are functional excipients used in oral solid dosage forms. Both are naturally derived and well established in the pharmaceutical industry. Lactose is frequently used as a diluent or wet granulation binder. Starch can be used as a binder for wet or dry applications, disintegrant, and diluent. In an effort to establish synergistic functional performance, such as enhanced compactability and faster tablet disintegration, lactose and starch were co-spray-dried to form a monoparticulate system. StarLac® comprises 85 % alpha-lactose monohydrate and 15 % native maize starch. StarLac® provides compaction and lubricant insensitivity characteristics desired for wet granulation, along with the hydration properties desired for rapid API release. Additionally, StarLac®'s flowability is superior compared to a physical blend of the individual components in equivalent ratio.
These and other properties, such as excellent compactability, rapid hardness-independent tablet disintegration and compaction and hydration properties independent of hydrophobic lubricant type or level, also make Starlac useful for dry granulation and ODT formulations.
MEGGLE hypromellose-lactose alternative to wet granulation: RetaLac ®
RetaLac® is the first hypromellose/lactose-based, co-processed excipient specifically designed for DC and dry granulation of modified release formulations.
Although hypromellose offers broad flexibility in tailoring API release due to differing substitution levels and molecular weights, processability has generally been limited to traditional labour, time, and energy intensive wet granulation manufacturing methods.
Recently, through a proprietary agglomeration process, MEGGLE has succeeded in producing RetaLac® as a co-processed composition comprising hypromellose and lactose, offering suitable alternatives to overcome these limitations. Possessing enhanced functional performance, the new excipient offers characteristics desired in formulation development and manufacture and may be of significant interest to innovator and generic pharmaceutical companies.
RetaLac® is binary in composition but monoparticulate in structure, having hypromellose and lactose in each particle. It is characterized by superior functional performance such as improved flow and blendability. Additionally, the monoparticulate structure gives RetaLac® both plastic and brittle fracture deformation characteristics, enhancing compactability in DC compared to traditional wet granulated and physical admixtures of the parent ingredients.
API release is controlled predominately by diffusion through the hydrophilic matrix, and is most robust in the range of pH 1 to 7.4. To minimize development time, API dissolution prediction as a function of tablet geometry is possible. This is aided by RetaLac®'s dramatic improvement in wettability compared to HPMC alone or in traditional wet granulations and simple admixtures.
In processability, RetaLac® shows superior performance to physical admixture and wet granulated formulation.
Contact
MEGGLE Excipients & Technology
Tel: +49 8071 73 394
Email: service.pharma@meggle.de
Resources
Click on MEGGLE Excipients & Technology: Wet Granulation for more information
Click on MEGGLE to contact the company directly.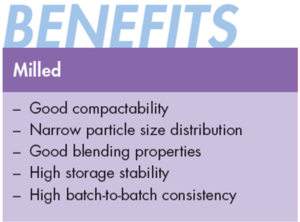 ---
Supplier Information
Supplier: MEGGLE Excipients & Technology
Address: Megglestrasse 6-12, 83512 Wasserburg, Germany
Tel: +49 8071 73-476
Fax: +49 8071 73-320
Website: https://www.meggle-pharma.com/
---
View Articles by MEGGLE Excipients & Technology