Contact Supplier
Contact Supplier
To get in touch with Skyepharma Production S.A.S., simply fill out the form below.
Skyepharma harnesses Microfluidizer® Technology to improve bioavailability of APIs
Saint-Quentin-Fallavier, France: – Oral dosage specialist CDMO Skyepharma Productions S.A.S. (Skyepharma) is now able to develop and commercially manufacture oral dosage forms with improved bioavailabilities thanks to its new expertise in Microfluidizer® API particle size reduction.
Skyepharma has already successfully applied the breakthrough technology to increase of the oral bioavailability of Biopharmaceutics Classification System (BCS) Class II APIS for high permeability, low solubility and Class IV APIs for low permeability and solubility in the form of IDD® DISSOCUBES™ technology and Triglide® drug products.
Nanoparticle technology
For optimal bioavailability in oral dosage form, APIs should combine high solubility with good permeability at the gastrointestinal barrier level.
Many formulation strategies, including the use of conventional colloidal vectors (micelles, liposomes, polymeric nanoparticles, etc.) have already been developed but present aggregation, instability and preservation issues associated with uncontrolled release of APIs, along with problems of toxicity of certain constituents. In addition, manufacturing processes often require the use of organic solvents and remain difficult to industrialize.
Lipid nanovectors produced by Microfluidizer® Technology present a more promising approach to oral administration of APIs. Due to their lipidic nature they allow efficient encapsulation of low soluble APIs in digestive fluids and the significant improvement of passage into the bloodstream, thanks to their surface properties, thus leading to increased concentration of API at its optimal site of action. Studies have thus been able to show the improvement in the effectiveness of APIs administered in the form of oral lipid nanoparticles for antiviral, anticancer and antibiotic or antihypertensive treatments (see Resources).
In addition, these lipid nanoparticles are biocompatible and biodegradable and therefore present very low toxicity.
All about Microfluidizer® Technology
Microfluidizer® Technology is a dynamic high-pressure process that passes two liquid streams, in solution or suspension, through micro-channels into an impingement area where the fluids flow and interact. The obtained liquid solution or liquid suspension is then spray dried to remove solvents and produce a dried nanoparticulate system that can be administered orally.
The technology excels in particle size reduction, cell disintegration, emulsions and dispersions and can be used either to emulsify liquid-liquid systems, physically dispersing one liquid into another), or to deagglomerate and disperse solids in liquids.
Microfluidizer® components
At the heart of the system is a Microfluidizer® processor that acts as a powerful pump that forces the material through very small holes at operating pressures between 3.4 Mpa (500 psi) up to 275 Mpa (40,000 psi). Pressure is varied to specific application to obtain desired particle size distribution (PSD).
The other key element is the interaction chamber: a continuous microreactor that uses turbulent mixing, localized energy dissipation, and fixed geometry to create uniform pressure. Within the interaction chamber, the product is subjected to both high impact and shear forces that lead to particle size reduction / cell crushing. The micro channels can measure up to 50 microns, creating micro volumes that collectively experience a pressure profile and therefore uniform shear that is the most important factor in particle size reduction. The specific and unique design of Microfluidizer® Technology interaction chambers make it possible to achieve particularly high shear rates compared to other technologies.
Interaction chambers are made of stainless steel with a choice of poly crystalline diamond or aluminium oxide ceramic interiors for compatibility with pharmaceutical applications.
Microfluidizer® applications at Skyepharma
Over several decades the drug discovery process has been influenced by automation technologies, such as High-Throughput-Screening, combinatorial chemistry, and computer-aided drug design. The drug candidates emerging from these screening programs possess a very good efficacy due to the good fit with the target-receptor geometry. Unfortunately many of these highly active pharmaceutical ingredients (HPAIs) are poorly soluble, leading to a majority of the drugs in pharma companies development pipelines with solubility and related oral bioavailability problems.
Well before any of these compounds can reach market, it needs to be formulated for preclinical studies and pharmacological activity tests. Therefore, creating new drug delivery systems and formulation approaches to overcome solubility and bioavailability problems of these drug candidates has been one of the most important challenges in pharma development.
Skyepharma has now been able to address the challenge with its IDD® DISSOCUBES™ technology to increase solubility of BCS class II and IV APIs , using the Microfluidizer® process to achieve superior particle size reduction as a universal approach to improving bioavailability. The decreased particle size of drug nanocrystals leads to a distinct increase in surface area that proportionally raises the rate of dissolution, leading to a better absorption of the poorly soluble drug.
IDD® DISSOCUBES™ was used to develop a tableted fenofibrate drug product for renal, hepatic and related dysfunctions, now commercialized on the US market as Triglide™ (http://triglide.com/).
Developing nanoparticle technology
To explore the further potential of nanoparticle technology in oral dosage forms, Skyepharma has entered the NanoMics research collaboration with Lyon University's Laboratory of Automation, Process Engineering and Pharmaceutical Engineering (LAGEPP), led by Professor Stéphanie Briançon.
The LAGEPP laboratory develops research activities in the field of engineering with a recognized expertise in the field of galenic formulation, the design of innovative forms and encapsulation systems, associating physico-chemical aspects and process expertise. Work has been developed on the formulation of nanosystems by Microfluidizer® Technology, with laboratory equipment similar to the industrial equipment available at Skyepharma. LAGEPP also has a strong expertise in the drying processes of dispersed (spray-drying, freeze-drying, etc.).
"We are very proud to start this collaboration with Stéphanie Briançon's team.  At Skyepharma, we have a strong willingness to direct our R&D efforts towards promising scientific themes for the development of innovative and high-performance oral formulations, for the benefit of our customers. The implementation of the NanoMics project is a first step forward," says Aline Moulin, Pharmaceutical Development Director.
"Nanoparticles are powerful and versatile formulations that could address many of the currently unmet needs in oral medication. With our "green" manufacturing process, we are aiming to develop customizable nanocarriers and improve drug delivery to targeted organs for better patients' outcomes" added Vanessa Bourgeaux, NanoMicS Project Manager.
About Skyepharma Production
Skyepharma Production S.A.S. (Skyepharma) is a specialist CDMO with particular expertise and capabilities in oral solid dosage forms, being a key player in drug development and delivery of oral technologies serving the global pharmaceutical, biotech and consumer health industries.
Skyepharma is the oral business unit of the Vectura Group of companies, an international leader in inhalation and other drug delivery forms.
As an integrated CDMO, the company's vision is to help solve healthcare industry complexity with a mission to provide a dedicated and results-oriented team to deliver advanced oral dosage services to the healthcare industry through state-of-the-art facilities, scientific expertise and open, transparent relationships. All of this is summed up in its strapline: 'Expert and Agile CDMO partner for tailor-made solutions'.
The Skyepharma CDMO offer in solid oral dosage formats encompasses the whole value chain, including Formulation Development & Process Design, Analytical Development, Scale-up, Manufacturing, Packaging, Serialization and Aggregation.
Skyepharma also provides a range of support services that help client companies from early-stage development (up to phase III), through scale-up and full commercial manufacturing and packaging to market introduction, including controlled substance handling, QbD methodology (FMEA, FTA, DOE), Troubleshooting, regulatory services, validation, registration and warehousing services.
More at: https://www.skyepharma.fr/
Resources
Click on How Skyepharma can help you improve the bioavailability of your APIs by using Microfluidizer® Technology for more information.
Click on Triglide™ for example of Microfluidizer® drug application.
Click on Nanostructured Lipid Carriers for Delivery of Chemotherapeutics: A Review for relevant study.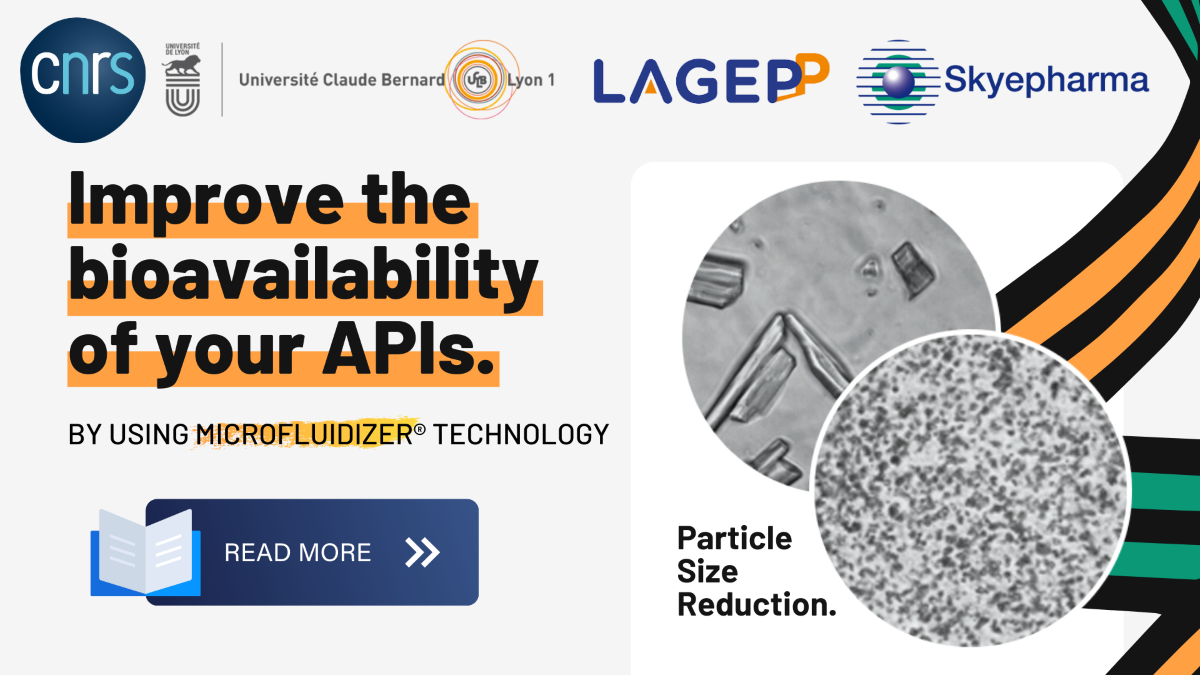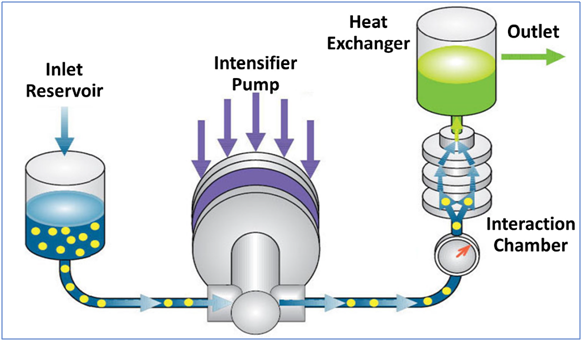 Basic Microfluidizer process: sample is poured into inlet reservoir and subjected to suction and compression through intensifier pump which first aspirates the fluid, thanks to a one-way valve, before pushing sample through interaction chamber and jacketed cooling coil/heat exchanger to be cooled, ready for collection. (Source: Microfluidics International Corporation, Poster AAPS 2015, number W5343)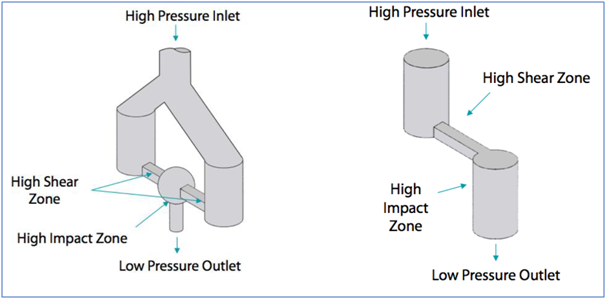 Microfluidizer uses two types of interaction chamber: Y type (left) generally used for liquid-liquid emulsions and Z type: generally used for cell disruption and dispersion (e.g. particle size reduction). Source: Microfluidics International Corporation. API compounds before and after Microfluidizer processing, illustrating more uniform PSD achieved using the technology
View Articles by Skyepharma Production S.A.S.