---
Skyepharma focuses on customer experience with new service department
---

Press Release |Skyepharma Production S.A.S.
MAY 27, 2019
Saint-Quentin-Fallavier, France: – As part of its transformation to a full contract development and manufacturing organization (CDMO), oral dosage specialist Skyepharma Productions S.A.S. (Skyepharma) has created a new Customer Service department.
This decision was driven by the desire to ensure the best customer experience for our partners and potential customers, who expect their CDMOs to understand their needs, anticipate and offer tailored solutions to ensure on-time and trouble-free delivery of their products.
Information driven
"That is what we are committed to at Skyepharma," commented Customer Service Manager, Sébastien Perraud, who will lead the new department.
"Our new customer service department will allow us to better understand our partners' needs by having a robust information management system in place which will allow us to deal with requests and queries, in a more efficient and customer focused way," M. Perraud explained.
The new service department will focus on efficient communication, reinforcing Skyepharma's commitment to its customers, and will be part of the Supply Chain function and in direct contact with the planning team.
Cross functional working
Skyepharma sees cross-functional working as key for this initiative to succeed. Employees will have to work together with the same ultimate objective, creating strong relationships to ensure the highest standard of customer satisfaction.
The cross functional team will include representatives from Business Development, Project Management, Marketing, Production, Planning, Quality Assurance and the Quality Control laboratory.
Six commitments
"Communicating our customers' requests to the right people at the right time delivers the best results and ensures there is a total company effort putting the customer first", said Sébastien Perraud.
He said the new department would be guided by six Skyepharma commitments to superior customer experience:
React Faster: A service entirely dedicated to customers with requests processed quicker with faster and more accurate internal information flows driving more effective response.
Ensure On Time Delivery and Right First Time: : Commitment to increase operational excellence on the ground, reducing the number of errors in batch records and remaining committed to on time deliveries, targeted to further improve Skyepharma's 2018 performance in delivering 98% of commercial batches on time (OTD) and producing 90% of batches right first time (RFT).
Reduce Lead times: Skyepharma is currently studying the lead times of each of its services in order to optimize them as much as possible, with direct impact on global lead times and overall performance.
Anticipate needs: Active listening and constructive exchanges between our clients and customer service will help Skyepharma better understand needs and priorities, with enhanced ability to anticipate requests and propose alternatives, where necessary.
Ensure global satisfaction: Skyepharma sees excellent customer experience as key to the successful running of projects, with customer satisfaction its number one priority. It is now encouraging and enabling partners to provide direct feedback to drive constant improvement.
Build strong lasting relationships: Just as Skyepharma operates internally in a climate of trust, exchange and transparency within teams, it seeks to replicate the same dynamics with customers, forming genuine partnerships that strengthen over time to deliver win-win results.
Culture change
Since July 2016, Skyepharma has been transforming its processes and facilities to support its mission to become an end-to-end contract CDMO, providing services extending from early stage development and manufacturing through to packaging, serialization and aggregation.
This transformation has focused on four core activities: culture change, pharmaceutical development growth, strong investments in industrial equipment and business development. This has also involved investment in new machinery, along with evolutions in the organization, corporate culture and embracing lean management practices across the company.
About Skyepharma Production
Skyepharma Production S.A.S. (Skyepharma) is a specialist CDMO with particular expertise and capabilities in oral solid dosage forms, being a key player in drug development and delivery of oral technologies serving the global pharmaceutical, biotech and consumer health industries.
Skyepharma is the oral business unit of the Vectura Group of companies, an international leader in inhalation and other drug delivery forms.
As an integrated CDMO, The company's vision is to help solve healthcare industry complexity with a mission to provide a dedicated and results-oriented team to deliver advanced oral dosage services to the healthcare industry through state-of-the-art facilities, scientific expertise and open, transparent relationships. All of this is summed up in its strapline: 'Expert and Agile CDMO partner for tailor-made solutions'.
The Skyepharma CDMO offer in solid oral dosage formats encompasses the whole value chain, including Formulation Development & Process Design, Analytical Development, Scale-up, Manufacturing, Packaging, Serialization and Aggregation.
Skyepharma also provides a range of support services that help client companies from early stage development (up to phase III), through scale-up and full commercial manufacturing and packaging to market introduction, including controlled substance handling, QbD methodology (FMEA, FTA, DOE), Troubleshooting, regulatory services, validation, registration and warehousing services.
Media Contact
Perrine du Repaire, Sales & Marketing, Skyepharma S.A.S.
Tel: +33 4 74 95 20 46
Email: partnership@skyepharma.fr
Resources
Click on Skyepharma focuses on customer experience for other information.
Click on Skyepharma Production to contact the company directly.
Click on David Lescuyer interviewed by PharmaBoardroom to read the full article.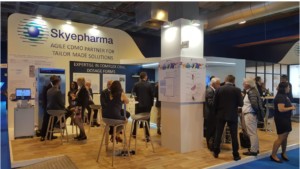 ---
Supplier Information
Supplier: Skyepharma Production S.A.S.
Address: Z.A. de Chesnes Ouest, 55 Rue du Montmurier – B.P. 45, 38291 Saint-Quentin-Fallavier, FRANCE
Tel: +33 4 74 95 20 4
Website: www.skyepharma.fr
---