---
Skyepharma extends complex project capabilities with ERP implementation
---

Press Release |Skyepharma Production S.A.S.
JUNE 24, 2019
Saint-Quentin-Fallavier, France: – Oral dosage specialist Skyepharma Productions S.A.S. (Skyepharma) has implemented a full Enterprise Resource Planning (ERP) system on site to boost its ability to deliver highly complex projects as part of its new status as a full contract development and manufacturing organization (CDMO).
Implemented as part of a wider Business Management Systems (BMS) upgrade, the new system is an integral component of an overall project to building a Pharma 4.0 ready CDMO that also encompasses In Process Control (IPC) reduction, Process Analytical Technology (PAT) and Data Integrity 5 security standards.
Business integration
The ERP business process management software was sourced from leading ERP provider Prog'info and allows the Skyepharma organization to use integrated applications to manage business processes and automate many back office functions related to technology, services and human resources. It can integrate all facets of an operation, including product planning, development and manufacturing within a single database, application and user interface while securing data to latest standards.
"This new ERP system brings Skyepharma to state-of-the-art in terms of production, supply management and accountings," commented Frédéric Font, Skyepharma ERP implementation Project Manager.
Continuous improvement
"This implementation in itself provides an example of our commitment to continuous process improvement and demonstrates our capability to achieve a complex project with full success," he explained.
"Addition of ERP will be of major significance to our existing and potential pharma partners who need a CDMO with strong development capabilities and the agility, quality processes, development capabilities and one stop shop approach required to deliver complex projects faultlessly and reliably," said M. Font.
"These projects require very full understanding and control over big data and critical parameters," he added.
About Skyepharma Production
Skyepharma Production S.A.S. (Skyepharma) is a specialist CDMO with particular expertise and capabilities in oral solid dosage forms, being a key player in drug development and delivery of oral technologies serving the global pharmaceutical, biotech and consumer health industries.
Skyepharma is the oral business unit of the Vectura Group of companies, an international leader in inhalation and other drug delivery forms.
As an integrated CDMO, The company's vision is to help solve healthcare industry complexity with a mission to provide a dedicated and results-oriented team to deliver advanced oral dosage services to the healthcare industry through state-of-the-art facilities, scientific expertise and open, transparent relationships. All of this is summed up in its strapline: 'Expert and Agile CDMO partner for tailor-made solutions'.
The Skyepharma CDMO offer in solid oral dosage formats encompasses the whole value chain, including Formulation Development & Process Design, Analytical Development, Scale-up, Manufacturing, Packaging, Serialization and Aggregation.
Skyepharma also provides a range of support services that help client companies from early stage development (up to phase III), through scale-up and full commercial manufacturing and packaging to market introduction, including controlled substance handling, QbD methodology (FMEA, FTA, DOE), Troubleshooting, regulatory services, validation, registration and warehousing services.
Media Contact
Perrine du Repaire, Sales & Marketing, Skyepharma S.A.S.
Tel: +33 4 74 95 20 46
Email: partnership@skyepharma.fr
Resources
Click on Skyepharma ERP implementation for other information.
Click on Skyepharma Production to contact the company directly.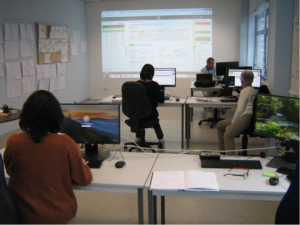 ---
Supplier Information
Supplier: Skyepharma Production S.A.S.
Address: Z.A. de Chesnes Ouest, 55 Rue du Montmurier – B.P. 45, 38291 Saint-Quentin-Fallavier, FRANCE
Tel: +33 4 74 95 20 4
Website: www.skyepharma.fr
---