---
Skyepharma exploring new oral dosage partnerships at BIO International Philadelphia
---

Press Release |Skyepharma Production S.A.S.
MAY 23, 2019
Saint-Quentin-Fallavier, France: – Oral dosage specialist Skyepharma Productions S.A.S. (Skyepharma) will make its debut at the influential BIO international networking conference in the USA, this year being held in Philadelphia PA.
Skyepharma will use BIO's advanced networking and online meeting platforms to find new collaborators and partners for its wide range of capabilities in the development, manufacturing and packaging of oral solid forms.
Skyepharma will also be communicating the significant changes that have taken place within the organisation as part of its transformation to a full CDMO, since July 2016. In this process, Skyepharma has transformed and streamlined its processes and facilities to support its mission to become an end-to-end contract developer and manufacturer, providing services extending from early stage development and manufacturing through to packaging, serialization and aggregation.
New collaborations
Skyepharma's appearance in Philadelphia follows a successful attendance at the earlier BIO Spring Europe event last month in Vienna.
"This was the first time Skyepharma has attended a partnering event and the end results were so positive, we were naturally drawn to the full BIO international event," said Skyepharma's Business Development Consultant Jeroen Van Egmond, who will represent the company in Philadelphia.
"We are looking forward to meeting new prospects and discussing potential partnerships at BIO 2019," he added.
Development partner
Skyepharma Business Development Manager, Florence Lemoult, commented: "We know that the BIO audience includes many pharma and food supplement companies seeking a CDMO partner with strong development capabilities in complex solid forms and premium food supplements."
"For them, we have a multifaceted and very comprehensive portfolio of capabilities that includes multilayer tablet, tab-in-tab, controlled release and enhanced bioavailability expertise, as well as tablets in capsules," said Ms. Lemoult.
"In addition we can offer our clients agility, high quality assurance, advanced development capabilities and a one stop shop approach with ability to manage complex projects end-to-end," she concluded.
About Skyepharma Production
Skyepharma Production S.A.S. (Skyepharma) is a specialist CDMO with particular expertise and capabilities in oral solid dosage forms, being a key player in drug development and delivery of oral technologies serving the global pharmaceutical, biotech and consumer health industries.
Skyepharma is the oral business unit of the Vectura Group of companies, an international leader in inhalation and other drug delivery forms.
As an integrated CDMO, The company's vision is to help solve healthcare industry complexity with a mission to provide a dedicated and results-oriented team to deliver advanced oral dosage services to the healthcare industry through state-of-the-art facilities, scientific expertise and open, transparent relationships. All of this is summed up in its strapline: 'Expert and Agile CDMO partner for tailor-made solutions'.
The Skyepharma CDMO offer in solid oral dosage formats encompasses the whole value chain, including Formulation Development & Process Design, Analytical Development, Scale-up, Manufacturing, Packaging, Serialization and Aggregation.
Skyepharma also provides a range of support services that help client companies from early stage development (up to phase III), through scale-up and full commercial manufacturing and packaging to market introduction, including controlled substance handling, QbD methodology (FMEA, FTA, DOE), Troubleshooting, regulatory services, validation, registration and warehousing services.
About BIO International 2019
The 26th Anniversary BIO International Convention (BIO 2019) provides a week of intensive networking for biotechnology and pharma leaders to discover new opportunities and promising partnerships. It attracts more than 16,000 delegates involved in a wide spectrum of life science and application areas including drug discovery, biomanufacturing, genomics, biofuels, nanotechnology and cell therapy.
BIO International 2019 moves to Philadelphia PA as a four -day event opening June 3 at the Pennsylvania Convention Center. The convention will feature more than 47,000 face-to-face meetings for some 7,000 companies organised using the proprietary BIO One-on-One partnering™ system, as well as hundreds of individual company presentations, a program of world-renowned keynote speakers and some 20 Session Tracks.
A co-located trade show will feature more than 1,800 exhibitors from fields ranging from digital health and diagnostics to bioprocesses.
The event is organized by the Washington DC-based Biotechnology Innovation Organization with more information at: http://convention.bio.org/
Media Contact
Perrine du Repaire, Sales & Marketing, Skyepharma S.A.S.
Tel: +33 4 74 95 20 46
Email: p.du.repaire@skyepharma.fr
Resources
Click on Skyepharma at BIO 2019 for other information.
Click on Skyepharma Production to contact the company directly.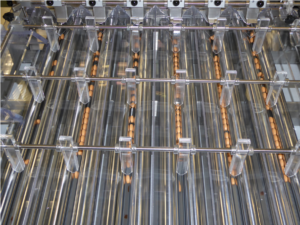 ---
Supplier Information
Supplier: Skyepharma Production S.A.S.
Address: Z.A. de Chesnes Ouest, 55 Rue du Montmurier – B.P. 45, 38291 Saint-Quentin-Fallavier, FRANCE
Tel: +33 4 74 95 20 4
Website: www.skyepharma.fr
---