Contact Supplier
Contact Supplier
To get in touch with Skyepharma brings advanced packaging solutions to Pharmapack Europe, simply fill out the form below.
Skyepharma brings advanced packaging solutions to Pharmapack Europe
Saint-Quentin-Fallavier, France: – Oral dosage specialist Skyepharma Productions S.A.S. (Skyepharma) is making New Year plans to radically expand its presence at the big Pharmapack 2020 expo in Paris to showcase its expanded range of pharma packaging capabilities.
This will be a return to Pharmapack for Skyepharma, who previously attended the 2018 and 2019 expos. However, this time, it will be there as a full exhibitor with a stand at Booth K40 in Hall 7.2 of the Porte de Versailles exhibition center. Its display will focus on its advanced packaging offers that include bottle and blister lines
Serialisation and aggregation
The display will also feature the serialisation and aggregation solutions developed in partnership with the automated visual inspection specialist SEA Vision, whose team will share the stand and will display serialized labels and boxes.
Skyepharma will support its offers with its latest White Paper 'Three Key Steps of a Serialisation – Aggregation Project' to be published early next year on the Pharmapack website.
Expanded packaging offers
"We have supported Pharmapack as the leading packaging expo in our native France for several years but for 2020 it was time for us to become a full exhibitor here" commented Business Development Manager Florence Lemoult, who will be part of a seven-strong Skyepharma team in Paris.
"Since 2018, we have radically updated and expanded our packaging capabilities, opening two new packaging lines for bottle and blister forms, with both fully equipped for serialisation and aggregation. This now gives us a complete offer in packaging that will interest many Pharmapack visitors" she explained.
"We are busy expanding our offers to meet new client needs, with plans to add a new stick pack line during Q1 2020" said Ms. Lemoult.
Meet the Skyepharma team
Florence Lemoult will be part of a seven-strong Skyepharma team in Paris including the President of Skyepharma, a Project Manager, the Head of Technical Department, the Production Foreman in charge of packaging activities, the purchasing Manager and the Marketing Communication Manager. Skyepharma is now accepting bookings for face-to-face meetings during the show (see Resources).
About Skyepharma Production
Skyepharma Production S.A.S. (Skyepharma) is a specialist CDMO with particular expertise and capabilities in oral solid dosage forms, being a key player in drug development and delivery of oral technologies serving the global pharmaceutical, biotech and consumer health industries.
Skyepharma is the oral business unit of the Vectura Group of companies, an international leader in inhalation and other drug delivery forms.
As an integrated CDMO, the company's vision is to help solve healthcare industry complexity with a mission to provide a dedicated and results-oriented team to deliver advanced oral dosage services to the healthcare industry through state-of-the-art facilities, scientific expertise and open, transparent relationships. All of this is summed up in its strapline: 'Expert and Agile CDMO partner for tailor-made solutions'.
The Skyepharma CDMO offer in solid oral dosage formats encompasses the whole value chain, including Formulation Development & Process Design, Analytical Development, Scale-up, Manufacturing, Packaging, Serialisation and Aggregation.
Skyepharma also provides a range of support services that help client companies from early stage development (up to phase III), through scale-up and full commercial manufacturing and packaging to market introduction, including controlled substance handling, QbD methodology (FMEA, FTA, DOE), Troubleshooting, regulatory services, validation, registration and warehousing services.
About Pharmapack 2020
Pharmapack Europe is the leading European conference and exhibition in the field of pharmaceutical packaging and drug delivery systems, showcasing major trends in the sector, both in terms of emerging markets and technological innovation.
The 19th Pharmapack Europe is a two-day event opening February 5, 2020, at Paris Expo, Porte de Versailles, expected to attract more than 5,500 visitors and 400 exhibitors from around 70 countries.
Pharmapack Europe 2020 will again combine an industry exhibition with a full conference and technical symposium program, along with the Pharmapack Awards recognising outstanding achievements in two categories: innovative Health Products and Exhibitor Innovation, recognising outstanding products or displays from the exhibition floor.
The event is organized by Informa Markets, with further information at:
www.pharmapackeurope.com
Resources
Click on Meet Skyepharma to pre-book face to face meeting at Pharmapack 2020.
Click on SkyePharma Packaging to watch video.
Click on SEA Vision for further information on vision systems.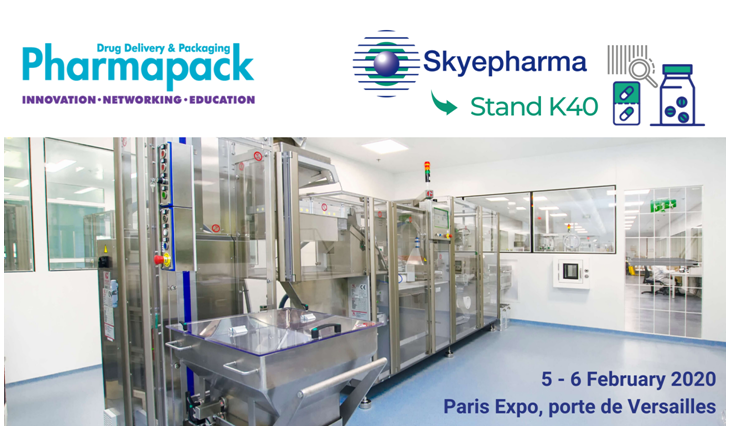 View Articles by Skyepharma Production S.A.S.