---
SEPAREX De-Dye process shortlisted for ITMA sustainable textiles award
---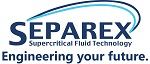 Press Release | SEPAREX S.A.S
NOVEMBER 15, 2015
Champigneulles, France: – Specialist contract development and manufacturing organization (CDMO) SEPAREX has been shortlisted as a finalist for the ITMA Future Material Awards 2015, a highlight of the landmark ITMA 2015 Expo in Milan.
SEPAREX is one of eight companies in the running for the Best Innovation – Sustainable textiles (Process) Award. It has been nominated for its breakthrough process that uses supercritical fluid (SCF) technology to achieve waterless de-dyeing and recycling of synthetic and polyester-based textiles.
The awards will be announced at a gala dinner at the Marriott Hotel, Milan, on November 16, the fourth day of the expo.
Recycling synthetic textiles
This is also SEPAREX's first attendance at the ITMA Expo, considered the 'Olympics of the Textile Industry'. The French company will also use the expo to showcase its new DeDye product, based on the new SCF undyeing and SCF recycling process. The product will be of particular interest to potential investors or development partners interested in the care, cleaning, decoloration and recycling of synthetic textiles.
Managing Director, Dr. Audrey Ngomsik-Fanselow and R&D Coordinator, Dr. Audrey Common, will represent SEPAREX at the event.
Scale up
"Our DeDye process is able to decolorize waste polyester textile without impeding the quality of the fibers, allowing them to be recycled more profitably," said Dr. Ngomsik-Fanselow.
"We are now looking to implement the new technology at pre-industrial scale," she added.
Dr. Common added: "Waterless undyeing, with its huge environmental advantages, is just one of the applications for our supercritical fluid technologies across the textiles industry for fibers and fabric producers and in manufacturing of manmade and functional fibers. Others include SCF dyeing, SCF recycling, SCF impregnation, SCF cleaning and dry cleaning."
The new process has gained significant attention in the industry and has been featured in recent articles in Ecotextile News and Roads to Innovation.
About SEPAREX
SEPAREX is a contract development and manufacturing organization (CDMO) that specializes in supercritical fluid (SCF) applications and high-pressure technology systems.
A member of the Netherlands-based FeyeCon Group, SEPAREX R&D, process development and equipment manufacturing expertise allows clients to build cleaner and greener products that do not rely on fluorinated, chlorinated or liquid organic solvents.
SCF extraction, fractionation, micronization, purification, sterilization, encapsulation and other technologies based on high pressure applications of supercritical CO2 provide non-polluting "tunable" solvents with intermediate properties between liquid and gas that make them highly efficient as reaction media.
SEPAREX also builds and installs production equipment for many different application fields in the pharma, bioscience and fine chemicals industries, including SCF reaction, solid batch extraction and liquid fractionation plants, Aerogel production machinery, and oxidization reactors.
This French-based company is thus able to apply a distinctive Supercritical Fluid Engineering approach in working with clients through every stage of process from original concept through product and process development to construction of industrial scale production.
About ITMA 2015
The International Textile Machinery Association (ITMA) exhibition has a 64-year history. Considered the 'Olympics' of textile machinery exhibitions, the show is held every four years in Europe. Since its inception in 1951, ITMA has been a catalyst for change and competitiveness for the industry.
The 2015 show is an eight-day event opening November 12 at the Marriott Hotel in Milan. Featuring 19 exhibit sectors, ITMA 2015 will showcase the latest textile technologies, encompassing the whole production chain. The exhibition will cover around 200,000 square meters of exhibition space, with over 1,300 exhibitors from 45 countries. More than 100,000 visitors are expected to attend from over 140 countries.
The technical textiles and nonwovens sector is a source of new growth opportunities for traditional textile manufacturers seeking higher value production, and this sector will feature prominently at ITMA 2015, along with a number of exciting initiatives to reinforce the theme of sustainable innovation, including CEMATEX's second World Textile Summit, conferences on colorants and chemicals, digital printing, garment making and much more.
ITMA and ITMA Asia are brands owned by the European Committee of Textile Machinery Manufacturers (CEMATEX). ITMA comprises national textile machinery associations from Belgium, France, Germany, Italy, Netherlands, Spain, Sweden, Switzerland and the United Kingdom.
Further information on the show can be found at: www.itma.com
Media Contact
David Boissy, Assistant Marketing & Communication, SEPAREX S.A.S.
Tel: +33 3 83 31 24 24
Email: dboissy@separex.fr
Resources
Click on SEPAREX De-Dye process shortlisted for ITMA sustainable textiles award for more information.
Click on SEPAREX to contact the company directly.
Ecotextile News article: http://www.ecotextile.com/2014082020071/materials-production-news/
Roads to Innovation article: http://www.ecotlc.fr/ressources/Documents_site/Chemins_innovation_2015_GB_BD.pdf
---
Supplier Information
Supplier: SEPAREX S.A.S
Address: 5 rue Jacques Monod, BP 9, 54250 Champigneulles, France
Tel: + 33 38 331 2424
Fax: + 33 38 331 2483
Website: www.separex.fr
---