Contact Supplier
Contact Supplier
To get in touch with PHC Europe BV, simply fill out the form below.
Safe Blood Storage from PHCbi MBR range
PHCbi MBR Blood bank refrigerators are designed to conform to AABB criteria, with assured stable and reliable temperature control utilizing specifically developed technology.
This includes a special highly efficient compressor designed and developed by PHCbi, to provide rapid cooling and quiet performance for both models in the range: the 120 bag-capacity MBR-305GR-PE and the 360 bag-capacity MBR-705GR-PE.
For blood storage freezer needs, PHCbi also offer MDF-series biomedical freezers that are ideally configured to frozen plasma storage.
MBR Series Blood Bank Refrigerators 
Both PHCbi blood refrigerators are designed for safe and efficient whole blood storage, with stable and uniform temperature control under for various inventory loads, utilizing the highly efficient PHCbi-developed compressor that provides rapid cooling and quiet performance.
MBR Blood Bank Refrigerators also offer superior temperature recovery, superior uniformity, user friendly microprocessor control, and large flexible storage capacity uniform temperature throughout cabinet.
Features include:
Stable Temperature Control: product temperature in both the upper and lower part of the chamber are constantly monitored by twin thermistor sensors located in liquid loaded monitor bottles, designed to mimic the thermal characteristics of a blood bag. Blood storage refrigerator temperature stability is enhanced by cabinet design, with separated inner doors to minimize chamber cold air leakage during door openings. Multi air-flow plenum system a large air circulation fan assist temperature uniformity and boost rapid temperature recovery.
User-friendly Design: Fluorescent interior lamp with ON/OFF switch and a large view window in the outer door provide a clear view of stored items, with insulated acrylic glass windows to prevent condensation. Digital display is easy to see, and can be calibrated through a control panel designed for gloved operation.
Microprocessor control and alarms: Enables very precise temperature setting to conform to the strictest blood storage regulations, while audible and flashing LED visual alarms that provide on-site and remote alerts in case of power failure, excess high or low temperature excursions, or for any thermal sensor abnormality.
Both MBR-305GR-PE and MBR-705GR-PE blood bank refrigerators carry full Class IIa Medical Device certification (93/42/EEC and 2007/47/EC) for use across the EU and in the UK.
Key specifications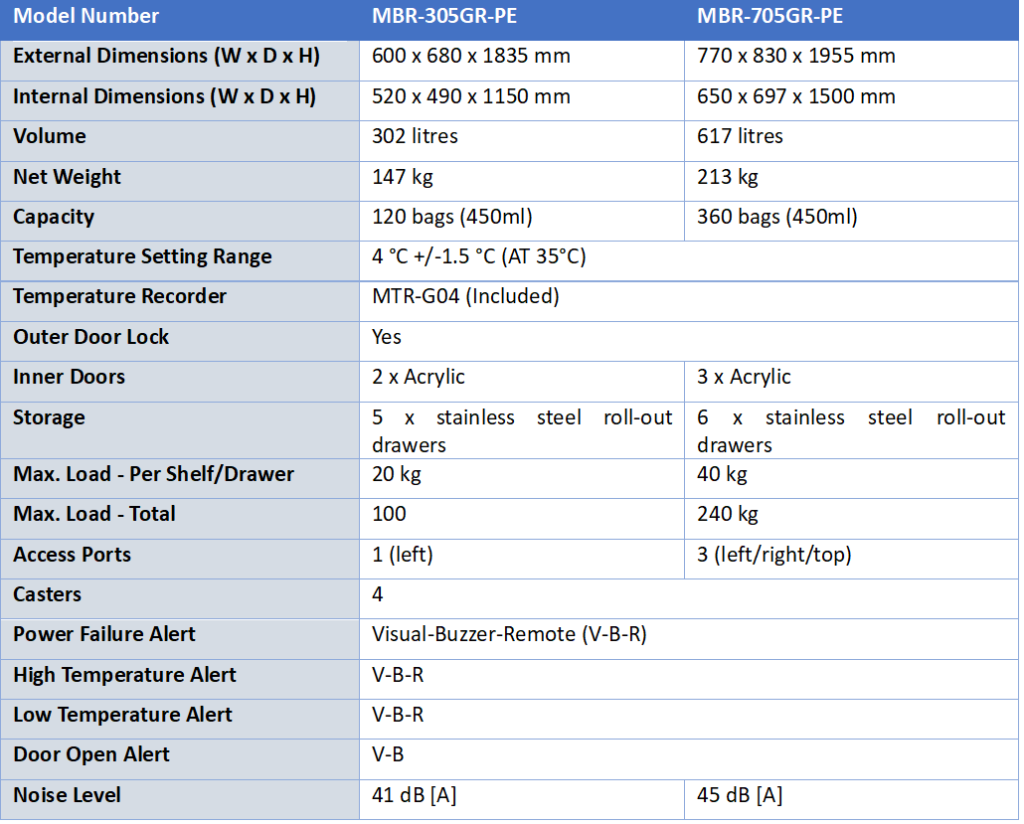 Blood plasma freezers
PHCbi's MDF range of biomedical -400C Freezers provide ideal solutions for the preservation of fresh frozen blood plasma and are also certified as Class IIa Medical devices for storage of cells, DNA and fresh frozen plasma.
The MDF-U443-PE Biomedical -40°C Plasma Freezer (426L) and MDF-MU549DH-PE Biomedical ECO Plasma Freezer (479L) both offer outstanding reliability and performance required in a wide variety of storage and research applications. In the medical field, they make highly effective Blood Plasma Freezers for effective storage of life-saving fresh and frozen blood supplies and vaccines, as well as samples for diagnosis, with excellent safety features, easy operability, and a host of other features, such as energy-efficient cascade cooling system.  These enable unsurpassed reliability and functionality for short or intermediate term storage at temperatures as low as -40°C.
In addition, the MDF-MU549DH-PE offers two independent chambers for sample storage at selectable temperatures and uses natural refrigerants to minimise energy consumption, reduce environmental impact and save money while providing superior stability and uniformity.
Key Specifications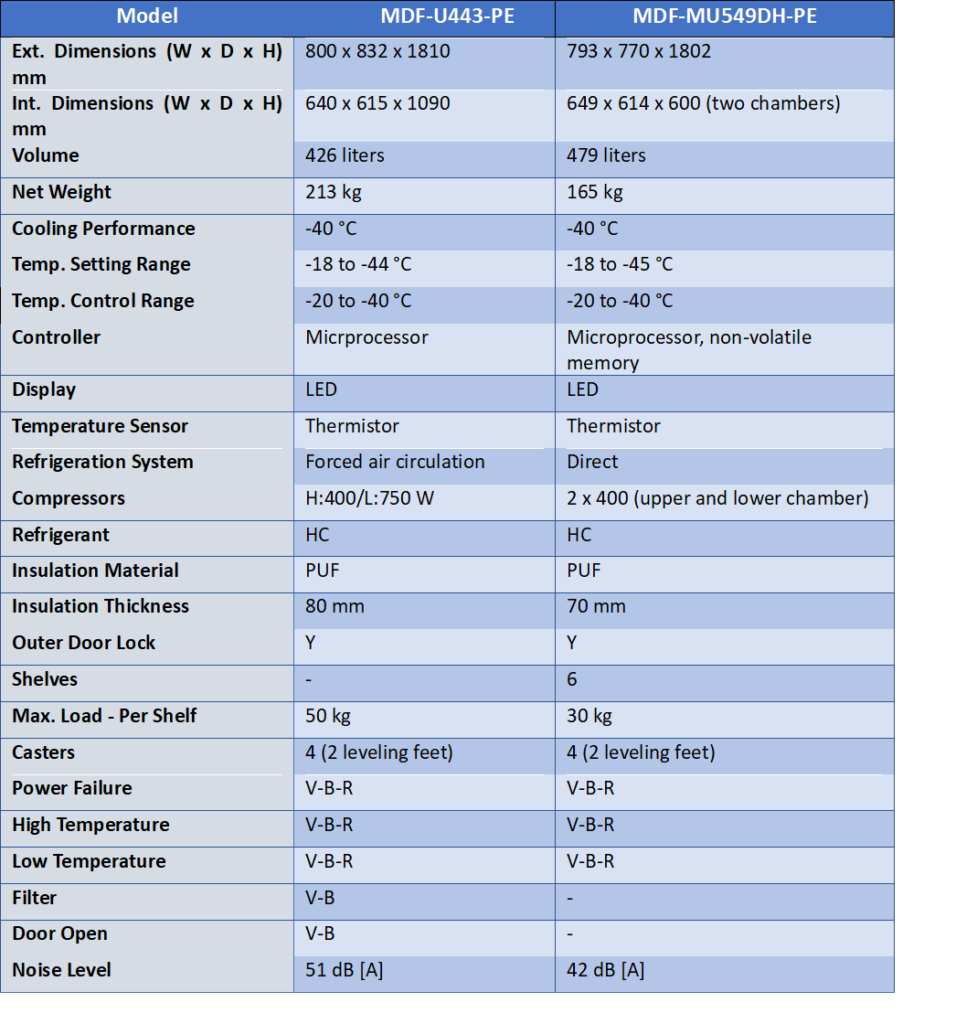 Resources
Click on PHCbi MBR Blood Bank Refrigerators for more information.
Click on PHCbi Biomedical Plasma Freezers for more information.