Contact Supplier
Contact Supplier
To get in touch with PHC Europe BV, simply fill out the form below.
PHCbi TwinGuard ULT Freezer – MDF-DU502VX-PE
The MDF-DU502VX-PE TwinGuard ULT Freezer is the mid-range unit of PHCbi's range of TwinGuard ULT ultra-low temperature freezers, offering an ideal blend between safe long-term storage capacity, price, footprint and user friendliness.
TwinGuard ULT Freezers meet life sciences industry demands for safe, long-term storage for the most high-valued materials by using double independent refrigeration systems, combined with optional liquid CO2 back-up systems, to provide unmatched protection.
TwinGuard freezers are also designed to minimize energy consumption, reduce environmental impact and save money.
MDF-DU502VX-PE Features
The MDF-DU502VX-PE TwinGuard ULT Freezer offers 528 liters of effective storage capacity and ultra-low temperature freezing down to -86C. Its features include:
Dual Cooling System: The double independent cooling systems allow TwinGuard freezers to maintain reliable and uniform -86ºC ultra-low temperatures with highest sample security levels. In any case of one system failing, the other circuit will maintain -70ºC temperature to keep samples safe while service is arranged.
Efficient Sample Storage: The combination of VIP PLUS vacuum insulation panels and an enhanced cabinet design with insulated outer door, ensures optimum temperature uniformity, while the reduced wall thickness maximizes storage capacity.
Flexible shelf layout: Multiple shelf configurations, with racking options, support a variety of storage permutations, allowing organization of samples in multiple inventory racks.
Intelligent Interface: EZlatch operation makes access to stored samples even easier. A color LCD touch panel allows full user control, even with gloved hands, while the USB port makes transferring logged data to a PC convenient. Sophisticated alarm and notification options significantly extend time to react to any sudden mechanical failures, while full data logging supports high security applications such as pathogenic research.
Benefits
Compared to conventional ULT freezers, the MDF-DU502VX-PE TwinGuard ULT Freezer offers clear advantages in enhanced sample protection, lower running costs, faster temperature pull down, and longer service life.
Defined benefits include:
Extreme secure Dual Cooling System
VIP PLUS insulation
Flexible shelf layout
Intelligent Interface
Innovative Cabinet Design
Cost-saving and environmentally friendly sample storage
Energy efficiency
Lower running costs
Full Class IIa Medical Device Certification (see Resources).
Specifications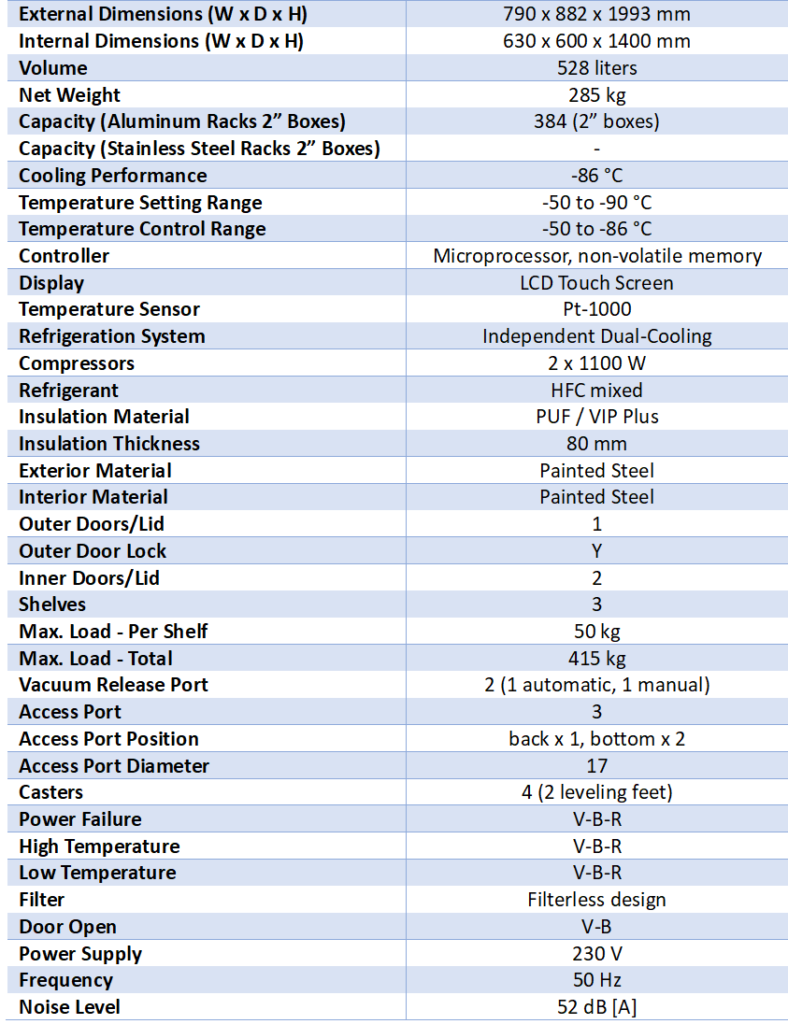 Accessories and Options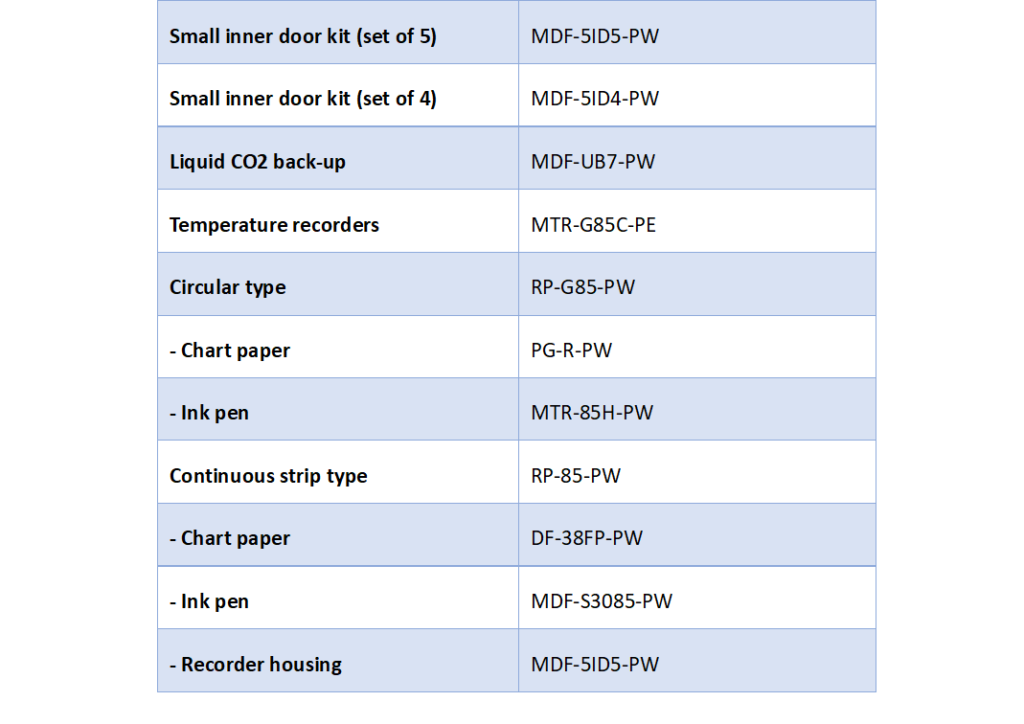 Resources
Click on MDF-DU502VX-PE to download product brochure.
Click on PHCbi Class IIa medical device certification for further information.