Contact Supplier
Contact Supplier
To get in touch with PHC Europe BV, simply fill out the form below.
PHCbi PrimeSurface® 3D Cell Culture solutions
PHCEU can supply PHCbi superior quality PrimeSurface® three-dimensional cell culture labware platforms with a variety of well shapes to enable spheroid culturing of specific cell types. The superior coating technologies and manufacturing processes offer uniform formation and smooth surface to obtain clear cell images.
The PrimeSurface® range includes Ultra Low Attachment (ULA) 3D cell culture plates that promote scaffold free, self assembly of spheroid formation and new slit-well ULA 3D plates to facilitate easy handling of media exchange without disrupting spheroid formation.
PrimeSurface® ULA 3D cell culture plates
PrimeSurface® cell culture labware are ultra-low attachment (ULA) plates that promote scaffold free, self-assembly of spheroid formation.
Features
PrimeSurface® series are coated with a unique ultra-hydrophilic polymer that covalently binds to the plastic surface, and effectively inhibits cell attachment without cytotoxic and material degradation. This coating promotes  spontaneous spheroid/EB formation of uniform size and shape.
The high optical clarity of these ULA plates makes them highly suitable for bright field imaging and confocal microscopy. In addition to the widely used 96 well U bottom plate, 96 well plates are also available in V and M (spindle) bottom, supporting formation of the tighter spheroids needed for specific cell types.
For high throughput screening (HTS) needs, 384 well plates are available in clear and white.
Key benefits
The PrimeSurface ULA 3D range offers users a range of clear benefits. These include:
Non-binding surface for cells to facilitate natural spheroid formation
Uniform single spheroid/EB formation in each well
Spheroid assay formation and analysis in the same plate
A choice of well bottom shapes to suit specific cell types
Choice of 96 well for compatibility or 384 well format for high throughput assay
High optical clarity plates for imaging
Stable, non-cytotoxic and cell non-adhesive surface
Easy handling, compatible with liquid robotic system
Compatible with bright-field and fluorescence imaging systems
White plates compatible with luminescent assays.
PrimeSurface® ULA 96 Slit-Well Plate
PHCbi's PrimeSurface range also includes a new slit-well, ultra-low attachment 3D plate that facilitates easy handling of media exchange without disrupting spheroid formation. The slit-well structure allows simultaneous delivery of cell culture medium to all 96 wells, realizing significant time savings.
Features
Cell culturing involves frequent media replacement to provide nutrition to growing cells. In a standard 96 well ultra-low cell attachment plate, media aspiration or dispensing has to be done extremely carefully to avoid disturbing the unattached spheroid, making this a time consuming operation.
With the introduction of PrimeSurface® 96 Slit-Well Plate, media exchange for 96 well plates can be efficiently handled with one step dispensing or aspiration for all 96 wells, thus reducing pipetting time by more than 80% while minimizing the risk of spheroid damage.
Since growing larger spheroids needs more nutrients, PrimeSurface Slit-Well Plates allow maximum capacity of 30 ml per plate, around 50% more media volume than conventional plates.
Key benefits
These features enable researchers to cultivate and maintain larger spheroid cells in the same well for long-term cultures and release a set of very valuable further benefits:
Minimize media maintenance time and effort
Allow simultaneous media exchange to all 96 wells without disturbing spheroid formations
Increase media volume by 1.5 times over, reducing media changes and providing more nutrients to large cultures.
These benefits are affirmed by user testimony from Stanford University, USA, where a reseracher comments:
"I found that the organoids grew equally sized in the slit well plate than with either 10cm dishes or traditional 96 well plates. The interconnectedness of the wells also ensures more biological consistency of the different wells. The benefit is the much faster time to feed cultures, which is a significant improvement over individual wells. Feeding also only requires a pipette, while feeding traditional wells requires using media boats and multichannel pipettes, which is much more wasteful and costly in supplies. This can add up for long term cultures. On the whole, I found them easy to use and very time, energy, and resource efficient."
Specifications
All PrimeSurface® product packages comprise 20 plates, individually packed and radiation sterilized .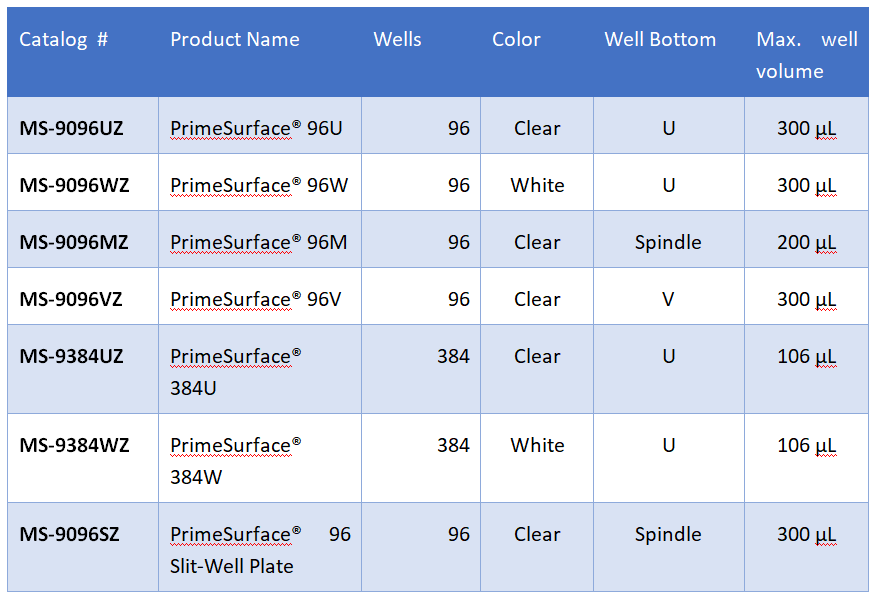 Resources
Click on PHCbi PrimeSurface range for detailed product information and resources.
Click on PHCEU Contact Form to request a quote or free sample.