Contact Supplier
Contact Supplier
To get in touch with PHC Europe BV, simply fill out the form below.
PHCbi Pharmaceutical Refrigerators
PHCbi's MPR range of sliding door pharmaceutical refrigerators offer complete solutions for the most demanding laboratory, pharmacy and clinical storage requirements for biologicals, medicines, vaccines, and other temperature-sensitive products.
The MPR-S150H-PE and MPR-S300H-PE both combine stable and uniform storage temperature with easy access, control and versatile configuration.
Design and Features
The MPR-S150H-PE and MPR-S300H-PE Pharmaceutical Refrigerators both offer features that include effective and reliable temperature control between 2oC  and 14oC, quiet operation, ease of use and ergonomic design. The principal difference between the two models is in height and storage volume, with the MPR-S150H providing 165 liters of storage, compared with 345l for the MPR-S300H.
Features include:
Environmentally Friendly Storage: Both units use naturally occurring hydrocarbon [HC] refrigerants with minimal environmental impact. Combined with inverter technology, these refrigerants also deliver more efficient cooling, consuming almost 65% less energy than conventional models.
User-friendly Design: The ergonomic form provides a clear view of stored items through the large framed windows while slim profile and self-closing sliding doors allow easy product retrieval in confined spaces.
Stable Temperature Control: Inverter compressors provide optimum stability, while quality of design ensures reliability, making them ideal for samples that are sensitive to temperature fluctuations.
Safe & Secure storage: These units come as standard with adjustable audible and visual alarms, along with integrated system diagnostics and predictive performance. The password-protected control panel maximizes security and minimizes risk of accidental changes. Alarm and operating history data can be uploaded via USB port.
Well-isolated chamber: The double glass doors feature an extra wide 12 mm air gap filled with argon gas, along with cooled air blowing up from the chamber bottom, to isolate samples from exterior heat, maintain uniform temperature throughout the cabinet and maximize energy efficiency.
Specifications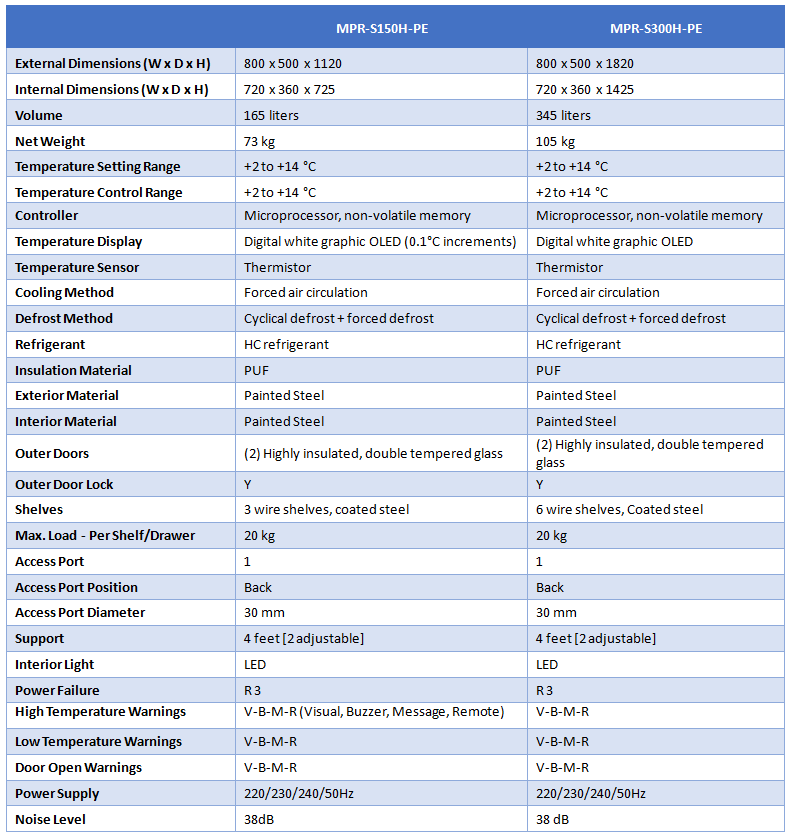 Resources
Click on PHCbi MPR Pharmaceutical Refrigerators to download brochure
Click on MPR-S150H-PE to download product sheet
Click on MPR-S300H-PE to download product sheet