Contact Supplier
Contact Supplier
To get in touch with PHC Europe BV, simply fill out the form below.
PHCbi Pharmaceutical Combined Fridge/Freezer – MPR-N250FH-PE
The MPR-N250FH-PE from PHCbi provides a complete laboratory clinical storage solution; combining a high-performance 179L 5℃ refrigerator with a -20°C to 30°C 80L freezer.
This compact single door unit features an exceptionally small 51 x 64 cm footprint for installation in smaller spaces, while offering advanced refrigeration and operating technologies, along with high sustainability, using natural refrigerants.
MPR-N250FH-PE Design and features
The MPR-N250FH-PE is designed and engineered for secure storage and easy access in compact spaces with a minimal footprint and narrow front single door format. Separate doors for refrigerator and freezer compartments can both be digitally locked with passcode.
Microprocessor control ensures precise and accurate temperature management, with precise refrigerator and freezer temperatures shown simultaneously on an organic light-emitting-diode (OLED) display as part of a touch panel that provides excellent clarity and intuitive operation. Detailed refrigerator and freezer temperature can be set in increments of 0.1°C, with minimal and maximal temperature for every 24 hours. Integrated alarm functions include remote alarm contacts (with optional battery kit) and monitoring. High and low temperature alarm includes audible and visual warning with alarm ring back.
A USB port provides simple and convenient transfer of logged data to a PC including temperature, door opening times and alarm history.
To ensure even and stable temperature distribution throughout the cabinets, the MPR-N250FH-PE includes a high performance refrigeration system with a forced air, back wall plenum. This provides even, horizontal airflow across the solid, adjustable glass shelves at each shelf level. A uniform freezer temperature is maintained through a cold wall refrigeration system with natural circulation. Temperatures remain stable wherever products are stored, even in a fully loaded chamber. The refrigerator is engineered to prevent inadvertent freezing of temperature sensitive vaccines.
The refrigeration system uses naturally occurring hydrocarbon (HC) refrigerants that have minimal effect on the environment and are compliant with environmental legislation for climate control. Combined with inverter technology, these refrigerants also provide more efficient cooling and lower running costs.
MPR-N250FH-PE benefits
Generous storage capacity on minimal footprint for compact installations.
Remote alarm contacts allow connection to remote alarm system.
Open door indicator light with 15 minute delayed audible alarm adds to safety.
Keyed door locks contribute to inventory security.
Specifications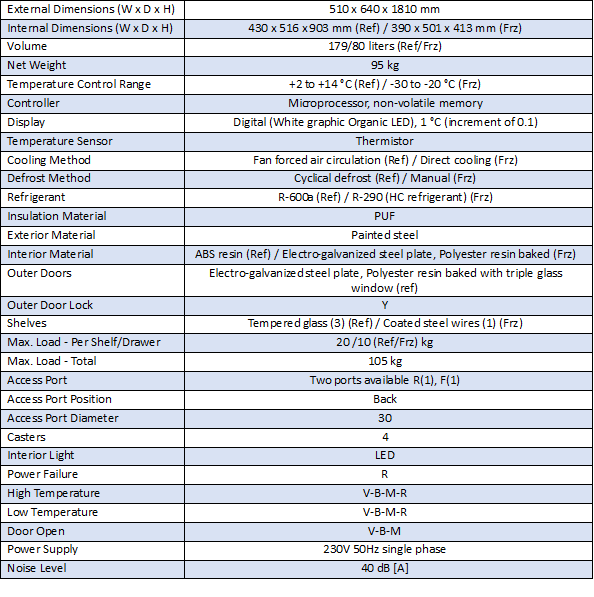 Glossary:
PUF = Rigid polyurethane foamed insulation
V = Visual alarm
B = Buzzer alarm
M = Message
R = Remote alarm
Notes:
Exterior dimensions exclude any external projections –
Air temperature measured at centers of refrigeration compartment and freezer compartment, ambient temperature +30ºC, no load
Requires optional battery kit for power failure alarm MPR-48B2-PW
Background noise 20dB[A] nominal value
Appearance and specifications are subject to change without notice.
Accessories & Consumables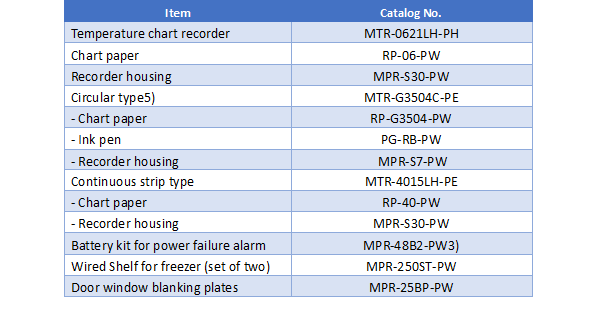 Note:
MTR-G3504-PW has two pens (red/blue) per recorder to register temperatures inside the freezer as well in the refrigerator
Resources
Click on PHCbi MPR-N250FH-PE combined pharmaceutical refrigerator and freezer for more information.
Click on PHCbi MPR-N250FH-PE to download English language product sheet.
Click on PHCbi MPR Pharmaceutical Refrigerators to see complete product range.