Contact Supplier
Contact Supplier
To get in touch with PHC Europe BV, simply fill out the form below.
PHCbi MPR-N450FHD-PE Pharmaceutical Refrigerator with Freezer
The DIN 58345 compliant MPR-N450FHD-PE provides a complete laboratory storage solution; combining refrigeration and-20℃ to -30℃ freezing in one unit.
It marries a high-performance 326L 5℃ refrigerator with a -30°C 136L freezer within a small footprint for flexible, reliable and convenient sample storage. Natural refrigerants minimize environmental impact for a sustainable storage solution.
MPR-N450FHD-PE Design and features
The MPR-N450FHD-PE is designed and engineered for secure storage and easy access with separate full width doors for refrigerator and freezer compartments.
Microprocessor control ensures precise and accurate temperature management, with mechanical convection airflow-ducts and plenums achieving uniform temperature regardless of product loading, with quick temperature recovery following door openings.
Secondary temperature deviation safety device prevents over temperature or under temperature conditions, while a unique refrigerator defrost system preventing temperature variations during defrost cycle.
The OLED panel has good visibility and intuitive operation. It simultaneously displays detailed refrigerator and freezer temperature in increments of 0.1°C, with minimal and maximal temperature for every 24 hours.
USB ports provide simple and convenient transfer of logged data in a CSV file to a USB stick including temperature, door opening times and alarm history.
Integrated alarm functions include remote alarm contacts (with optional battery kit) and monitoring. High and low temperature alarm includes audible and visual warning with alarm ring back.
The refrigerator compartment of the MPR-N450FHD-PE is suitable for drug storage in accordance with the German DIN 58345 standard.
MPR-N450FHD-PE benefits
Large enough to hold entire year's vaccine inventory.
Ideal for drug storage in accordance with the DIN 58345 standard.
Remote alarm contacts allow connection to remote alarm system.
Open door indicator light with 15 minute delayed audible alarm adds to safety.
Keyed door locks contribute to inventory security.
Specifications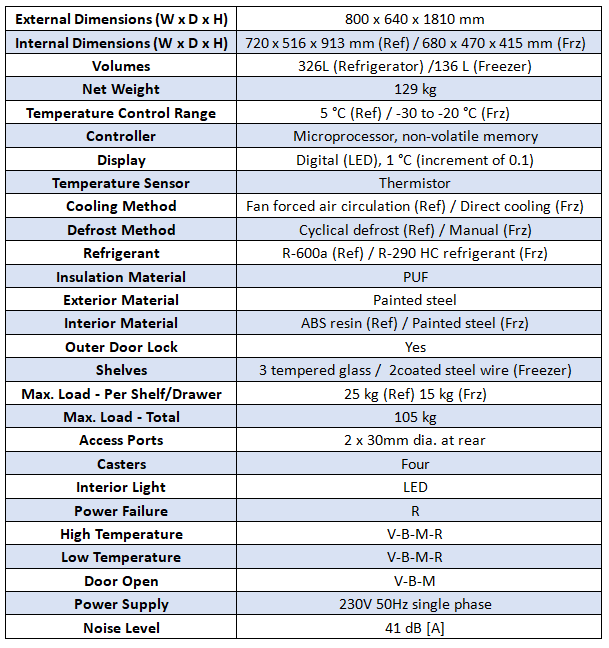 Glossary:
PUF = Rigid polyurethane foamed insulation
V = Visual alarm
B = Buzzer alarm
M = Message
R = Remote alarm
Accessories & Consumables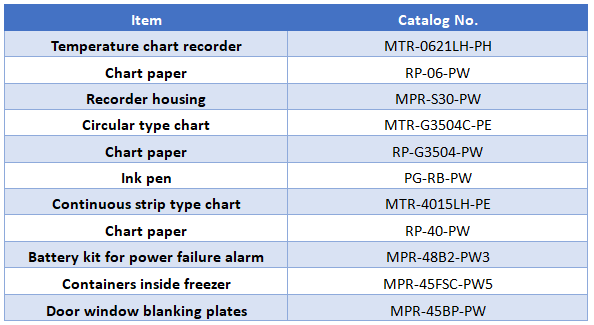 Resources
Click on PHCbi MPR-N450FHD-PE to download English language product sheet.
Click on PHCbi MPR Pharmaceutical Refrigerators with Freezer to see complete product range.