Contact Supplier
Contact Supplier
To get in touch with PHC Europe BV, simply fill out the form below.
PHCbi MDF-C2156VAN-PE Cryogenic ULT Freezer
PHCbi is a pioneering manufacturer of cryogenic freezers, with SANYO (former brand of PHCbi) having developed its first -152°C ultra-low temperature (ULT) freezer in 1991 in response to a growing demand for cryopreservation solutions following medical and scientific advances, such as use of cryopreserved oocytes in IVF and stem cell research.
PHCbi's latest Cryogenic MDF-C2156VAN ultra-low temperature freezer offers unparalleled safety, reliability and uniform temperatures, incorporating advanced refrigeration technologies, ultra-efficient  insulation, and sophisticated alarms and safeguards.
Design and Features
The Cryogenic MDF-C2156VAN-PE ULT Freezer is a quiet running mechanical cryogenic freezer that does not need liquid nitrogen to achieve a cryogenic temperature of -150ºC, using binary mixed refrigerants to avoid use of  environmentally harmful chlorofluorocarbons (CFCs). With a capacity of 213 litres, it is ideally suited for cryogenic freezing and long-term sample storage in laboratories and clinics.
Patented VIP PLUS insulation technology means denser and thinner panels to provide more specific storage capacity than conventionally insulated models, while also reducing power consumption, aided by high performance lid gaskets.
PHCbi preservation systems employ advanced technology to ensure a high precision temperature environment, including a specially designed cascade refrigeration system and advanced microprocessor control interface via front mounted LED digital display and flat key data entry. This provides accurate temperature setting, confirmation and operation, as well as clogged filter check function.
The cabinet incorporates three levels of security with liquid nitrogen and rechargeable battery back up, power failure alarm lamp and buzzer and high temperature warnings, including remote alarm contact.
The inner cabinet maintains temperature safely below -150°C with ultra-low temperatures created by advanced compressors and a high-efficiency oil separator.
MDF-C2156VAN-PE benefits
Compared to liquid nitrogen systems, Cryogenic MDF-C2156VAN offers clear advantages in lower running cost, easier maintenance, less reliance on  liquid supplies, and minimal risk of sample contamination or sudden liquid eruptions. It offers a safe, convenient and user-friendly solution for long-term cryopreservation needs.
Other defined benefits include:
Standard LN2 backup
Low operational costs.
Convenient Control with LCD panel.
VIP PLUS insulation maximizes storage capacity
Specifications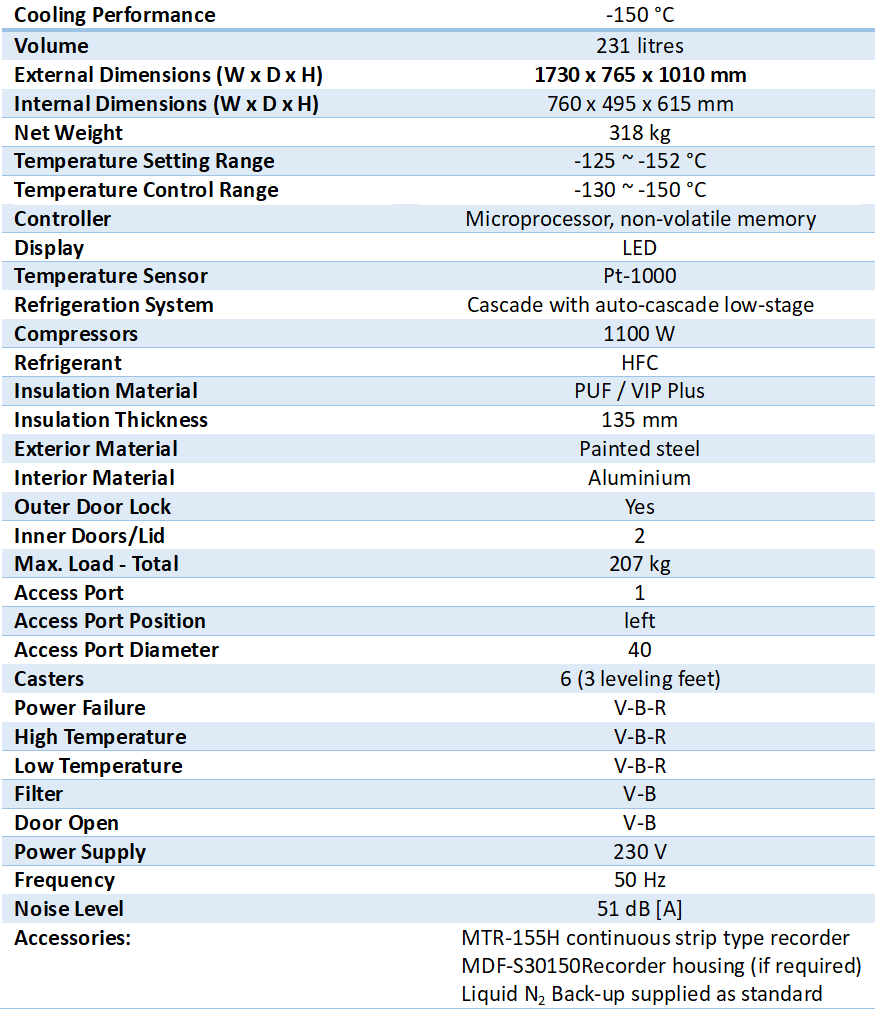 Resources
Click on MDF-C2156VAN to download product flyer.