Contact Supplier
Contact Supplier
To get in touch with PHC Europe BV, simply fill out the form below.
PHCbi Laboratory Refrigerator – LPR-400-PE
PHCbi's LPR-400-PE Laboratory Refrigerator is designed for general laboratory storage with user-friendly features.
This high quality laboratory storage refrigerator is defined by its combination of precise temperature control, interior temperature uniformity, fast recovery and resistance to high ambient temperatures, all underpinned by PHCbi's commitment to precise engineering, storage safety and reliability.
Meeting laboratory needs
Laboratory Refrigerators provide a stable, cold storage for temperature sensitive biomedical samples, chemicals and other substances that must be stored at temperatures ranging from +4°C to +14°C. They are specially designed with features and options that optimize their use in laboratory settings.
As well as accurate and reliable temperature control, laboratory refrigerators must provide exceptional temperature recovery after door opening, monitoring of conditions with alarms, and safe and convenient access through lockable door and flexible shelving. They must provide convenient access for those authorized to use them, but also features that safeguard against unauthorized access. In addition, all laboratory equipment is increasingly expected to provide a minimal environmental footprint and energy efficiency.
Features
PHCbi cold storage products are well-established and well-respected in the worlds of life sciences and healthcare as synonymous with quality, being renowned for accuracy, reliability, and temperature stability.
Its LPR Laboratory Refrigerator feature highly effective user-interfaces, including door, monitoring systems, and alarms and clear and specific user protocols.
The LPR-400-PE Laboratory Refrigerator is a high-quality product that combines temperature control accuracy, interior temperature uniformity, quick recovery, and resistance to high ambient temperature, as well as user-friendly features. The control panel is located above the glass door, while rear-mounted access port allows connection of sensors, probes, and other equipment.
Self-closing double glass door offers better visibility of stored items and provides complete thermal isolation, while internal glass heating element prevents condensation without affecting chamber temperature.
Benefits
Together, these features deliver a series of compelling benefits:
Accuracy: Forced air circulation technology ensures a uniform temperature throughout the refrigerator's chamber and fast temperature recovery, even with frequent door opening. A thermistor sensor detects and maintains temperature in the refrigerator chamber at set point.
Safety: Visual and audible alarms alert users if the temperature falls outside the safe range, so prompt action can be taken to protect samples. The door is equipped with a cylinder lock to restrict access.
Versatile storage: The LPR-400 offers 400 liters of useable storage capacity arranged on five adjustable shelves. Flexible shelving options and large see-through door provides instant access to samples.
User convenience: A microprocessor controller combined with digital display and large tactile controls simplify gloved operation and enables the user to monitor and adjust conditions clearly and easily. The refrigerator feature timer-controlled off-cycle defrosting, which reduces the manual labor and time required to remove frost. Combination of rear casters and front leveling feet means installation requires little more than a nearby 230V electrical socket. As well as support during selection and installation, service options from PHC are available for PHCbi Laboratory Refrigerators.
LPR-400-PE Specifications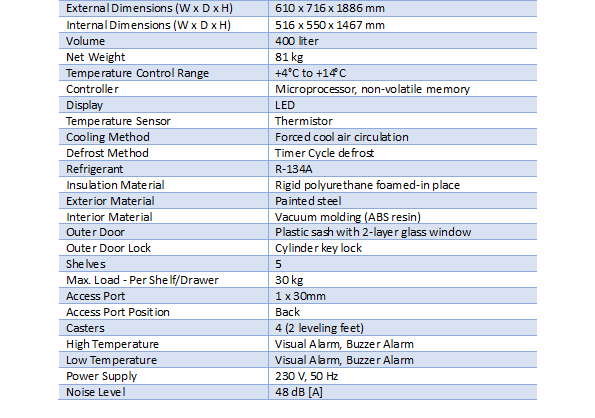 Resources
Click on PHCbi LPR-400-PE laboratory refrigerator for more information.
Click on LPR-400-PE Product Sheet (English) to download product bulletin.
Click on PHCbi MPR Pharmaceutical Refrigerators to see complete product range.