Contact Supplier
Contact Supplier
To get in touch with PHC Europe BV, simply fill out the form below.
PHCbi IncuSafe CO2 Incubator – MCO-170AICUVH-PE
PHCbi's 165-litre capacity MCO-170AICUVH-PE meets the need in creating successful cell cultures for a CO2 incubator that offers the highest levels of precision, security and ease of use.
As part of the IncuSafe range of MCO CO2 Incubators, the MCO-170AICUVH-PE features innovative technologies for outstanding performance, maximised cell culture productivity and optimum results and reproducibility. These include built-in long life Safe Cell UV® lamp along with a hydrogen peroxide H2O2 Decontamination Board for maximum culture protection and Electric door lock with password for security.
Features and Benefits
Other advanced features include DHA Direct heat and air jacket system, Dual infra-red CO2 sensor, InCu saFe® copper-enriched stainless steel interior, full color LCD touch screen, USB port and extensive digital connection options.
Together, these deliver a range of quantifiable user benefits such as improved insulation performance and lower running costs, more precise control of carbon dioxide and temperature levels, optimum protection and more storage space for cell cultures, with reduced downtime to conduct complete, validable decontamination.
Cleanroom Classification
To ensure that its equipment can be trusted as an essential tool for cleanroom applications, PHCbi has invested in the classification of all its flagship cold storage and cell culture incubators.
The MCO-170AICUVH-PE is ISO 14644-1 part 14 classified and falls in ISO Class 5.0 for cleanroom use (See Resources).
MCO-170AICUVH-PE Product Specifications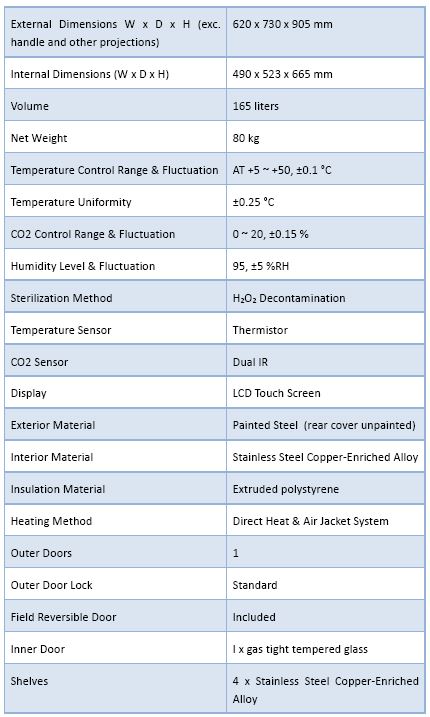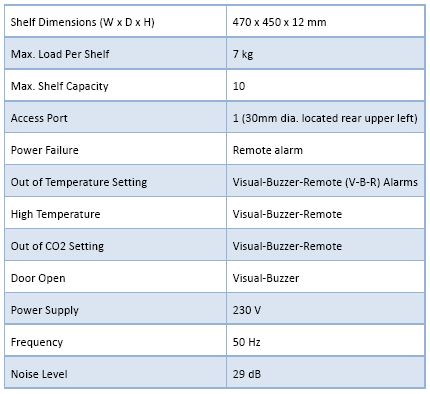 Accessories & Options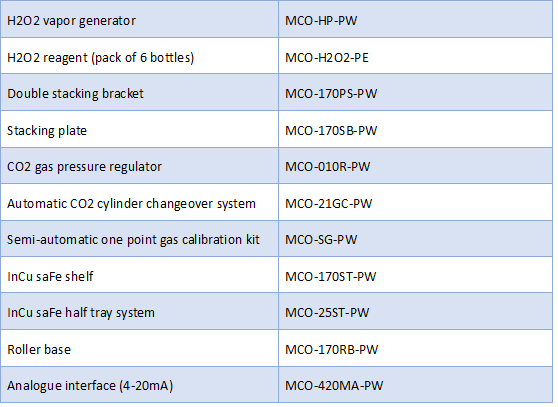 Resources
Click on PHCbi MCO-170AICUVH-PE IncuSafe CO2 Incubator for more information.
Click on PHCbi MCO-170AICUVH-PE Specifications to download product sheet.
Click on PHCbi IncuSafe CO2 range for further information and resources.