Contact Supplier
Contact Supplier
To get in touch with PHC Europe BV, simply fill out the form below.
PHCbi Cryogenic Freezer – MDF-1156-PE
PHCbi's compact MDF-1156-PE ultra-low temperature (ULT) Cryogenic Freezer offers unparalleled safety, reliability and uniform temperatures, incorporating advanced refrigeration technologies, ultra-efficient insulation, and sophisticated alarms and safeguards.
PHCbi's line of cryogenic freezers come from an unparalleled heritage from the company that first pioneered manufacture of ULT freezers more than three decades ago to meet growing life sciences demand for cryopreservation to keep pace with medical and scientific advances, such as IVF and stem cell research.
Technology and features
MDF-1156-PE ULT Freezer is a mechanically refrigerated cryogenic freezer that can achieve a stable temperature down to -152ºC  for long-term preservation of cells and tissues, while  avoiding use of  harmful CFC refrigerants. It uses PHCbi's proprietary CoolSafe cascade refrigeration system combined with ultra-efficient compressors in the freezing unit. With a powerful low noise design under precise advanced microprocessor control, this freezer delivers durable, stable cooling.
The cooling system also incorporates a high-efficiency oil separator to prevent compressor lubricant oil circulating  within the refrigeration circuit, causing piping to become clogged, resulting in compressor damage. This increases the durability of the compressors to maintain a long term cryogenic -150.C ultra-low temperature environment.
The cabinet offers total internal storage volume of 128 liters. It incorporates multiple levels of security with electronic  warnings, including remote alarm contact, high temperature deviations, power failure or filter blockage, all accessed via front mounted LED digital display and flat key data entry to provide accurate temperature setting, confirmation and operation, as well as clogged filter check function.
Other technical features include:
Rechargeable backup battery
Special foamed-in-place polyurethane insulation material for maximum cabinet protection
Microprocessor-controlled filter-clogged check function
Power failure alarm lamp and buzzer
MDF-1156-PE benefits
Compared to liquid nitrogen systems, PHCbi's MDF-1156-PE Cryogenic Freezer offers clear advantages in lower running cost, easier maintenance, less reliance on  liquid supplies, and minimal risk of sample contamination or sudden liquid eruptions. It offers a safe, convenient and user-friendly solution for long-term cryopreservation needs.
Other defined benefits include:
Safe and convenient usability
Low operational costs
Enhanced environmental friendliness and sustainability
Compact footprint and easy installation
Specifications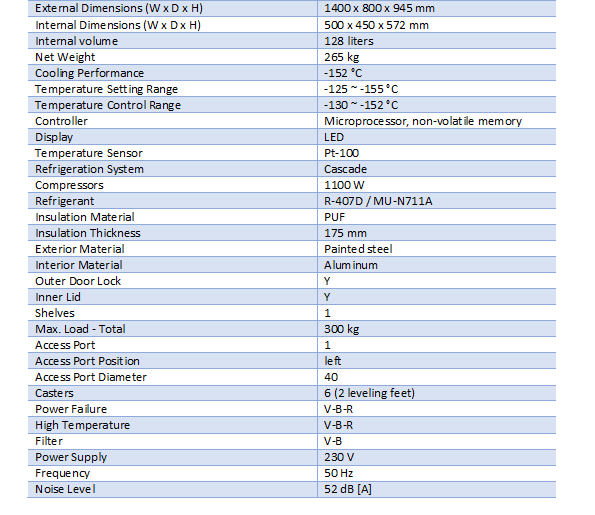 Accessories
MDF 1156 can be fitted with a continuous strip type temperature recorder using chart paper and ink pen.
Resources
Click on MDF-1156-PE Product Flyer to download brochure.
Click on Request a Quote to find out more.