Contact Supplier
Contact Supplier
To get in touch with PHC Europe BV, simply fill out the form below.
PHCbi Combined Pharmaceutical Refrigerator and Freezer MPR-N250FH-PE
PHCbi offers the MPR-N250FH-PE as an all-in-one clinical storage solution for clinics and laboratories, combining a 179 liter glass door refrigerator with 80 liter freezer that maintains low temperatures between -20℃ and -30℃.
The N250FH-PE combines high-performance 2℃ to 14℃ refrigeration with a -30°C freezing environment, all based on a small footprint for flexible, reliable and convenient sample storage. Natural refrigerants aid performance and minimize environmental impact for greater sustainability.
Secure storage at both freezing and refrigerated temperatures, combined with slimline form and castored roll in/roll out mobility make the N250FH-PE an ideal solution for installation in smaller spaces.
MPR-N250FH-PE Features & Benefits
The MPR-N250FH-PE Combination Refrigerator/Freezer incorporates advanced featured that deliver a powerful range of clear user benefits. These include:
Environmentally Friendly: Naturally occurring hydrocarbon (HC) refrigerants have minimal effect on the environment and are compliant with environmental legislation for climate control. Combined with inverter technology, these refrigerants also provide more efficient cooling and lower running costs.
Stable Temperature Control: The refrigerator provides superior uniformity throughout. Temperatures remain stable wherever products are stored, even in a fully loaded chamber. The refrigerator is engineered to prevent inadvertent freezing of temperature sensitive vaccines.
Precise Control & Intelligent Monitoring: Microprocessor control and accurate sensors maintain precise refrigerator and freezer temperatures that are displayed simultaneously on an OLED panel that includes a USB port for simple and convenient transfer of logged data to a PC including temperature, door opening times and alarm history.
Uniform Temperature Distribution: The refrigerator includes a high performance inverter compressor refrigeration system (see Resources) with a forced air, back wall plenum. This provides even, horizontal airflow across the solid, adjustable glass shelves at each shelf level. A uniform freezer temperature is maintained through a cold wall refrigeration system with natural circulation.
User convenience: The OLED panel provides excellent visibility and intuitive operation. It displays detailed temperatures with increment of 0.1°C, showing minimal and maximal temperature for every 24 hours for refrigerator and freezer simultaneously. The USB port and log functions simplifies temperature data management. The castored mounting also simplifies cleaning.
PHCbi's range of combined pharmaceutical refrigerators and freezers (see Resources) also includes the MPR-N450FH-PE and MPR-N450FHD-PE , both offering 326L of refrigerated storage and a 136L capacity freezer and the MPR-715F-PE (415L/176L).
MPR-N250FH-PE Specifications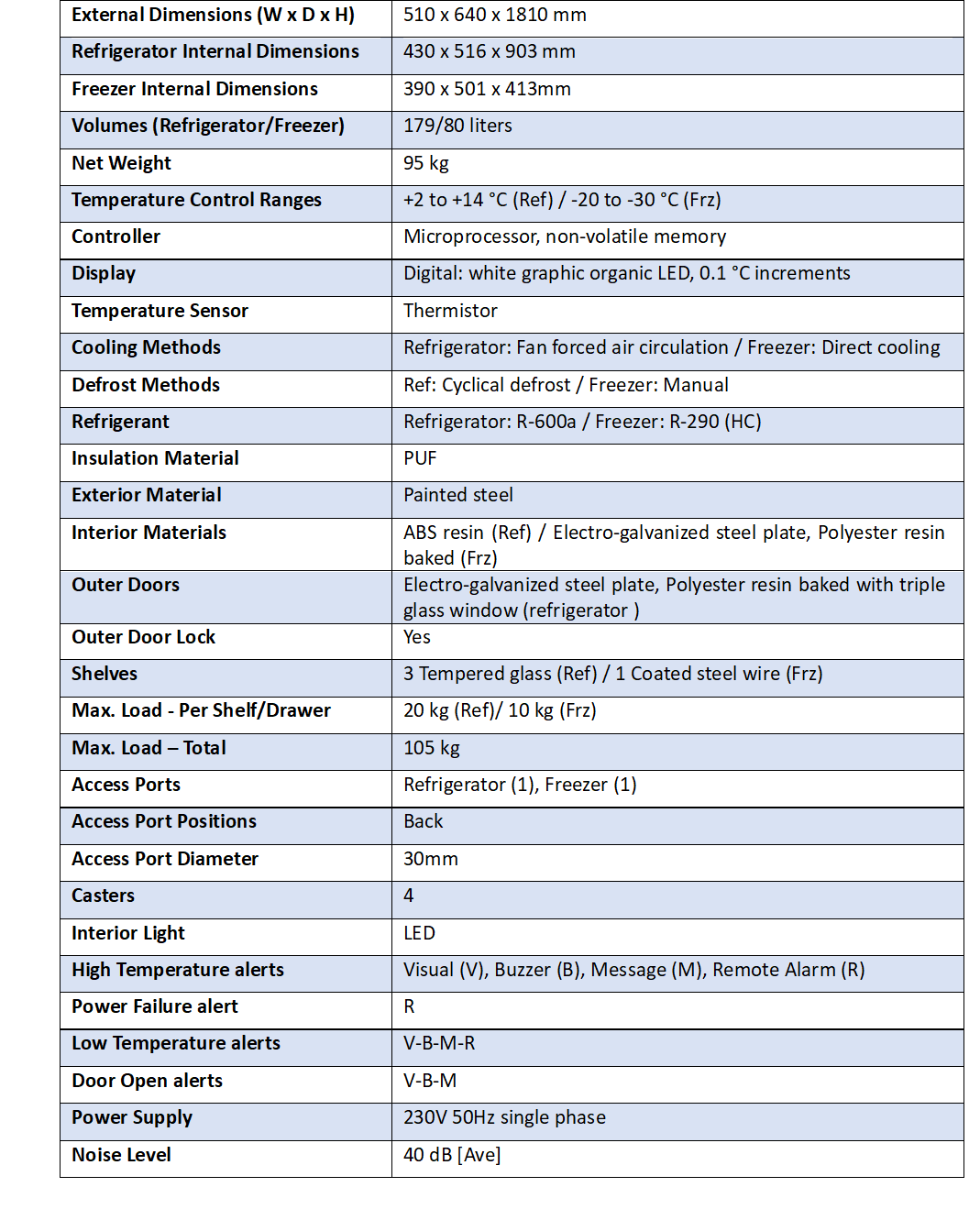 MPR-N250FH-PE Accessories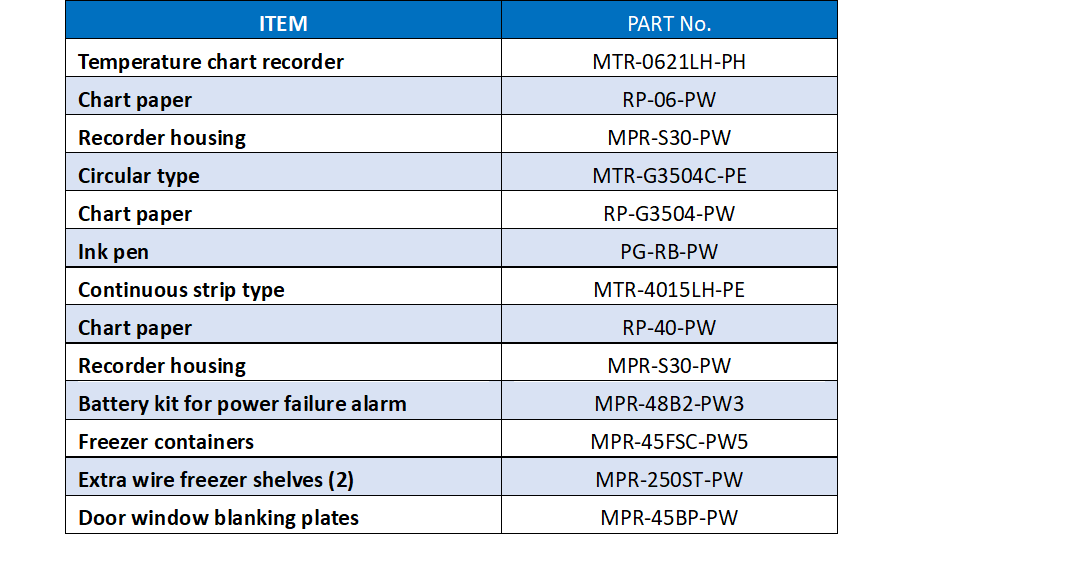 Resources
Click on PHCbi MPR-N250H-PE  to download product sheet.
Click on PHCbi Combined Pharmaceutical Refrigerator/Freezers to explore whole range.
Click on Inverter technology for technical information.
Click on Hydrocarbon Refrigerants for technical information.