Contact Supplier
Contact Supplier
To get in touch with PHCbi Biomedical Incubation Solutions, simply fill out the form below.
PHCbi Biomedical Incubation Solutions
Creating successful cell cultures demands incubation solutions that combine a series of properties, including very high levels of environmental precision and control, security and ease of use.
The extensive range of PHCbi Incubators feature innovative technologies to deliver outstanding quality in performance, maximise cell culture productivity and provide optimum results and reproducibility.
PHCbi Incubation Technologies
PHCbi IncuSafe incubators achieve higher quality, energy efficiency and avoid the temperature fluctuations that impact the metabolism of cells and affect various parameters including adhesion, protein expression and proliferation. They do this through a combination of technologies that include:
Active Background Decontamination: Combines narrow bandwidth, ozone-free ultraviolet light and inCu-saFe copper-enriched stainless steel alloy interior to fight contamination whilst the incubator remains in use. PHCbi's patented SafeCell UV Lamp plays a pivotal role, with greater ability to eradicate common strains of mycoplasma bacteria than decontamination lamps emitting at visible wavelengths. The UV light located at base of chamber automatically illuminates for specified periods after each incubator door opening to ensure elimination of airborne contaminants entering the chamber as well as any water-borne organisms in the humidity water reservoir.
Direct Heat & Air Jacket System: The patented Direct Heat and Air Jacket In IncuSafe incubators ensures reliable temperature control through a combination of high density foam insulation, gentle fan circulation throughout the cabinet and highly direct heating to respond to door openings, provided by three independent microprocessor-controlled heating sources in the chamber top and rear wall, base and in the outer door. All of these techniques combine to maintain uniform temperatures, prevent condensation and avoid 'cold-spots'.
Dual IR Sensor: PHCbi's single beam, dual detector infrared CO2 sensing system offers unprecedented control accuracy and stability by simultaneously measuring sample and reference wavelengths for continuous auto-zero calibration. The ceramic-based sensor is linked to sophisticated PID microprocessor controller for display of set and actual CO2 levels. The system delivers ultra-fast recovery without overshoot for optimum CO2 control during periods of frequent incubator door openings, with no moving parts and no need to remove sensor during decontamination.
Dual Heat Sterilization: Dual heat sterilization in AICD and AICUVD models utilizes the incubator's two heaters during the 11-hour 180°C sterilization process, during which door is automatically locked, with no need to remove inner parts or recalibrate afterwards. Low heat dissipation means stacked incubators will be unaffected.
H2O2 decontamination process: The hydrogen peroxide vapor (HPV) decontamination process permits quick turnaround (< three hours) of the cell culture incubator between processes, even when a complete, validated decontamination is required. The process combines hydrogen peroxide vaporization with ultra-violet lighting.
Zirconia O2 Sensor: The maintenance-free zirconia ceramic solid-state sensor has a high degree of precision, a long service life, and does not require fine adjustment. Through accurate determination of the chamber O2 level the microprocessor injects either nitrogen gas or oxygen as required.
PHCbi Incubator Range
The PHCbi range of incubators encompasses 24 products organized in five main product lines:
IncuSafe CO2 Incubators
PHCbi IncuSafe CO2 Incubators offer outstanding quality in performance, maximise cell culture productivity and provide optimum results and reproducibility. They ensure a precisely controlled O2 and CO2 environment for sensitive cell cultures to deliver long-term performance, optimal cell viability and successful experiments with precise control of CO2 concentration and temperature, while remaining easy to operate and maintain.
They are available in a range of sizes on formats, including the 165 liter MCO-170AIC series, the 230 liter MCO-230AIC series, the compact 49 liter MCO-5AC series and the 851 liter MCO-80IC-PE Reach-In Incubator.
All CO2 incubators incorporate IncuSafe germicidal interiors with other features such as UV lighting, IR dual sensors, Touch Screen control and H2O2 decontamination available, depending on model selected.
IncuSafe Multigas Incubators
PHCbi IncuSafe Multigas Incubators offer ultra-precise regulation of oxygen and carbon dioxide, while maintaining superior temperature uniformity, contamination control, and usability. This makes them ideal for culturing cells at physiological oxygen levels to allow them to grow faster, live longer, and experience fewer mutations. These Multigas Incubator are therefore ideally suited for mammalian tissue research applications, cellular therapy, stem cell research, pathophysiological studies and pharmaceutical production processes.
The five model IncuSafe Multigas range shares general forms and overall designs with the CO2 incubator range and are available in two series: the 161 liter MCO-170M, available in three variants with added UV lamp and H2O2 decontamination options, and the compact 49 liter MCO-5M-PE, also available with UV lamp.
MIR Heated Incubators
The two models in the MIR Heated Incubator range offer a choice between 93 liter (MIR-163-PE) and 163 liter capacity (MIR-H263-PE).
Both provide precise and stable incubation environments, with accurate microprocessor timing to control experiments up to 99 hours and 59 minutes. The 8-bit microprocessor controls heat and refrigeration to accuracy of ±0.2°C with programmable functions useful for investigations involving microbiology, plant cell biology and more. The larger model also incorporates Air Jacket System for more precise temperature control within the chamber.
MIR Cooled Incubators
The MIR-range of cooled Incubators combine the function of a heated controlled atmosphere incubation chamber with an additional cooling function that allows them to maintain temperatures of between -10ºC and +60ºC, making them ideal for microorganism culture and preservation and a wide range of research applications. such as environmental studies and testing that require a wider range of temperatures and lighting patterns. These units emphasize ultra-precise microprocessor control with programmable operation functions to vary lighting and temperature patterns and support a range of diversified long term experiments that need to extend overnight and during holidays or where pattern need to be varied changed.
MIR Cooled incubators come in three formats: the 123 liter MIR-154-PE, the 238 liter MIR-254-PE and the 406 liter MIR-554-PE that also features Intelligent LCD Controller, Automatic Setting Temperature Alarm, an independent over-temperature protection device, programmed Memory Back-up Mechanism, automatic return buzzer, key lock and a self-diagnostic Trouble Mon function.
MLR Climatic Test Chambers
PHCbi MLR Climatic Test Champers are designed to meet the needs of botanic, climate research and other scientists who need to model various types of environment with a wide variety of temperatures, humidity and lighting patterns that can be accurately programmed and controlled. for small plants, environmental tests, algae, drosophila, etc.
The microprocessor PID. and refrigeration capacity control minimizes temperature fluctuation, allowing precise experiments while also delivering energy savings. The intuitive graphic LCD control panel allows easy calibration of temperature and humidity. An integral lightweight, high molecular membrane-type humidity sensor delivers exceptionally high accuracy and reproducibility.
The MLR series includes the 294 liter MLR-352-PE and the similar MLR-352H-PE, which also offers humidity control.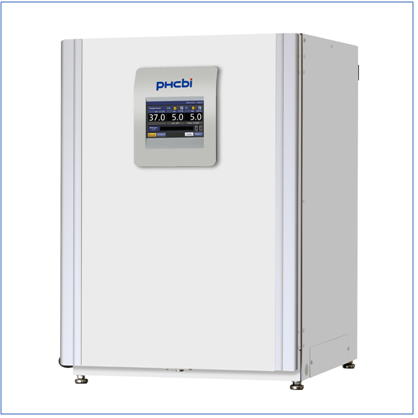 The MCO 170 series of CO2 and Multigas incubators provide an ideal balance between useful capacity, compact form and advanced functionality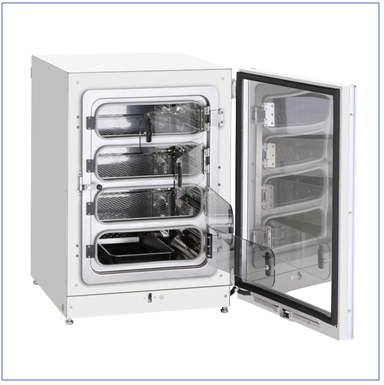 PHCbi incubators feature IncuSafe germicidal interiors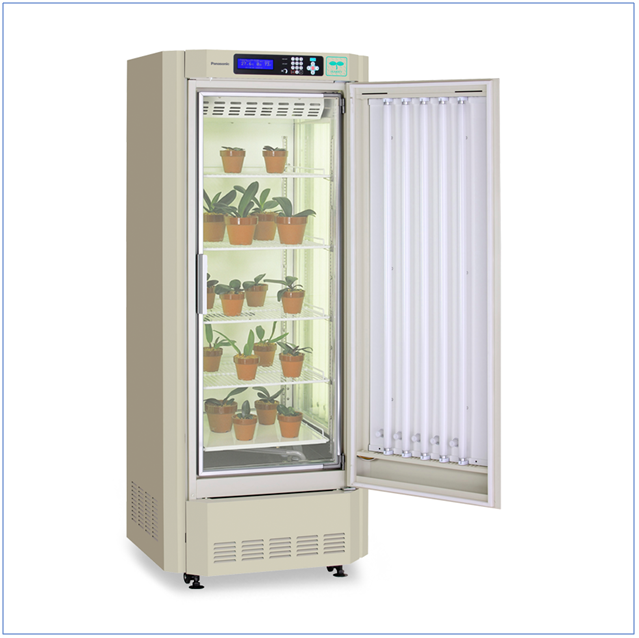 MLR series Climate Chambers are designed with the needs of botanists and climate research scientists in mind