Contact Supplier
Contact Supplier
To get in touch with PHC Europe BV, simply fill out the form below.
PHC PATHFAST™ Immunoanalyzer
PHC Europe's extensive range of laboratory and clinical solutions now includes PATHFAST™, a fully automatic immunoassay analyzer that combines progressive chemiluminescence technology with patented Magtration® technology.
PATHFAST™ allows small sample volumes of whole blood, plasma and serum to be detected with high accuracy, delivering superior assay performance, precise and fast results, all within a very compact benchtop package.
The user-friendly device and reagent strips provide optimum sensitivity with results that are perfectly reproducible and correlate outstandingly with full lab analyses.
Design and features
The PATHFAST™ platform consists of two main elements:
A compact hardware console with native software that provides readouts via LCD touchscreen and confirmations via embedded printer. The console also provides six bays to load reagent strips
Reagent strips combining Chemiluminescence enzyme immunoassay (CLIA) and Magtration® technology. Strips provide a choice of eight assays: six emergency markers (CK-MB mass, D-Dimer, High sensitivity Troponin, hsCRP, Myoglobin, NT-proBNP) and two sepsis markers (PCT and Prepepsin).
The console can run up to six quantitative analyses in parallel, using whole blood, serum or plasma 100 ml samples, with results delivered in under 17 minutes.
The system has integral data storage sufficient for 1000 patent readings, 1800 QC readings or 300 CAL data. Ethernet Port and RS-232C interfaces support ASTM or fixed standard data exports.
Applications
The PATHFAST™ system combines the accuracy of a full-scale lab analyzer with the flexibility of a mobile solution. Its compact design and low weight makes PATHFAST™ the ideal analysis system in laboratories, hospitals and medical offices: constantly available wherever fast quantitative results with full-scale lab quality are required at the point of care.
With its space-saving and highly flexible design, PATHFAST™ also provides an ideal supplement or back-up system for central laboratories. It can be available at any time (24 hrs per day) without interfering with the processes of routine analysis.
High precision also makes this analyzer an excellent "satellite" substitute for a full-scale lab on a cardiology, intensive care or emergency ward.
PATHFAST™ benefits
PATHFAST™  provides rapid differential diagnosis and is easy to operate, install and network. Parallel processing enables the examination of six samples in only a few minutes from whole blood, serum or plasmaThe PATHFAST™ system offers an extensive array of user benefits:
Six quantitative analyses simultaneously from single run
Results in under 17 minutes
Time saving: accepts whole blood samples from patient at point of care with no centrifuge routine required
Simple three-step operating procedure
Stand-alone desktop solution with no additional reagents, buffer solutions or accessories required and no water connection or drain necessary
Patented Magtration® technology allows small sample volumes to be analyzed with high accuracy, precision and sensitivity.
Perfectly reproducible results closely correlating with full lab analyses.
Compact footprint (343 x 569 mm)
Robust with two-point calibration required only every 28 days
Specifications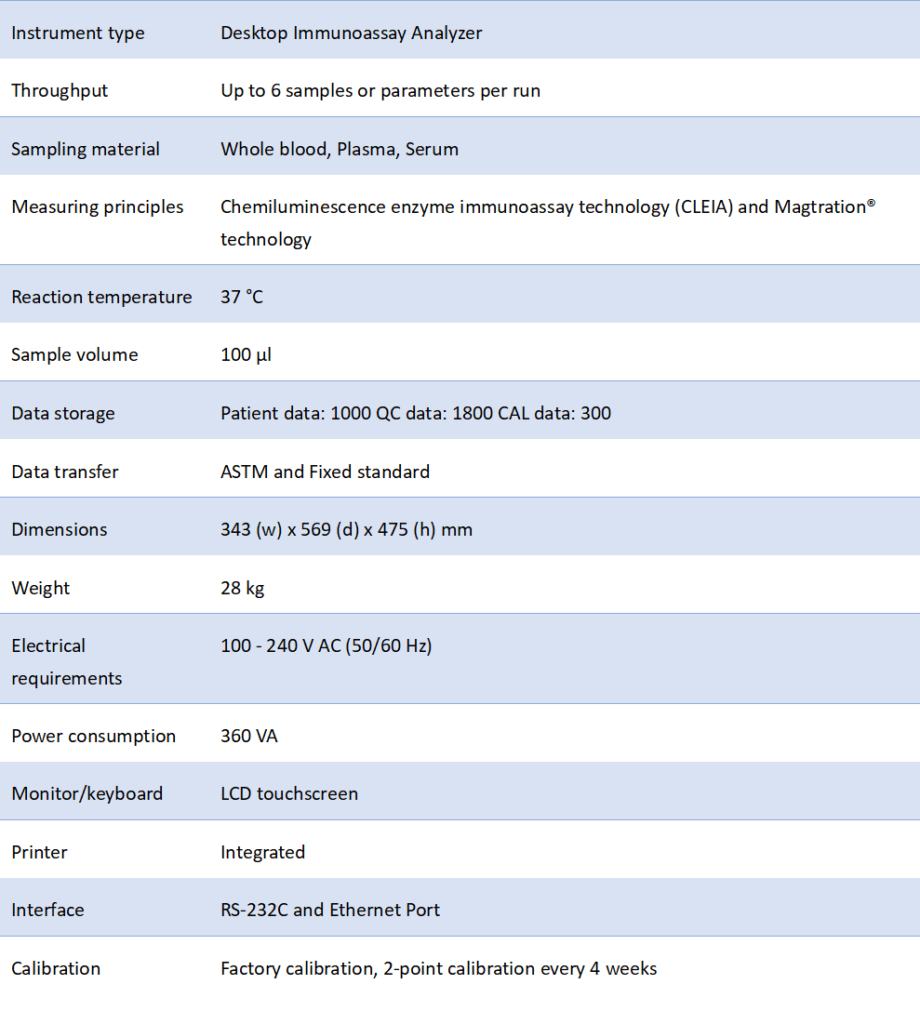 Resources
Click on PHC PATHFAST™ compact immunoanalyzer for more information.
Click on PATHFAST™ Emergency Markers to explore range of emergency reagent strips available.
Click on PATHFAST™ Sepsis Markers to explore range of emergency reagent strips available.
Click on PHC PATHFAST™ Customer Testimonials to watch YouTube video of PATHFAST™ in action.