Contact Supplier
Contact Supplier
To get in touch with L.B. Bohle, simply fill out the form below.
New generation L.B. Bohle machines nominated for German Design Award
Ennigerloh, Germany:  A new generation of pharma process machines unveiled by world-respected builder of advanced systems for pharma production, L.B. Bohle Maschinen und Verfahren GmbH (L.B. Bohle), at the Interpack 2023 machinery trade show in Düsseldorf have been formally recognized as milestones in new design for the industry.
The NextGen versions of the machines, including the BFC tablet film coater, BRC dry granulator and QbCon® 1 continuous granulator and dryer for research and development, have all been accepted as entries for the 2024 edition of the prestigious German Design Award, due for judging in October 2023.
Form follows function
The new design approach is the result of more than two years work, under the leadership of L.B. Bohle's Executive Director Technology, Thorsten Wesselmann. His team, also including external design consultants, had a brief to marry state-of-the-art technology with modern and distinctive external forms.
All the new designs obey the 'form follows function' philosophy espoused by Frank Lloyd Wright and later adopted as watchwords by Victor Papanek, Walter Gropius, Jonathan Ives and others.
They feature distinctive rhomboid shapes, contrasting dark elements, and greater use of glass, foils, and stainless steel for durability, robustness, easy cleaning and sterility.
Groundbreaking designs vindicated
Thorsten Wesselmann commented: "Our new machines have not only been technically optimized but have also been redesigned in a groundbreaking industrial design that further enhances user-friendliness and safety."
"We are proud to say that our machines now stand out from the competition in terms of their appearance," Mr. Wesselmann continued.
"The response so far, often accompanied by astonished looks, has been consistently positive, and we are receiving feedback that the new developments were entirely correct decisions," he added.
The first BFC 400 tablet coater of the new generation is currently installed at Rottendorf Pharma in Ennigerloh, Germany.
German Design Award winners and highlighted entries will be formally honored at the Frankfurt awards ceremony in January 2024.
About L.B. Bohle
Founded in 1981, L.B. Bohle Maschinen und Verfahren GmbH (L.B. Bohle) has established a worldwide reputation as a producer and supplier of advanced systems for pharmaceutical manufacturing, based on a track record of technological innovation and continuous improvement.
Based at Ennigerloh in Northwest Germany, L.B. Bohle operates worldwide, offering advanced solutions for every aspect of oral solid dose (OSD) and nutraceutical tablet production, including weighing & dosing, grinding & sieving, blending, tablet coating, sorting, handling systems, cleaning and containment, process monitoring and continuous manufacturing.
The company's guiding vision is one of technological innovation in the production of pharmaceutical solids. This supports a core mission to deliver maximum product efficiency increases for its customers, through continuous development and product innovations that not only increase quality and efficiency, but also strengthen competitive edge and sustainability.
To these ends, L.B. Bohle offers both complete production lines and solutions for individual production steps, focusing on rapid development and production of sophisticated, pragmatic, and customized applications.
The company operates development and manufacturing facilities at its home base at Ennigerloh and at Sassenberg, both in North Rhine-Westphalia. Additionally it has sales and service subsidiaries in the USA (Warminster, PA) in India (Ahmedabad), in Singapore and in Switzerland (Reiden). It is also represented by more than 40 qualified sales partners worldwide, having become a globally recognized brand.
Further information at: www.lbbohle.com  www.continuous-manufacturing.com  www.coating-tablets.com
About German Design Award
Founded in 2012 under the auspices of the German Design Council, the German Design Award has become an international and renowned benchmark for design excellence.
During the autumn of each year a large jury of acknowledged international design experts deliberate over several thousand submissions in three categories: Excellent Product Design, Excellent Communications Design, and Excellent Architecture,
This multi-stage process leads to the annual German Design Award Ceremony the following January. These are presented at the Museum Angewandte Kunst, Frankfurt am Main, accompanied by a special exhibition of featured entries.
Commencing with the 2023 ceremony, the German Design Award jury also honors "Personality of the Year", "German Design Award – Newcomer" and "Public Choice Award".
Learn more at: https://www.german-design-award.com/en/
Resources
Click on L.B. Bohle World Premieres to learn more.
Click on Premium Technology meets Cutting-edge Design to explore L.B. Bohle Landing Page and video.
Visit our Technology Center and Service Center virtually in a 360° tour.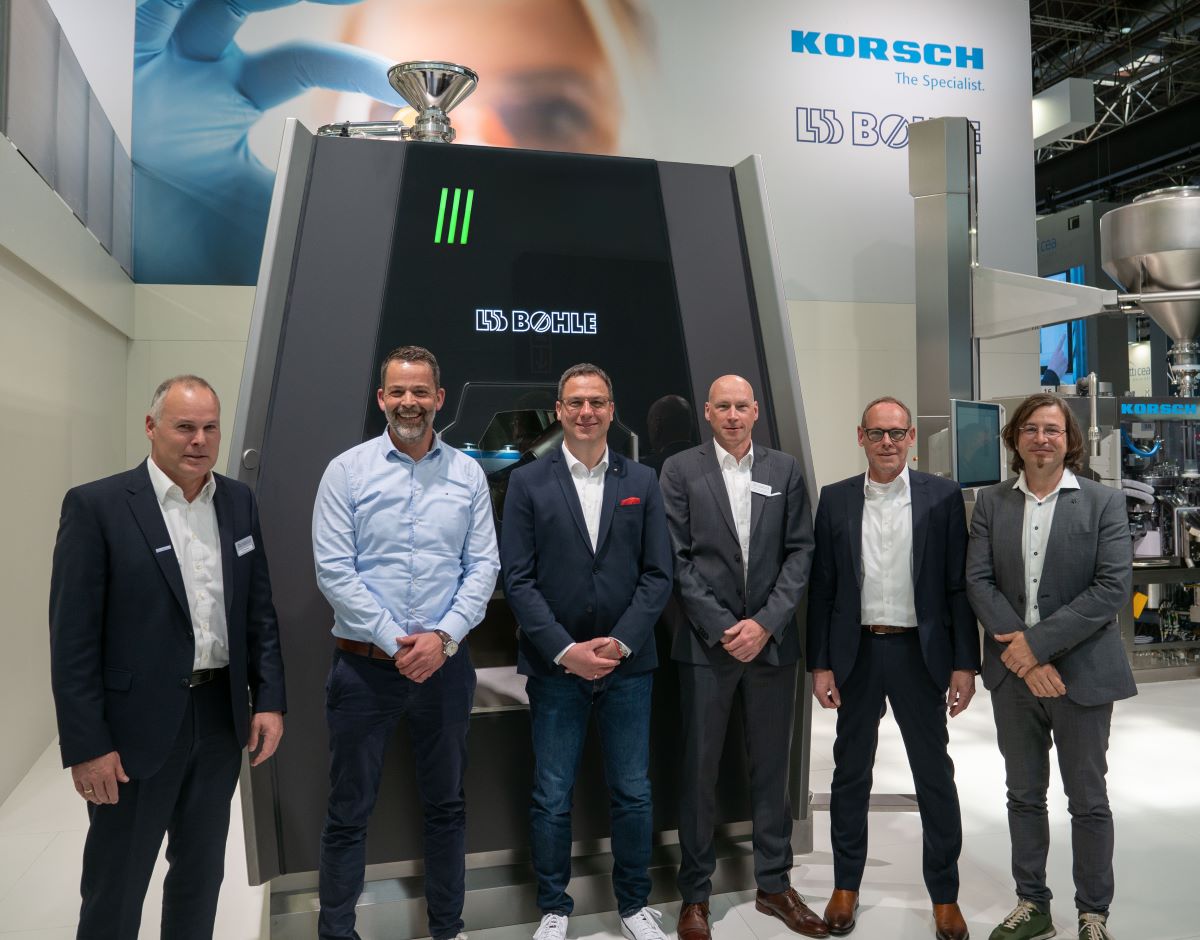 Joint team at inauguration of first production new generation BFC 400 Film Coater.  Left to right:  L.B. Bohle Executive Director Sales Tim Remmert, Gero Stüve and Marco Niemann of Rottendorf Pharma, L.B. Bohle Executive Director Technology Thorsten Wesselmann, with Thorsten Helm and Daniel Fichte from CAE Innovative Design.