---
MEGGLE shows secrets of longer lactose shelf life at RDD 2018
---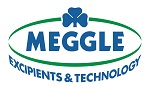 Press Release | MEGGLE Excipients & Technology
MAY 24, 2018
Wasserburg, Germany: – Pharmaceutical lactose specialist MEGGLE Excipients & Technology (MEGGLE) demonstrated decisive longer shelf life and storage advantages of its micronized lactose at this year's Respiratory Drug Delivery (RDD) conference in Tucson, Arizona.
MEGGLE's micronized dry powder inhaler (DPI) lactose InhaLac® 500 was the star of the display of lactose monohydrate-based pharmaceutical inhalation grade excipients products displayed in Tucson.
Doubled shelf life
MEGGLE also contributed expert insights on how ingredients should be stored, with deliver a Poster presentation on 'Influence of storage conditions on micronized lactose and the resulting ternary dry powder inhaler formulations' that examined the effects of water adsorption of water on particle surfaces on the material's chemical and physical surface properties.
The poster, delivered by MEGGLE's Head of Research & Development for Excipients & Technology, Dr. Mirjam Kobler, revealed how mastery of these characteristics by the company's Powder Engineering Team had enabled InhaLac 500 to offer shelf life of 12 months – double that normally expected from micronized lactose.
Storage implications
The study has profound implications for lactose storage in general. It was based on collaboration between MEGGLE, Department of Pharmaceutics and Biopharmaceutics at Germany's Kiel University and researchers from Istanbul-based Deva Holding AS.
The study team have demonstrated that careful management of relative humidity (rH) during storage can greatly extend the storage life and protect the active properties of micronized lactose and resulting interactive mixtures using different devices.
Research-based understanding
"RDD 2018 was a highly successful event for us", said MEGGLE USA Business Development Director Rishi Pimentel, who was also part of the RDD team in Tucson.
"We wanted to share with our customer base our expertise in powder engineering and show that MEGGLE remains at the forefront of DPI technology. In InhaLac® 500, we now have a micronized inhalative lactose that is the product of a powder engineering process that is controlled and tailor-made to fit our customer's metered dose inhalation or MDI formulations," said Mr. Pimentel.
About MEGGLE Wasserburg
Bavarian-based MEGGLE Wasserburg is one of the world's experts in lactose based excipients and powder technology.
From its roots as a dairy operation in the late 1880s, MEGGLE has become one of the world's leading manufacturers of pharmaceutical lactose, supplying the pharma market segment with a broad-based and unique lactose product portfolio.
MEGGLE Excipients & Technology has harnessed outstanding product quality and intelligent innovation to become a global leader in the manufacture of lactose-based excipients, focusing on products for direct tableting and dry powder inhalation.
A multidisciplinary team of committed and highly qualified people allows MEGGLE clients to benefit from pioneering experience and innovative drive in industrial milk and whey processing. The company constantly strives to develop high-tech, functional products for solid dosage form applications, where they can deliver maximum performance.
The company has introduced several pioneering products, notably Tablettose®, the world's first agglomerated lactose for direct tableting, Cellactose® 80, a pioneering co-processed excipient based on cellulose-lactose for outstanding compression and flow properties and RetaLac®, the first direct compression co-processed excipient using a hypromellose-lactose base for modified sustained release and controlled release formulations.
About RDD 2018
The Respiratory Drug Delivery Conference (RDD) is acknowledged as one of the leading events in the pulmonary, respiratory and nasal delivery fields, helping to shape regulatory and scientific policies worldwide. The conference is biennial, last held in April 2018.
Apart from a full conference program with up to ten scientific tracks, the conference also featured a Scientific Poster Session held in conjunction with the Technology Exhibition over two days.
The event is organized by RDD Online, with more information at:
https://www.rddonline.com/rdd/rdd.php?id=15&sid=1.
Media Contact
Margit Bonnetsmüller, Project Manager Marketing, MEGGLE Excipients & Technology Business Group
Tel: +49 8071 73 476
Email: Margit.Bonnetsmueller@meggle.de
Resources
Click on Review of MEGGLE at RDD 2018 for more information.
Click on MEGGLE to contact the company directly.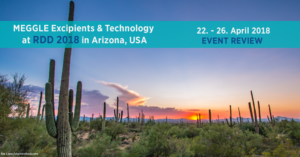 ---
Supplier Information
Supplier: MEGGLE Excipients & Technology
Address: Megglestrasse 6-12, 83512 Wasserburg, Germany
Tel: +49 8071 73-476
Fax: +49 8071 73-320
Website: https://www.meggle-pharma.com/
---