---
MEGGLE debuts InhaLac® 500 at CPhI India
---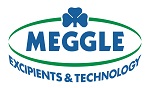 Press Release | MEGGLE Excipients & Technology
NOVEMBER 14, 2017
Wasserburg, Germany: – Pharmaceutical lactose specialist MEGGLE Excipients & Technology (MEGGLE) will bring an expanded range of lactose anhydrous and lactose monohydrate-based pharmaceutical agents and excipients when it returns to the huge CPhI India expo in Mumbai.
MEGGLE will display under the banner of its Indian distribution partner, Signet Chemical Corporation, at stand F1 in Hall 1 of the Bombay Exhibition Center.
Showcasing InhaLac 500
In particular, the MEGGLE display will feature its newly developed InhaLac 500, the new micronized lactose grade, specifically designed for inhalation.
Developed at MEGGLE's Wasserburg laboratories in Germany, InhaLac 500 features very small milled particles, highly cohesive, with PSD x90≤ 10µmx50 ≤ 5 μm. This allows a wider choice of applications as fines or as co-agglomerate in dry powder inhalation products. A further key benefit is long shelf life, with high stability reducing retest intervals to 12 months, twice as long as competitor products.
Established Indian presence
MEGGLE has become an established presence at CPhI India, having exhibited year on year almost since the event was founded in 2005.
"This amazing event gives us a great platform from which to conduct strategic sales discussions with leading customers across Asia and to showcase new products," said Dr. Siang Meng Chua, of MEGGLE Singapore, who heads sales and technical support for MEGGLE's pharmaceutical grade lactoses in Asia-Pac Ex China.
"For procurement and sourcing department heads, this is a great chance to discuss their supply requirements for the year ahead and for formulators of solid dosage forms, an opportunity to get face-to-face technical guidance on enhanced functionality for co-processed excipients to streamline and speed up their formulation development processes," noted Dr. Chua.
About MEGGLE Wasserburg
Bavarian-based MEGGLE Wasserburg is one of the world's experts in lactose based excipients and powder technology.
From its roots as a dairy operation in the late 1880s, MEGGLE has become one of the world's leading manufacturers of pharmaceutical lactose, supplying the pharma market segment with a broad-based and unique lactose product portfolio.
MEGGLE Excipients & Technology has harnessed outstanding product quality and intelligent innovation to become a global leader in the manufacture of lactose-based excipients, focusing on products for direct tableting and dry powder inhalation.
A multidisciplinary team of committed and highly qualified people allows MEGGLE clients to benefit from pioneering experience and innovative drive in industrial milk and whey processing. The company constantly strives to develop high-tech, functional products for solid dosage form applications, where they can deliver maximum performance.
The company has introduced several pioneering products, notably Tablettose®, the world's first agglomerated lactose for direct tableting, Cellactose® 80, a pioneering co-processed excipient based on cellulose-lactose for outstanding compression and flow properties and RetaLac®, the first direct compression co-processed excipient using a hypromellose-lactose base for modified sustained release and controlled release formulations.
About CPhI India 2017
Now in its twelfth year, the huge CPhI India pharmaceutical industry expo brings the highly successful worldwide UBM-organized franchise to one of the world's biggest single pharma markets, combining two events in one, with the event co-hosted alongside the huge P-MEC machinery and equipment show.
CPhI/P-MEC India 2017 will be a six-day event shared between two venues, opening November 27 at the landmark Bombay Exhibition Centre (BEC) in Mumbai, followed by an opening the next day at the BKC center.
The combined shows are expected to attract more than 28,000 visitors and some 1,000 exhibitors from almost 100 countries worldwide.
CPhI India bills itself as serving the knowledge sharing and networking needs of the Indian pharma market, currently growing at 13 per cent annually, twice as fast as world average. India is adding new drugs research to its established strengths in generics and APIs.
The event is organized by UBM Live, with more information at: https://www.cphi.com/india/.
Media Contact
Margit Bonnetsmüller, Project Manager Marketing, MEGGLE Excipients & Technology Business Group
Tel: +49 8071 73 476
Email: service.pharma@meggle.de
Resources
Click on MEGGLE at CPhI India 2017 for more information.
Click on MEGGLE to contact the company directly.
---
Supplier Information
Supplier: MEGGLE Excipients & Technology
Address: Megglestrasse 6-12, 83512 Wasserburg, Germany
Tel: +49 8071 73-476
Fax: +49 8071 73-320
Website: https://www.meggle-pharma.com/
---