---
MEGGLE brings latest lactose offerings to CPhI SEA in Bangkok
---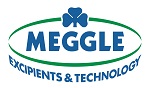 Press Release | MEGGLE Excipients & Technology
MARCH 07, 2019
Wasserburg, Germany: – Pharmaceutical lactose specialist MEGGLE Wasserburg GmbH (MEGGLE) will use the upcoming CPhI South East Asia expo in Thailand later this month to present its expanded portfolio of lactose-based pharmaceutical excipients to the expanding Asian market.
MEGGLE Excipients & Technology has been a consistent presence at CPhI since the inaugural event in Jakarta in 2017. This time, it will be represented by its local partner Thai Meochems on stand D14 at the QSNCC expo center in Bangkok, with participation by a team from MEGGLE Singapore, led by Director Dr. Siang Meng Chua and Technical Application Manager, Dr. Chalermphon Wanawongthai.
Innovative lactose formulations
The MEGGLE display will feature a wide range of the company's innovative lactose-based products and co-processed excipients including the ground-breaking Tablettose® agglomerated lactose, DuraLac® H anhydrous lactose and FlowLac® spray-dried alpha-lactose monohydrates, all of which have helped revolutionize direct compression (DC) tableting as well as the sieved, milled and micronized InhaLac® products for dry powder inhalation (DPI).
Video screens on the stand will provide visitors with insights into MEGGLE's rigorous production standards, advanced technology and pioneering research work.
Total offer
"CPhI South East Asia provides the perfect platform to present the world-class MEGGLE product portfolio to the fast growing Asian pharma manufacturing sector as well as explore latest industry trends," commented Dr. Siang Meng Chua.
"For this professional audience of manufacturers and product professionals, MEGGLE can provide a highly attractive total offer of leading edge excipients, formulation and regulatory support for solid dosage forms," said Dr. Chua.
About MEGGLE Wasserburg
Bavarian-based MEGGLE Wasserburg is one of the world's experts in lactose-based excipients and powder technology.
From its roots as a dairy operation in the late 1880s, MEGGLE has become one of the world's leading manufacturers of pharmaceutical lactose, supplying the pharma market segment with a broad-based and unique lactose product portfolio.
MEGGLE Excipients & Technology has harnessed outstanding product quality and intelligent innovation to become a global leader in the manufacture of lactose-based excipients, focusing on products for direct tableting and dry powder inhalation.
A multidisciplinary team of committed and highly qualified people allows MEGGLE clients to benefit from pioneering experience and innovative drive in industrial milk and whey processing. The company constantly strives to develop high-tech, functional products for solid dosage form applications, where they can deliver maximum performance.
The company has introduced several pioneering products, notably Tablettose®, the world's first agglomerated lactose for direct tableting, Cellactose® 80, a pioneering co-processed excipient based on cellulose-lactose for outstanding compression and flow properties and RetaLac®, the first direct compression co-processed excipient using a hypromellose-lactose base for modified sustained release and controlled release formulations.
About CPhI SEA 2019
CPhI South East Asia (SEA) is one of the most recent additions to UBM-organized franchise, extending the same multi-expo format that has made these pharma industry events so successful worldwide.
CPhI SEA caters to the ASEAN life sciences market, bundling six events under one roof with the CPhI pharma ingredients show co-located with P-MEC (machinery, technology and equipment), ICSE (contract manufacturing and services), InnoPack (packaging and drug delivery systems), LABworld (laboratory, analytical and biotech equipment) and the FDF show covering every aspect of the finished dosage supply chain.
CPhI SEA 2019 will be three-day event, opening March 12 at the Queen Sirkit National convention Center (QSNCC) in the Thai capital Bangkok. It is expected to attract some 5,500 attendees and exhibitors from more than 20 countries across the region as well as from Europe and North America.
The event is organized by UBM Live. More information at: https://www.cphi.com/sea/.
Media Contact
Margit Bonnetsmüller, Project Manager Marketing, MEGGLE Excipients & Technology Business Group
Tel: +49 8071 73 476
Email: Margit.Bonnetsmueller@meggle.de
Resources
Click on MEGGLE at CPhI SEA 2019 for more information.
Click on MEGGLE to contact the company directly.
---
Supplier Information
Supplier: MEGGLE Excipients & Technology
Address: Megglestrasse 6-12, 83512 Wasserburg, Germany
Tel: +49 8071 73-476
Fax: +49 8071 73-320
Website: https://www.meggle-pharma.com/
---