---
MC DecJet: Advanced pharma micronization solutions at the DDL conference
---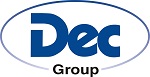 Press Release | DEC Group
NOVEMBER 30, 2017
Ecublens, Switzerland: – Powder handling and containment specialists Dec Group will be presenting its new patented 4th generation spiral jet mill and high containment solution at the Drug Delivery to the Lungs (DDL) Conference in Edinburgh.
Dec will exhibit at DDL, with a stand at Booth 230 at the Edinburgh International Conference Center (EICC) featuring a display showcasing its MC DecJet 30, combined with a flexible isolator.
4th generation MC DecJet
The newly introduced MC DecJet series represents the 4th generation of Dec Group's renowned MC Jetmill series of micronisers.
MC DecJet is distinguished from the previous Jetmill generation by being capable of generating an even tighter Particle Size Distribution with identical results from R&D lab scale through to full-scale production.
Further advantages include:
High yields
Low energy consumption
Sterile/toxic processing
Limited number of components
Simple and rapid assembly/disassembly
Integrated solutions including flexible/rigid containment
"Pharma micronization for drug delivery via inhalation is a key market for Dec and so we are delighted to be exhibiting at DDL," commented Gabriela Mikhaiel, in charge of the Dec Group Business Marketing.
All-in-one solution
"The MC DecJet generation represents an exciting step forward in terms of efficiency. Combined with the ability to meet most rigorous containment requirements with more and more potent powders being processed, Dec's high containment micronizing systems perfectly control these challenges," said Ms. Mikhaiel.
"The new MC DecJet 30 provides a perfect all-in-one solution for Research and Development teams seeking the ability to micronize very small quantities of highly active material down to 0.2 grams while retaining the ability to upscale to commercial production," she added.
About Dec Group
Dec (Dietrich Engineering Consultants) Group is a leading global provider of contained powder handling systems and is recognized as a world-leading expert in process containment technologies. It has been supplying the pharmaceutical, chemical, food and cosmetic industries for 30 years.
Headquartered near Lausanne, Switzerland, Dec Group has a global presence with subsidiaries and agents in more than 30 countries including subsidiaries in the UK, Ireland, Germany, Poland, India, China and the USA.
In excess of 200 companies worldwide have successfully integrated more than 5000 Dec systems into their production sites. These include a wide range of patented products that enhance safety, hygiene, containment, reliability and productivity in powder handling.
Dec offers innovative approaches across the range of powder handling and process containment applications, including transfer, micronizing, filling/emptying, sampling, blending, dosing, aseptic solutions, milling, isolators and advanced cleaning (CIP/SIP) features.
About DDL 2017
The Drug Delivery to the Lungs (DDL) Conference (DDL) provides an annual forum for scientists, academics, clinicians, regulatory and industry specialists involved in developing medicines for inhalation.
DDL2017 is a three-day event opening December 6 at the EICC at The Exchange in the Scottish capital of Edinburgh.
The 2017 conference will feature five themed sessions each with a combination of invited and submitted lectures given by experts in the field of inhalation and students working to advance respiratory science.
The conference will be preceded by the SimInhale Pre-symposium on designing Inhalers for children and Infants, during the morning of Wednesday, December 6.
The event is organized by The Aerosol Society, with more information at:
https://aerosol-soc.com/events/ddl2017.
Media Contacts
Gabriela Mikhaiel, Dec Group Marketing
Tel: +41 21 694 20 40
Email: G.Mikhaiel@dec-group.ch
Resources
Click on Dec Group at DDL 2017 for more information.
Click on Dec Group to contact the company directly.
Click on Pharmaceutical & Chemical Powder Micronization to see the latest brochure.
---
Supplier Information
Supplier: DEC Group
Address: Z. I. Larges Pièces A, Chemin du Dévent, P. O. Box 9, 1024 Ecublens/Lausanne, Switzerland
Tel: +41 21 694 20 40
Fax: +41 21 694 20 59
Website: www.dec-group.net
---